Rowan Blanchard Is Always Dressed to Thrill
"I want to be, like, repulsive. That's fashion."
---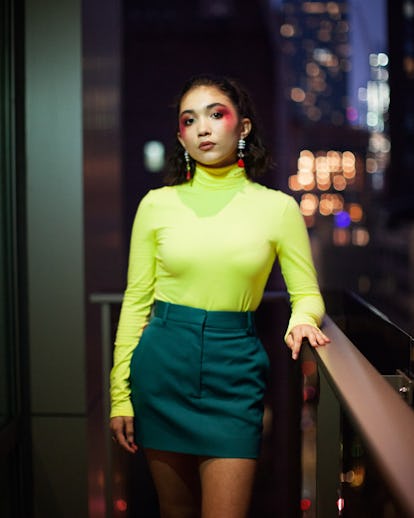 Michael Beckert
Rowan Blanchard may have laid low during the first few days of New York Fashion Week, but that doesn't mean she wasn't deep in the throes of fashion hunting. Quite the opposite, in fact.
"I got a vintage Fiorucci corset. It's so, so, so, so good," she said of her latest Lower East Side find. "[Vintage shopping] is what I spend money on. There is a vintage show that happens in L.A. called Current Affair, and that takes hours. It's really amazing. The last time I went, I got this vintage Gaultier dress. And I spent a lot of money on these jeans that fit perfectly. They are these '70s, wide-legged, crotch zip-up jeans with a snake on the side. And they fit me literally to a T. That's why I justify spending all that money on them."
Over the last few years, Blanchard has quickly become one of the red carpet's most exciting stars to watch thanks in large part to longtime stylist Chris Horan, bringing a new and exciting look to every event she does. "I'm not sure if I have a first-fashion memory; I think I was just always fascinated and obsessed with glamour," she said. "I grew up watching old Audrey Hepburn movies, and there was something about how clothes fashion your body in this way that is just so regal and can completely change everything. I think my interest in fashion came from watching movies and seeing how their costumes informed their characters. I've always viewed my style as a way of performing or a persona."
She contemplated the look at hand for tonight's big event: Calvin Klein's Spring 2019 runway show. "We're doing this red-cheek-and-eye thing, and my hair is going to be really curly. When I put the full outfit on, I'll feel my juju," she said.
It would be the 16-year-old's second Calvin Klein show of the year after having attended her first one back in February. "Isabelle Huppert was sitting next to ASAP Rocky, and I was literally just looking at the two of them, being like, 'I literally want to marry the both of you,'" she said. But of course, that didn't even come close to meeting one of her biggest fashion idols: Raf Simons himself.
"Calvin Klein was really brought back into Chris and I's mind frame as fashion-obsessed girls because we are such big fans of Raf," she said. "We had a viewing party for the Dior and I documentary, and we just sat there and sobbed. A really definitive moment in our relationship that we fangirled about was getting to meet Raf earlier this year. It was so special, and it felt so unreal, and I think for Chris and I, we've been working together for five years, and it just felt really special to meet someone we so admire."
Horan and Blanchard have been working together for the last five years, ever since the stylist was brought on to work with the entire cast of Girl Meets World, Blanchard's breakout Disney Channel series. "She came in and was 11 at that time and immediately was down to try anything," Horan said. "That is how you know. I got a lot of confidence in my career through Rowan because I realized, 'This is how it can be when someone trusts you and gives it back.'"
"When we first started working together, there was something so exciting and nerve-racking about working together, when I was teetering on the edge of the fashion world, the way that he would talk about clothes to me, it seemed like we both came from the same place," Blanchard continued. "Before I started working with Chris and was doing my Spy Kids 4 movie, I was on my little press tour and got these sequin dresses that you get at stores for rich girls in the Valley. I was like, 'Oh, I have a premiere now.' I look back at all of those photos and am just like, 'Holy shit.' I also thought it was really cool to wear sunglasses on the carpet."
Blanchard paused to pull out pictures of red carpets past on her phone. There were indeed sunglasses involved, as well as pastel feathers and many, many sequins. Those days have certainly passed—not that Blanchard is not down to experiment.
Take, for example, tonight's look: a neon yellow turtleneck and evergreen miniskirt, paired with some bright red eye shadow smeared onto the cheekbone. "Chris has been so helpful in helping me age appropriately with clothing," she said. "The look I'm wearing tonight, I definitely feel hot in, but it's not in a way that's so sexual. It's a hard balance, but he does it really well. That's an interesting thing, growing in that space. We did really adventurous things for a while, and sometimes you want to be pretty. The more and more I got into puberty, I was just like, 'I just want to be pretty.'"
That is, of course, unless she ever attends the Super Bowl of fashion: the Met Gala. "If I ever get invited to the Met Gala, we are planning that dress five months in advance," she said. "If Chris and I do Met Gala, we know we're going off. It's the Met Gala! You can't show up in a slip dress. I want to be, like, repulsive. That's fashion."