Celebrities Can't Help But Rejoice in Roy Moore's Defeat: "You Can Just Ride Off Into the Sunset"
To everyone from Chris Evans to Cher's delight, the alleged child molester lost the Alabama's special Senate election to Democrat Doug Jones.
---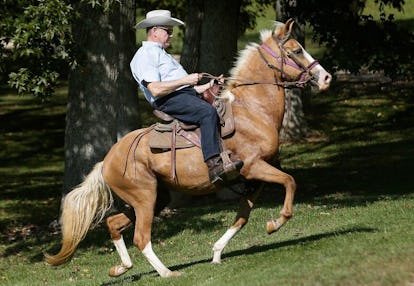 Courtesy of @rosemcgowan
On Tuesday morning, Roy Moore, the Republic Alabama Senate candidate was so confident that he'd win the state's special Senate election that he rode a steed name Sassy to cast his vote—obviously for himself—at the polls. To pretty much everyone's surprise, though—as was foreshadowed by horse Twitter overwhelmingly criticizing his form—Democrat Doug Jones actually ended up winning the race, a huge upset that marked a major victory for Democrats and reduced Republicans' Senate majority to a single seat, and, of course, making for what seems to be the first bit of good news decent Americans have had in a while.
The bar is certainly low if the country is surprised, and in many cases thankful, that a man who is by many accounts a child molester with a history of preying on a striking number of teenage women—investigations that he's dismissed as "a desperate political attack by the National Democrat Party"—and who once publicly argued that "homosexual conduct" should be illegal, managed to lose an election. And to a man most known for prosecuting two Ku Klux Klansmen whom bombed a Birmingham church in 1963 at that.
Then again, with President Donald Trump, who is in office despite his tendency to parade around his racism, and allegations from over a dozen women of sexual misconduct and harassment, Jones's victory is indeed a boon worth celebrating—which many did both in person and on Twitter, poking fun at Moore's refusal to concede—according to him, we now have to "wait on God and let this process play out"—and paying their dues to the 98 percent of black women who voted for Jones. (As did 93 percent of black men, while only 26 percent of white men and 34 percent of white women voted in his favor.)
From actor and comedian Rob Delaney urging people to "flush [Moore's] bigoted ass down history's toilet" and continue organizing to Ava DuVernay, who volunteered to direct a sequel to her 2014 film Selma, which was nominated for Best Picture at the Academy Awards, rejoice in the best celebrity reactions to Moore's defeat, here.
Related: Donald Trump Only Cares About Abused Women When It's Beneficial to Him
"I Will Not Be Silent": Hollywood's Biggest Names Pledge to Speak Their Minds: