The Royal Divorce Between Peter Phillips and Autumn Kelly Isn't That Unconventional
Following his split with Autumn Kelly, Peter Phillips will be the first of the Queen's eight grandchildren to divorce.
---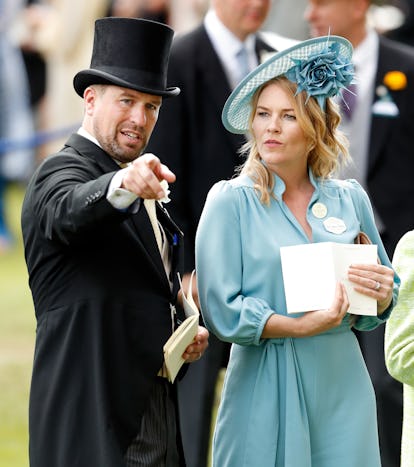 The royal family can't seem to catch a break when it comes to drama. And we're not even talking about whatever is going on with Meghan Markle and Prince Harry, after they dropped their royal duties, packed their bags, and headed for Canada (and also maybe Hollywood), or the upcoming royal wedding in which the disgraced Prince Andrew will walk his daughter Princess Beatrice down the aisle toward Edoardo Mapelli Mozzi.
The latest tidbit of drama with this family pertains to a royal divorce between Queen Elizabeth's oldest grandson, Peter Phillips, and his soon-to-be ex-wife Autumn Kelly.
Twelve years ago, Phillips and Kelly married. Shortly thereafter, they had two daughters—Savannah and Isla. Phillips and Kelly reportedly plan to share custody of both children, according to an official statement released to Time.
You might think divorce is a taboo in the traditional royal family, but it's actually not that uncommon. There have been quite a few royal divorces in the last few decades. Though Phillips will be the first of the Queen's grandchildren to divorce, three out of four of her children are divorced, including Phillips's parents, Princess Anne and Mark Phillips.
And though Phillips was once further up in the line of succession to the throne (he's now 15th in line), he never carried a royal title. That was a decision made by his parents at the time of his birth (and the birth of his sister, Zara Phillips Tindall).
Kelly, who was Catholic at the time of her marriage to Phillips in 2008, had to convert to the Church of England. However, the rule that a member of the royal family in the line of succession would not be permitted to marry a Catholic was revoked when Prince George was born, and now, the royals are allowed to marry Catholics without forcing anyone to convert.
Any rumors that Kelly might join Meghan and Harry in returning to her native Canada have also been debunked by the couple's statement, as they both plan to stay in Gloucestershire to raise their kids.
The Queen must be extra glad The Crown will end before yet another dramatic family event could be included in the show.
Related: The Next Royal Wedding Will Give Us a Glimpse of the Post-Megxit Monarchy's Future