Rumer Willis on Love, Loss, and What She Wore
On the heels of Sorority Row, a stint on 90210, and the upcoming indie flick The Diary of Preston Plummer, 22-year-old Rumer Willis is taking to the stage as the newest cast member in the...
---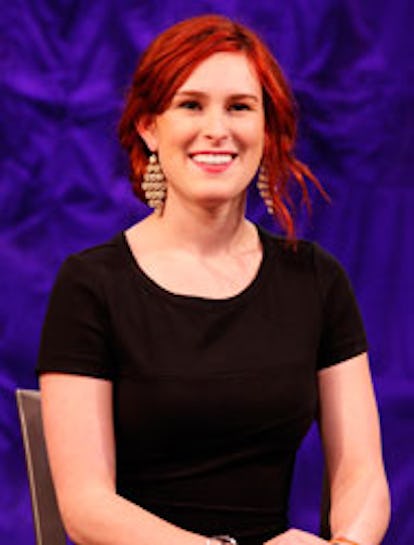 During the show, talk goes from quite weighty topics (mastectomies, rape) to lighthearted dressing room banter (literally), first-bra stories, and kvetching parents. The amazingly down-to-earth Rumer shared personal stories on both fronts (the kvetching parents are Demi Moore and Bruce Willis) when we caught up with her off-stage:
How long did you prepare for the role? Oh gosh, we literally rehearsed for like two days. It's great. I'm honestly loving every minute of it. The other ladies I'm working with are so fantastic. I have four veterans sitting next to me every night so it's kind of impossible not to just learn, just by watching them. It's such a learning experience.
How does being on stage compare to on-screen work? It's so much different. Luckily when I was in high school I did a lot of theater. Obviously nothing of this caliber. It's been a while. So it's definitely a shift. It's so different. When you're doing television, when you mess up, you can do another take, but with this it's so in the moment. It really forces you to work on your reflexes. It's such a challenge for any actor.
Following the theme of the show, are there any pieces of clothing that are particularly meaningful to you? So many. I feel like every woman kind of has those pieces that they've had forever that are specific to a very certain time period in their life. There are things that I remember I used to wear. I had this skirt that I think was made by Great Chinese Wall. It was this old khaki skirt that had these old sweatshirt material patches and I used to wear it all the time when I was in middle school and I thought I was very badass. Its funny how your style really goes through an evolution as you get older.
Do you still have it? Yeah.
Do you still wear it? I haven't worn it in a couple of years. I also have a lot of cashmere sweaters that I've snatched from both my parents that I really love. They will always be classic pieces of my wardrobe.
Do you borrow clothes a lot from your family? Oh yeah. My sisters are the worst. I'll find my things in their closets and they'll just go, "Oh, I just found them here. They were just in my room.'" And I'll go, "Oh, really?" But we do it to our mom too.
Do you have any real-life moments that remind you of the skit "What My Mother Said"? Oh completely. I know specifically my little sister will come in wearing tank tops that are super low-cut on the sides and [my mom] will always say, "Are you going to wear a sweater with that?" She doesn't do that to me so much any more, but she definitely did when I was younger.
Do any of the vignettes really hit home for you? I think every woman can kind of relate to most of the stories, but I think for me, it was "I Hate My Purse." I somehow manage to have a relatively small bag, but I can manage to fit so many different things in it. I was looking in my bag today and there is the airline ticket, my sunglasses, gum, lip balm—I'm a lip balm freak—a little moleskin notebook… There ends up being such an accumulation of stuff in here. I don't know how it happens. At this moment I'm carrying this Balenciaga bag that's kind of this mint, cream color. I'm definitely a purse freak. I don't know how many I have. But I'm definitely more of a purse girl than shoes.
There's the one vignette about prom, did you go? What did you wear? I did. I had this vintage Karl Lagerfeld, and had this horrible pink coat that was so not attractive at all, but somehow I thought it would work. It was a gorgeous dress. It was very Marilyn Monroe-esque. It was a halter top and had this very tight waistband and went out and was long on the bottom and had these sparkles all over it. It was great. I still have it.
I loved the on-stage banter about the bras. Do you have a crazy story like that? When I was younger I wanted a bra so badly, I couldn't wait to get one. I don't necessarily think I ever had a bad bra experience, but I definitely remember going to Target and trying to find a training bra.
What did your family think about the show? They loved it. It was really great that my sisters came out and my whole family and a couple of my friends. It's really great because there are certain jokes that might not necessarily be funny to everyone but certain things my sisters laughed at. Obviously, I have tattoos and there is one line about tattoos and my little sister totally laughed and I don't think anyone else really got it, but she did.
Tell me about your tattoos. From the audience, I could see one on your wrist and one on your forearm. Yeah. There's a few of them. They've sort of accumulated. I think I have 13 now. I have one on my shoulder, one on my back, one on my forearm, a white feather on the inside of my upper arm, a couple on my wrist and my fingers and one my foot too, so yea, I tell everybody that, yea, you've got to beware because they add up quickly.
Do you have a favorite? There's one on my forearm that I really love. It's a Carl Sagan quote that says, "for small creatures such as we, the vastness is bearable only through love." I was reading a book [Contact] he had written and found it and thought it was just really a great message.
Which was your first? I have two little stars on my hand that I got when I was 17 or 18 and I was wanting to rebel and be badass, so I went and got them. But there's things obviously that I look back on now and think maybe I would have done differently. But I still like most of them.
What do you think is next for you? I would love to do continue to do theater at one point. I'm in that place right now where I'm ready for new opportunities. I got lucky with this, it is such a challenge and I really get to push myself to grow.
Rumer will be performing in Love, Loss, and What I Wore at the Westside Theater through April 24th.
Photos: Carol Rosegg