Spring Forward
Spring 2010 runway hair and makeup were memorable—in both good ways and bad. Herewith, a few accolades, question marks and critiques.
---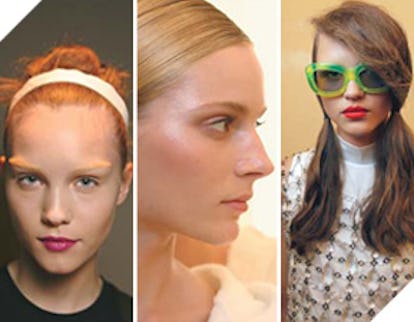 MILAN: BOTTEGA VENETA, GUCCI AND PRADA Most Wearable / Bottega Veneta: When do fuchsia lips look fresh and natural? When they're set off by dewy skin. Similarly, bohemian headbands appear casual and fun when topping loose updos. Well played, Bottega Veneta. Most Breathtaking / Gucci: Less-is-more never looked more lovely than at Gucci this season. In stark contrast to the house's usual sexed-up style, hair was parted on the side, smoothed close to the head and gathered into low, pin-straight ponytails. In terms of makeup, there was little more than subtle brown hues on the eyes and nude-pink blush. Basta! Most Daring / Prada: When the schoolgirl look goes awry, the models end up resembling modern-day Baby Janes. Such was the case at Prada. Tone down the stop-sign red lips and brush the hair off the face, and we'll be willing to reconsider.
PARIS: CHANEL, DIOR AND LOUIS VUITTON Most Wearable / Chanel: A few years ago this look would not have been considered easy to pull off, or even beautiful. But the expertly disheveled updos at Chanel, many of them adorned with golden twigs or patchwork bows and ribbons, felt approachable and cute now that hair accessories have made a big comeback. Most Breathtaking / Dior: Paging Lauren Bacall—the Forties glamour girl got an update for the Dior runway. Iridescent pastel lids and extrafull lips stained wine or cerise were accompanied by classic waves brushed out to add just a touch of mussed modernity. Most Daring / Louis Vuitton: Why wear one afro when you can wear five? That was the ethos at Louis Vuitton, where enormous curly hairpieces—each constructed from five wigs—were occasionally punctuated with oddly placed bows.
NEW YORK: ANNA SUI, CAROLINA HERRERA and RODARTE Most Wearable / Anna Sui: The bouncy blowouts, artfully lined lids, peachy skin and pinkish nude lips on models at Anna Sui were pretty perfection. Most Breathtaking / Carolina Herrera: "Hair weave" took on a whole new meaning this season as stylists worked everything from ribbon (Jason Wu, Oscar de la Renta) to denim strips (Rag & Bone) into models' manes. Our favorite: the jaw-­droppingly beautiful strands of silver and copper beads that were threaded into low, messy buns at Carolina Herrera. Most Daring / Rodarte: Everything about the look at Rodarte said "Don't mess with me." Lips were black and beet-colored, and necks and arms were covered with tattoos. The seemingly disparate inspirations: New Zealand's Maori warriors, East L.A. girl gangs and Art Deco design.