RuPaul's Drag Race Season 10, Episode 6 Power Rankings: The Show Has a #MeToo Moment
After a DragCon-themed challenge, the show has a major touching moment.
---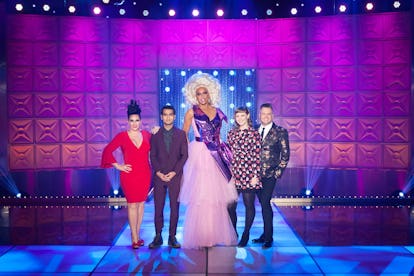 At the very beginning of RuPaul's Drag Race, the gist of the show was that the girls would compete in challenges directly inspired by things RuPaul herself had actually done in her own career. And though the show has never quite lost that idea, it's certainly stretched it to the limits. While they may have made for good TV, several challenges in later seasons haven't really resembled much of what Ru or any drag queen has done in the real world (see: last season's cheer challenge that only served to send Eureka to the hospital). At the same time, however, an entire cottage industry has grown around Drag Race. Contestants have so many post-show career opportunities open to them now, and it only makes sense that these new avenues should serve as challenge inspiration.
We've long hoped for a challenge where queens have to pitch and film a pilot for their very own WoW Presents YouTube program, but tonight the show gives us something close by challenging the queens to produce their own panels similar to what one might see at RuPaul's DragCon. It perhaps opened a whole set of future challenges based on what queens might actually end up doing in their own careers in the future.
Before we get there, though, the show opens with Ru introducing a classic subversive mini-game that has nothing to do with anyone's professional life called "Sitting on a Secret." Each queen is blindfolded and asked to identify a random object by merely sitting on it. This seems like it might be some sort of weird YouTube video challenge popular in Germany or Japan, but as far as we can tell it is not.
Now, half the fun of any reality show, whether you have any actual aptitude for the skill in question or not, is sitting at home and trying to think what you personally may do during any given challenge. What we're saying is if at any point you thought to yourself, "Hmmm, could I identify a fax machine with just my butt," you are not alone.
Reality shows also have a tendency of making us all have to relive the stress inflicted on us in school when the teacher paired us off for a group project, and in this episode Professor Charles has the girls pick their own. Eureka, Monet, and Kameron find themselves in the awkward but relatable position of forming a group out of the leftovers. Other queens place doubts on their prospects, but, come on, recent bottom two placements aside, it's still Monet and Eureka teaming up for something that requires oodles of personality. Somehow, we think they're going to be fine. The real key takeaway here is that Eureka, The Vixen, and Aquaria all end up in different trios, assuring us a bit of a break from the feud storylines of the past few weeks. Mama Ru comes around and seems more engaged than usual in guiding the teams (a theme that would repeat itself in the actual judging this week as well), and while there's some indication of which teams may not be coming together as a group, we're really not sure. This is a brand-new challenge format for the show. There are no telltale tropes to avoid or obvious traps to fall into.
The girls also learn that they'll be presenting their panels in front of a group of Drag Race superfans whose opinions will be taken into account in the judging. Fittingly Kumail Nanjiani and Emily Gordon, the husband-and-wife team whose obsession with Drag Race almost made its way into their Oscar-winning script for The Big Sick, serve as guest judges.
When we actually get into watching the panels, it's a little bit jarring at first. We're used to this show being sleek and super-edited. Here, they let the actual panels play out almost in real time. It's certainly a change, but, then again, what Drag Race fan hasn't spent a few hours here and there watching unedited cellphone-shot footage of queens at home? Anyway, lets break it down.
Team Body
At first, we're a little worried about this team's decision to combine the existing word of "proportioning" and the nonexisting word of "proportionalize" into the not quite hashtag-worthy "proportionizing" ("smizing" it is not), but the phrase serves as a rallying call for the team and an organizational tool for their presentation. It also helps for a panel on "body" that each of the queens has body types that are distinct from one another, which really sells the fact that each has expertise and tips the others may not. Eureka and Monet both shine by virtue of being, well, Eureka and Monet, while Kameron steps it up and reminds us that she does keep a personality hidden somewhere under her pads. Eureka also gives a rather eloquent answer to an audience question about the importance of drag in these political times, hopefully burying any social media rumors that she was the elusive Season 10 queen who voted for Trump. (Then again, wasn't it already revealed to be Shania Twain? Or was it Robbie Turner's Uber driver? Who can keep up?)
Team Face
Aquaria and Asia avail themselves nicely, but there's no doubt this panel is basically a vehicle for Monique Heart, who absolutely shines here. It's pleasant enough to watch, but the train-wreck pileup of overlapping makeup tips at the end, while perhaps necessary for time limits, signals that much like Saturday night on Grindr, Team Face is not going to stand in the way of a really good Body.
Team Hair
Well, yikes. The most entertaining part of this was Ru raising and lowering her hand from the dais. The girls still seem stuck in improv and character mode from last week, and nothing really works. The "Wigaholics" bit falls flat, as does their attempts at forced shade. Poor Blair is the only one offering much in the way of usable knowledge, while The Vixen and Miz Cracker trade barbs and bits.
There's no surprises in the judging, with Team Body forming the top three and Eureka getting her second win a row on the strength of audience feedback. Team Hair, meanwhile, falls into the bottom, but the fate isn't decided before an emotional moment on the runway.
Blair St. Clair reveals that her extra-sweet persona in drag was a reaction to tragedy in her past. Her first sexual experience was a rape during a college party. It's a teary moment but an important one. Even in the midst of the #MeToo movement, the gay male community can often finds it difficult to talk about rape and sexual assault that occurs in its own ranks. Hopefully, Blair's admission sparks further discussion.
Unfortunately, the limits of the show's ability to be a competition, an entertaining reality show, and an important and necessary vehicle for issues within the gay community that don't get much outlet in the mainstream or, at times, elsewhere in the gay community, all at the the same time, is tested. As touching as the moment is, Blair finds herself lip-syncing for her life a few moments later. She gives a spirited performance, but a hungry Vixen out-moves her and lives to see another challenge—though at least she did promise to beat Blair's assailant's ass.
Now, time for our power rankings, which, as always, take into account the entire series so far.
1. Eureka O'Hara
As Eureka is the first double winner of the season so far, with those wins coming back-to-back no less, the show feels like it has its very first concrete front-runner. That's not to say she has this all in the bag Bianca-style yet, but she seems a safe bet for possible top-three placement. While Eureka's outsized personality in the workroom can grate at times, she can put it to use to work wonders during challenges.
Between the feather challenge's dark-lady runway, and tonight's "Carmen Sandiego goes Houndstooth" outfit, it's also safe to say that Eureka might have a favorite fashion collection of all time, because both of those looks seem heavily inspired by Alexander McQueen's Fall 2009 collection. She's got good taste.
2. Kameron Michaels
Beyond Eureka, the exact standings so far remain nearly impossible to gauge. It's basically a raffle at this point. So, for our runner-up this week, let's just go with Kameron. Sure, why not? She's got her third high placement so far, and the judges seem to like her. She steps it up when need be, and has surprised more than once.
The thing is, we just wish she gave us more to root for by speaking up a little bit in the workroom. Not to play armchair psychiatrist too harshly, but her story about giving up drag completely for a boyfriend in order to become an amateur bodybuilder may indicate that Kameron is a bit of passive person who reacts more than she takes action. That's not exactly a hallmark trait of Drag Race winners past. Still, she's done enough to at least deserve being bumped up in to the top three of these rankings. For one week at least.
3. Monique Heart
Monique continues to have an Alyssa Edwardian quality for turning almost anything that comes out of her mouth into an instantly quotable Drag Race classic. She does seem fixated on the fact that she keeps getting overlooked by the judges, but it's not total paranoia. It's apparent to most watching at home as well. What we may not have known is that she's forced to make most of her outfits on the fly.
4. Aquaria
This was not her challenge, but at least it was her runway.
5. Asia O'Hara
Hello, headpiece. That was astonishing.
6. Miz Cracker
You know when you have that late-night snack you like to make with Triscuits, but you paw through your pantry and all you have is Wheat Thins, so you try to make it anyway, but it's just not what you wanted? That's what tonight felt like. Just not the cracker we were used to.
7. Monet X. Change
Monet certainly redeemed herself this week and came close to a win, but we can't pretend that the past two weeks didn't happen. She has an opportunity to start anew, and tonight's Technicolor-church-suit runway, her best of the season, was a good start.
8. The Vixen
A lip-syncer to watch out for, but overall her performance hasn't been overindexing over the past few weeks.
9. Blair St. Clair
Gone, but we suspect not forgotten among Drag Race fans anytime soon.
Realted: RuPaul's Drag Race Season 10, Episode 5 Power Rankings: Reclaiming Trashy Talk Shows