RuPaul's Drag Race Season 10, Episode 4 Power Rankings: Season 3 Realness, Anyone?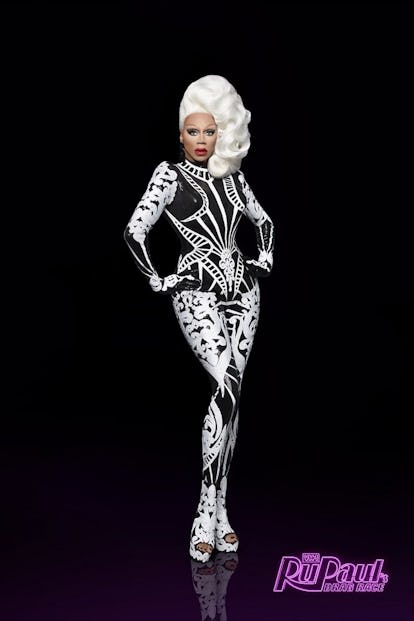 Let's just get straight into it: This episode of RuPaul's Drag Race delivered in absolutely every single way, from the classic Season 3 vibes the entire episode emanated right down to the truly gag-worthy Leigh Bowery–inspired drag Miss Ru herself wore on the runway (were you not shocked? were you not delighted?). Despite how far the show has come and how much it's evolved, these 90 minutes proved that it never hurts to go back to your roots and revisit much of what made the show a cultural phenomenon in the first place.
The episode begins with Ru, apparently recovered from whatever voice-dampening bug she had last week, challenging the girls with a photo-shoot mini-challenge. The premise might have been Photoshop-assisted photobombing into celebrity snapshots, but the real challenge is figuring out who can pose the house down. Blair has some fun with the bathleisure trend, Miz Cracker miming Serena Williams with her square hair loaf was truly inspired, but ultimately it's "look queen" and photo-shoot enthusiast Aquaria who takes the challenge by managing to pick up dog poo while still making it fashion.
Moving on, the real highlight of the episode, however, was the announcement that the main challenge would be a proper three-look ball smack-dab in the middle of the season. This is something we haven't seen in years, and it didn't even involve some weird add-on like designing soup cans or Sanrio characters. It was just Fashion! Fashion! Fashion! Enough to touch and truly change your life. Yet the actual "Last Ball on Earth" theme managed to be both clever and pointed. The girls were tasked with preparing for global climate change by wearing one look that would befit an Alaskan Winter (which, in our climatic future, apparently involves swimwear), one look for a Miami Summer (winter wear), and one look made from scratch to wear when Earth's inhabitants have to jettison themselves to Mars for survival.
Everybody knows by now that the queens are given a list of outfit themes before the season, and it's likely that generic "swimsuit" and "winter wonderland" bullet points were on that list. So most of those "Alaskan Winter" looks don't actually have much to do with Alaska—either Thunderfuck or the state. However, some of the "Miami Summer" looks accidentally get close to what Miamians may wear in freezing temperature once they get used to it. Mind you, at first it would be five lawyers of Miami Hurricanes hoodies with leggings and chancletas, but eventually they'd land on neon- and pastel-hued faux furs and ice-princess-stripper gear.
But it's the final look that counts for the most, and the girls make the traditional scramble for supplies that marks any good ball challenge. Monét launches at an entire bolt of expensive-looking quilted pleather, a move that absolutely leaves seamstress Asia O'Hara gasping because she knows 1) it's expensive 2) it's very hard to work with 3) Monét barely knows how to sew. It's a moment that perfectly foreshadows both of their fates in the episode. Aquaria, who often does come across as a more refined Milk, decides she's going for a paper-doll affect or, as Cracker sums it up, gluing something onto her bra.
It's always fun to see the queens work through their creative process, but the real highlight came from Ru's walk-through. She always takes a step back from her informal "Tim Gunn" role during All Stars seasons, but it's been a while since we've seen her fully in Mama Ru mode in the workroom. Here she takes time with several contestants and actually walks through some of their backstories in a way that might not easily fit into the narrative of the show otherwise. We learn that despite a shared last name, Eureka and Asia are not drag relatives (interestingly, however, Asia does not readily identify her daughter from Season 4, Phi Phi, as a member of the O'Hara clan), that Aquaria has been performing underage in clubs since her teen years, and we get to see some rays of actual personality coming out of Blair.
The other workroom highlights, of course, included Monét's attempt to explain that the modern-day American accent is closer to how the British used to speak than how Brits actually speak now. Many queens are dubious about the claim, but it seems Monét is right. We read it on Mental Floss! (P.S.: Congratulations to the team at Mental Floss and all the traffic they'll wake up to tomorrow when people start furiously Google-searching the matter.) The quick matter of discussing sugar daddy rumors (which, come on, you know Miz Cracker was told to do by a producer) seemed like an excuse to bring up a callback to Shangela's infamous "sugar daddy" tirade. It was like the show was saying, "Doesn't this episode remind you of Season 3? You've all been wanting some Season 3 fashion challenge throwbacks, right?" But we really don't mind any reason to bring back that Shangela speech. Oh, right, we are also glad to finally know that that the move Eureka and Monét were gagging over, which we've seen drag queens do for ages, is called a "donkey kick." Cue the "More You Know" gif.
Since this was, after all, a fashion challenge, and this is, after all, a fashion magazine, let's just jump to our power rankings (which, as always, reflect the entire season so far and not just this episode, and, of course, exact placings should always be taking with a grain of salt, especially this early) and an outfit-by-outfit breakdown of each queen's offerings!
1. Miz Cracker
"Winter": A cute idea sold exceptionally well on the runway, but we're still not sure if the braided-hair bikini accomplished anything for the look that a more traditional bikini couldn't have.
"Summer": This brought to mind a lot of things: stewardess, Bond villain henchwoman, Star Wars extra. We couldn't quite put my finger directly on it, but were into it.
Mars: Well, it was a glittery astronaut.
We didn't expect Miz Cracker to actually place top three in either of the sewing challenges so far, and yet, there she was both times. For a queen whose trademark is really comedy and personality, that speaks volumes about Cracker's opportunity to go all the way even if she doesn't have an outright win.
2. Aquaria
"Winter": Definitely feeling this lucha libre–meets–"X-Men go to Hawaii" look, and that she worked that ropelike ponytail to full effect was a big cherry on top.
"Summer": It may have been coincidental, but she actually nailed the fantasy of an iced-over Miami here with faux furs dyed to resemble a Florida sunset.
Mars: There will be rumblings that this was too simple compared to some of the other things on the runway, but the fact is that if you can do simple well, and you can do simple with a not-so-simple and unexpected statement, do it. That's advice that carries well beyond the Drag Race runway.
Last week's drama aside, "look queen" Aqauria really needed to deliver during a look challenge. The fact that Ru had known her name even before she was of legal age to apply for the show certainly bodes well for her.
3. Blair St. Clair
"Winter": Of the many queens who went retro for their swimsuit inspiration, Blair was by far the most successful with her interpretation of the original Swimsuit Barbie.
"Summer": Another cute, well put-together look, but we guess we're conditioned to expect that anytime a drag queen wears a coat onstage, she's supposed to rip it off to reveal something underneath.
__Mars": Barbie 2021.
We put Blair in the top spot last week to show that it's still anyone's game, but we had to bring her down this week because, despite a well edited selection of looks, she fell just out of the challenge's top three this week. What is promising for Blair is that "dot…dot…dot" she showed more personality and spunk than she has before. She's an introvert blooming before out eyes.
4. Mayhem Miller
"Winter": It definitely read pinup, as intended, if not a little bit Flintstones pinup. It was fine, but the simple black robe and shoes keep it from really popping. Some more exciting choices in those departments, or a few more accessories (some sunglasses? a parasol? a garter belt?) would have helped sell the storyline better.
"Summer": A true polished ice queen, but Miller's fondness for white-out colored contacts is bound to be decisive and, eh, not sure what to make of the particular wig and its big black roots. Some of the other queens went with pale pastel wigs to offset an all-white look, and that might have been the better choice.
Mars: A detailed and well done look that read both as very Mars and as what Juju should have worn during the All Stars 1 superhero challenge (ahem). Re-watching, though, we wonder if it was the choice to go with baggy pants that kept her out of the top three. It seemed like she had spent so much time on the rest of it that she didn't want to be bothered getting the fit just right on a tight pant so she opted for some culottes instead.
All in all, Mayhem was an extra accessory here and a silhouette choice there away from the top three. In the viewers' eyes, this week's performance should offset last week's slipup, though it remains to be seen how, exactly, the judges took it into account.
5. Eureka O'Hara
"Winter": She manages to sell plus-size pinup pretty well here, and other queens have struggled in that department on the runway before. The biggest gripe was highlighting an ill-fitting bra portion with some drab gray paneling.
"Summer": It did its job. No complaints, but nothing particularly gagworthy. She knows what works for her.
Mars: Church ladies are still going to go to church come Sunday on Mars, and Eureka really nailed that here.
Throughout the history of Drag Race, failing at fashion challenges is all too often a storyline for plus-size queens. The takeaway from tonight, and from many of her other looks throughout this season and last, is that that's not a problem for Ms. O'Hara.
6. The Vixen
"Winter": How do you judge an outfit that's barely there? Kudos for pulling it off—and loved the fan.
"Summer": There was something a bit, hmmm, regional theater costume about this look. Which isn't shade. Just surprising for her.
Mars: Ambitious in its many details, but there were some definite fit and execution issues here. Not a disaster but, obviously, not a win. The fit of her pants (leg warmers?) illustrates why Mayhem was smart to go with a wider leg fit during a DIY challenge with a time limit.
The Vixen isn't going anywhere anytime soon, but all in all, tonight's showing was the safest of the safe girls.
7. Monét X. Change
"Winter": Her neon look just needed more, more, and a little bit more. It stopped at the leg, and the wig just looked unkempt.
"Summer": By far Monét's most successful look of the night. It successfully told a story, and yet, a little bit of padding certainly wouldn't have hurt.
Mars: In the immortal words of Mimi Imfurst: Judy Jetson hooker.
Monét perfectly represents one of the biggest dilemmas Drag Race has inflicted on the world of drag at large. Polished, fashionable looks certainly are a feast for the eyes on TV and on Instagram, but when you're drunk in the club at 2 a.m. and a drag goes onstage, you're not necessarily waiting for a fashion show. What you want is a performer who can thoroughly connect with and entertain an audience. Monét does that in spades. She's legendary in New York City, and she's certainly projecting personality across the television better than anyone else this season. Perhaps that lets her get away with less-than-polished looks to a point that she doesn't truly realize. It's the sort of problem winners like Jinkx and Bob have had before, but in some ways it's even more exaggerated in the case of Monét.
As soon as we saw the Mars look we knew both instantly that she'd be in the bottom two, but that she'd slay the lip sync. The death drop fake out was definitely a gag for the ages, but Monét really needs to step it up down the road and get a major win in a performance challenges.
8. Kameron Michaels
"Winter": The way-too-noticeable bodystocking gave us flashbacks to Season 7's "nude" runway. Otherwise, the look was decidedly "cougar hits up a Vegas pool party." We're sure some fans will be in an uproar, though, that it was used as an excuse to deny her a full-out win.
"Summer": Another intricate look form Ms. Michaels, and, this may be a matter of personal taste, but we enjoyed it a lot more than last week's Maleficent number. Here's a question, though: Why does she keep capping off these looks by painting on facial hair?
Mars: Kameron's looks don't necessarily pierce that part of my heart that makes me squeal "yassss kween!" but I appreciate the craft that goes into them.
Kameron has the exact opposite problem that plagues Monét. The look is there, from what we can tell the onstage performance capability is there, but she's just not connecting. Not with the other queens, not with the the producers or editors, and not with the judges. We're getting the vibe that she uses the time she needs to take preparing for the runway as an excuse to fade away into the background and away from the main action of the workroom.
9. Asia O'Hara
"Winter": Remember when Nicki Minaj used to wear things like pompom ball dresses? Yeah, it was very the swimsuit version of that. It wasn't great, but do take (positive) note of the fact that she did manage to work in the pompoms from head-to-toe to tie the look together without going overboard.
"Summer": Sticking with the early era-Nicki inspiration here, this was definitely her most successful look.
Mars: Gurgling balls have solved many a problem before, but not with this outfit.
After last week's win and the revelation that she runs a full-time business making costumes for other people, the onus on Asia was huge tonight. She had the chance to really walk away from the rest of the crowd and establish herself as a front-runner. Instead, bittersweetly, she used up too much of her time helping the other queens. Now instead of having a possible favorite, we suddenly have a very crowded field for Miss Congeniality.
10. Monique Heart
"Winter:" The idea was cute, but we were left unsure about the particular cutout. Also could have used a few more elements and better shoes.
"Summer": Another that comes to close to actual Winter in Miami, but in a very Bea Arthur way.
Mars: Let's talk about how her voguing entrance and switch from android to Mars stripper got, oh, about half a second of screen time here. Note to queens of future seasons: If you're going to do a reveal on the runway, at least make the judges soak in the first layer. The jumpsuit underneath was cute, but it certainly wasn't worth revealing right away.
Oh, Monique! We're not even sure how she got so low on the rankings this week. We agree with her that she's been overlooked by the judges (maybe not as many times as Monique seems to think, but at least a few times), but the reality is that the winner isn't decided by us or Monique. It's decided by the judges and Ru, and if she's not connecting with them yet, then you have to wonder when it's going to happen.
11. Dusty Ray Bottoms
"Winter:" I hate to do this to poor, sweet Miss Dusty, but this seemed like a lost look from Andy Dick's "Daphne Aguilera" wardrobe. "She's almost pinup," says Dusty of the look. Don't use the word "almost" on the runway. It should have gone all the way.
"Summer": Another one that's a little bit regional theater but was Dusty's strongest of the evening.
Mars: There was so much going on with this outfit, but it failed to come together as a cohesive storyline or a flattering silhouette.
Dusty is assuredly talented, but she was certainly one of those queens who was bound to struggle with a fashion-heavy challenge so early on.
Related: RuPaul's Drag Race Season 10 Episode 3 Power Rankings: Well, Lets Talk About Aquaria and The Vixen…