Russell Simmons Is Getting Really, Really Serious About Yoga
Before heading to Art Basel Miami for his annual party with Bombay Sapphire, the hip-hop mogul-turned-yogi shares his culture diet.
---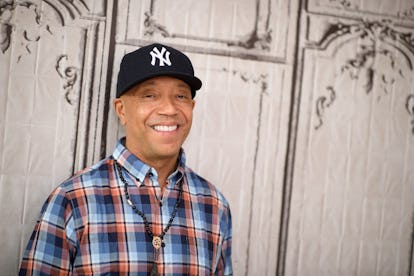 Dave Kotinsky/Getty Images
Having risen to the mountaintop of hip-hop since cofounding Def Jam in the 80's, Russell Simmons has since set his sights on conquering yoga, opening up a new studio called Tantris that's already made him the New York Times-anointed "Yoga King of Los Angeles." And while Tantris has only been open for about a week now, Simmons' commitment to wellness has long been very real: He sticks to a vegan diet, meditates, and usually abstains from drinking — until the annual party he hosts with Bombay Sapphire at Art Basel Miami rolls around, that is. This year's edition of the Artisan Series finale takes place as the fair kicks off on December 1, and celebrates the 16 finalists in the running for his support in a public arts project developed with the New York nonprofit Creative Time. Before heading south, he took a break — along with, no doubt, a few deep breaths — to share his culture diet, here.
First thing you read in the morning: The New York Times.
Books on your bedside table right now: Bling by Erica Kennedy. I've also been reading the Yoga Sutras of Patanjali and Scriptures in the curriculum for our teachers at the studio.
The TV shows keeping you up at night: "Insecure," "Luke Cage," "Narcos" — I'm a little late with that — and old reruns of "Curb Your Enthusiasm."
Last movie you saw in theaters: The Magnificent Seven.
Last thing you saw at the theater: Hamilton.
Last piece of art you bought, or ogled: A work by Victor Matthews, who I've been supporting since he was a starving artist.
Go-to spot in Miami: The beach.
Favorite vegan restaurant: Crossroads, but really, you can get a vegan meal anywhere in L.A., even at Craig's.
Last song you had on repeat: [Sings] All the way up, all the way up…
Last concert you saw live: Kanye, in downtown L.A.
Favorite Instagrams to follow: @sarahprinciple, @yogainspiration, @tyrese, and @jessegolden.
Last thing you do before you go to bed: Meditate.