Le Eau de Russell Westbrook
The stylish basketball player talks about his Byredo collaboration.
---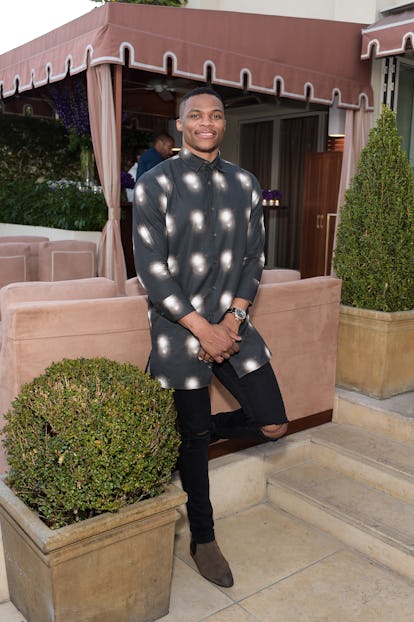 Oklahoma City Thunder player Russell Westbrook has been a fashion industry darling for years: he sits front-row at the shows and has collaborated with Barneys on a line of men's wear and accessories. Now, the NBA star is taking on the beauty business, collaborating with Byredo's Ben Goreham on an exclusive new scent, Byredo Westbrook Eau De Parfum. On Wednesday night at a dinner in Los Angeles, Westbrook—clad in an Ann Demeulemeester shirt, vintage denim, Asos shoes and Zenyth watch—discussed the unisex fragrance, his scents sensibility and his LA habits.
What was the inspiration behind the collaboration? Cologne is something I'm interested in and I thought Ben [Goreham] was the perfect guy. We have a lot of similarities, he used to play basketball and I play basketball, he's laid-back like myself, so that made it easy. I got introduced to Ben in Paris, and after my collaboration with Barneys I wanted to be able to expand and do different things, whether it was cologne, underwear or whatever.
What was the collaboration process like? We were going back and forth while I was playing basketball. It was fun looking at the different scents, deciding what I liked. It's interesting that one little ingredient can change the whole scent.
What did you learn that you like? Fresh, warm and rich scents, something that lasts all day and you can wear it anywhere, any type of day—that's kind of what I was going for.
How has your personal use of fragrance evolved? I do have a lot more scents now than I have had in the past, just because I'm talking to a lot of people all the time so I obviously want to smell good. I don't have a routine as of yet, but I make sure I always travel with certain types of scents. I'm not big into the musk type of smell, but I like fresh scents.
Photos: Le Eau de Russell Westbrook
Russell Westbrook. Photo by Getty Images.
Russell Westbrook x Byredo. Photo by Getty Images.
Ben Gorham, Charlotte Blechman and Lisa Eisner. Photo by Getty Images.
Greg Chait and Russell Westbrook. Photo by Getty Images.
Gentry Dayton, Robert Keith and Kether Parker. Photo by Getty Images.