Ruth Bader Ginsburg, Hillary Clinton, and Karlie Kloss Spoke at the DVF Awards in D.C.
The Supreme Court Justice was honored at an intimate event at the Library of Congress.
---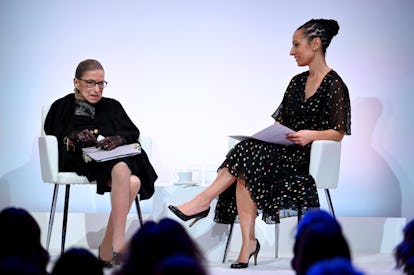 Getty Images for DVF Awards
Last night in the Great Hall of the Library of Congress, in Washington, D.C., a crowd of just over 100 people gathered for the 11th annual DVF Awards, an event created by Diane von Furstenberg and her husband, Barry Diller's, family foundation that honors women who have committed themselves to women's causes. Usually held at the United Nations in New York, the event migrated south for a particularly special honoree: Supreme Court Justice Ruth Bader Ginsburg, who was presented with the Lifetime Leadership Award by none other than former Secretary of State Hillary Rodham Clinton.
The event was surprisingly intimate for such a grand setting, let alone a headliner whose face appears on children's books, tote bags, and mugs sold at every gift shop in the city. Dinner was served buffet style on the mezzanine; guests dipped tiny wedges of grilled cheese into espresso cups of tomato soup while gazing up at the ornately decorated ceiling and trying not to be shocked by the towering height of the presenter Karlie Kloss. Also in the mix: Senator Kirsten Gillibrand, the artist-gallerist Ashley Longshore, Hirshhorn Museum director Melissa Chiu, and the To All the Boys I've Loved Before star Lana Condor.
As guests took their seats in rows of low white couches, von Furstenberg, regal in ombré sequins and a necklace that read "in charge" in diamond-studded cursive, kicked off the proceedings by presenting Iman with the Inspiration Award for her work with the humanitarian organization CARE. Von Furstenberg recalled their first meeting, at a department store in New York in the 1970s, when she was getting started "trying to sell dresses" and Iman had just emigrated from Somalia to pursue a modeling career.
Iman thanked von Furstenberg for "taking her under her glamorous wing," and gave a short speech before praising Justice Ginsburg as "a combination of Mount Olympus and Mount Vesuvius." Condor and Kloss then presented awards to the activist Priti Patkar—whose work focuses on preventing human trafficking in her native Mumbai, India—and the prison reformer Saskia Niño de Rivera, respectively.
As Secretary Clinton took the stage in a white silk jacket, the group rose for the first of many standing ovations of the evening. Her five minute speech walked guests through Justice Ginsburg's many accomplishments: "Advancing the rights of women and girls is the great unfinished business of the 21st century, and no one has done more to push it into reality than Supreme Court Justice Ruth Bader Ginsburg," Secretary Clinton said. She also reminded those for whom some of this might seem like ancient history just how much progress has been made in the last few decades alone. "I couldn't get a credit card after I got married," she said. "And I made more money than my husband—a common experience throughout our marriage!"
Ginsburg then took the stage to another standing ovation, assisted up the steps by an aide on each side. But her frailness belied her strident, outspoken disposition. During a "fireside chat" with the ACLU's Ria Tabacco Mar, Justice Ginsburg, wearing a black tea-length dress with gold embellishments, Madonna-esque black lace gloves, and clutching a white snakeskin purse, corrected her interviewer, many years her junior, on the dates and specifics of Supreme Court cases more than 50 years old.
When asked what advice she would give to women who want to make a difference today, Justice Ginsburg echoed Secretary Clinton's presidential campaign slogan, "Stronger together. As a loner, you're not going to be able to accomplish very much," she said. "if you want to put women's rights on the human rights agenda, you want men to be involved too. To have men and women working side by side to pursue this goal was what I decided to be the best course."
The event wound down, and von Furstenberg—surrounded by family and fans—perched on the edge of the stage with a petite ramekin of crème brûlée. Guests tried and failed not to knock over drinks that had been placed on the floor as they shuffled toward the exit and saturated their Instagram Stories with RBG tributes.
As attendees descended the Library's grand staircase toward their idling Ubers, one guest recalled an interaction she'd witnessed when sitting near Justice Ginsburg on a recent airplane flight: As passengers were disembarking, a woman approached the Supreme Court Justice to thank her for "everything she had done." The guest said that the 86-year-old snapped back at her: "There is still much to be done."