Ryan Murphy Is Selling His Laguna Beach Home for $18.75 Million After a Decade of Renovations
He spent a decade renovating it before putting it on the market.
---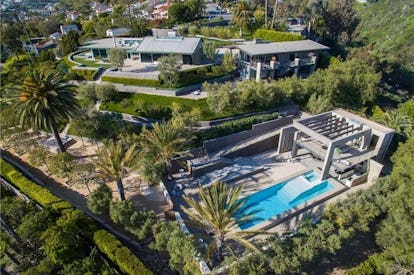 Zillow
Ryan Murphy spent more than a decade renovating his Laguna Beach home, which he finally unveiled on the cover of Architectural Digest in February 2017, but he's already ready to move on. The screenwriter and director is selling his 6,500-square-foot estate for $18,750,000.
What comes with that price tag? Pristine ocean views in one of Southern California's most coveted neighborhoods. There's also the fact that the home is more like a modern-day castle, with a driveway leading up to a private motor court and the sort of hedge landscaping you'd expect from the creator of American Horror Story. Of course, the only scary thing about this property is the price.
The quintessentially California home has six bedrooms and seven and a half bathrooms, with an open floor plan centered around the kitchen. There is little separation between the indoors and the outdoors, and nearly every room has an ocean view. One doesn't need to trek to the beach to cool off on hot days, though, since the home also comes with not one but two pools. That's because the estate was actually built from two houses, as Murphy explained to Architectural Digest.
"Set on a stunning plot of land, the Laguna home was always a dream, purchased with my first real money (from the pilot of Nip/Tuck)," he said. "My oldest friend, Bart Brown, also a real-estate junkie, visited the property with me on a sunny January afternoon, and I bought it on the spot. The project started off with one house, which Bart would lovingly tend to while I was off in Los Angeles working. Then the house next door came up for sale, and I bought it, reuniting the original parcel. Bart moved in there, and I lived in the main house. Surrounding both was a tiered nightmare of a garden with ground as hard as lava rock and sad, wilted root-bound roses."
Whoever purchases the home will also have the opportunity to keep it decorated as is, potentially including Murphy's art collection, which features works by Doug Aitken, David Cressey, and J.B. Blunk. As Murphy told Architectural Digest, "Peaceful, clean-lined, modern, and oddly quirky, my finally finished family home embodies my fantasy of California—glamorous but effortless, a place to dream and retreat—and how I pictured myself living here when I was kid."