Ryan Reynolds and Jake Gyllenhaal's Bromance and Our New Obsession With Celebrity BFFs
Ryan Reynolds and Jake Gyllenhaal can't seem to get enough of each other, and we can't seem to get enough of celebrity friendships.
---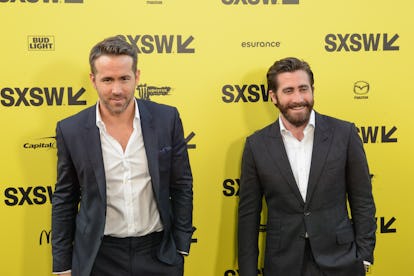 Jim Bennett
Have you heard? Ryan Reynolds and Jake Gyllenhaal are friends now! They're "new BFFs" per USA Today. It's a "true bromance" according to the Associated Press. Their bond is now even "relationship goals" worthy. The pair has both celeb media and the internet at large absolutely abuzz about their newly revealed best buddy-dom.
Naturally, they also just so happen to have a new joint movie, Life, premiering this weekend, and their friendship has become a key feature, if maybe the only feature, of the press tour.
The pair has been just about everywhere talking about their new BFF status. First, admitting how they were sort of "fake nice" to each other when they ran into each other around Hollywood (and occasionally went after the same roles), but now, ever since the pair filmed Life together, they've become fast friends.
"What I did not expect is that we would hit it off as friends the way we did," Reynolds told People in a joint interview.
"I just thought, 'What a genuinely good man.' He is good to other people; he is such a good dad; he is such a good husband," gushed Gyllenhaal right back. "And he is one of the funniest and, honestly, one of the smartest actors that I've ever worked with."
Last night on Late Night with Seth Meyers, Gyllenhaal decided to FaceTime his new bud in the middle of the interview, much to the audience's delight.
They've played fun little games with each other for Wired.
And their joint junket interviews for the film was pretty much a long parade of the pair cracking each other up.
Pretty much every interview for the film they've given alone or separately has come back to the bromance. Even though, Gyllenhaal tells People that he'd still be gushing over Reynolds "if we weren't selling a movie!"
Though, it certainly shouldn't hurt ticket sales.
In fact, it seems like our interest in celebrity friendships has never been higher.
For years, Hollywood publicists relied heavily on exploiting the relationships between their clients for maximum exposure: the romantic relationship, obviously, and, as a certain current TV show reminds us, the feud. Hollywood friendships had always existed, but they weren't exactly fodder for the pages of Confidential or worthy of National Enquirer covers.
Hedda Hopper, for one, certainly wasn't going to waste any valuable cassette tape on two stars gushing over each other. But it's a different, more sincere time, and along with all of those "Stars They're Just Like Us" features that take down celebrities just a notch, now it seems we want to also hear tales of stars hanging out off set and patting each other on the back.
Maybe it started with the revelation that the cast of Friends did indeed become actual close friends on set, and famously banded together in salary negotiations. Ever since the public has become particularly invested in that six-way bond. We love it when they pop up in each others' projects or drop by the same late night show as they still so often do thirteen years after the sitcom's conclusion. A revelation that one of the six had fallen out with any of the other would seem absolutely collectively heart breaking.
It's a trend that continues strongly today. Tina Fey and Amy Poehler are great alone, but we seem to think they're in peak form when teamed-up. Taylor Swift's girl squad is more important to her image at the moment than her romantic life. Gigi Hadid and Kendall Jenner may have come with famous families, but we're obsessed with their own bond. The fact that Emma Stone and Jennifer Lawrence, two young starlets that might have been pitted against each other in the gossip press in previous decades, have charmed us with their stories of constant texts and drunk night outs. Whenever Busy Phillips and Michelle Williams step out on the red carpet together they're easily the most gushed about couple. Half of the promotion for Marvel's Cinematic Universe seems to rest on the idea that the Avengers are all one big bro-squad in real life.
Heck, even The New York Times today gave us our first real look into the surprisingly deep friendship of Laura Dern and Reese Witherspoon (this office, for one, was particularly taken).
Maybe it's because we're increasingly aware that sometimes celebrity romantic relationships are little more than PR stunts dreamt up by their publicists. Arrangement, a new E! show, centers on the idea. For further proof, see the world's suspicious reaction to Taylor Swift and Tom Hiddleston's brief but often photographed dalliance.
Maybe it has something to do with social media and our demand for authenticity. Tabloid tellings of celebrity romances, affairs and feuds had a soap operatic quality. Public celebrity BFF-ship is more the thing of intimate Instagram live videos or YouTube star collab videos. (And, perhaps, maybe the flip side of the social media coin is the weird way it can alienate us from our own friends, so maybe we enjoy getting peeks into other's seemingly perfect friendships—isn't that half the appeal of about 50 percent of podcasts?).
It certainly seems to suit celebrities just fine. Fame and constant promotion does require celebs to share bits and pieces of their personal life. Talking about their buddy-buddy friendships with another person in the public eye is undoubtedly less invasive than talking about their romantic or family lives (if that friend happens to be someone they're working with on the same project, then all the better!)
All these celebrity friendships, including Gyllenhaal and Reynolds, do seem to be authentic, but, obviously, someone has figured out they're valuable tools to woo the public's interest more than ever before.
Inevitably, their will be a day when some movie studio or publicist oversteps and we'll bare witness to an obviously forced performative friendship. You know it's going to happen, and you know their will be a backlash. For the moment though, lets just relish in their relative innocent moment in our celebrity obsessed culture when we're less interested in the backstabbing and affairs of our stars, and more interested in the idea that two of them like to drink beer and make each other laugh.
Jake Gyllenhaal Confesses His Cinematic Crush (Who Is Not Ryan Reynolds):
Friends Forever: The Most Fashionable Friendships On Instagram
Taylor Swift and everyone.
Cara Delevingne and Kendall Jenner, a.k.a. CaKe.
Marc Jacobs and Kate Moss.
Tavi Gevinson and Petra Collins.
Victoria Beckham and Eva Longoria.
Lena Dunham and Jenni Konner, a.k.a. Lenny.
Abbi Jacobson and Ilana Glazer.
Sean Combs and Naomi Campbell.
Jordan Barrett and Cat McNeil, a.k.a. CatDog.
Hari Nef and Alessandro Michele.