Jewelry Designer Sabine Getty Rocks the Boat
Meet the newest member of the fabled Getty clan.
---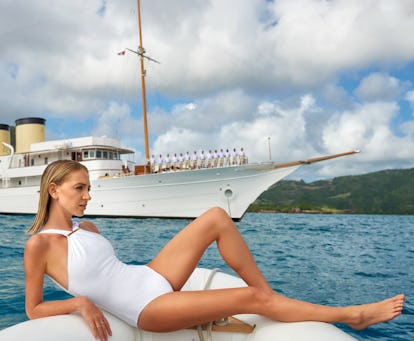 In the calm turquoise waters off the island of Antigua, just a few minutes ­after sunrise, a svelte young woman is tiptoeing across the deck of a boat, trying not to disturb her sleeping in-laws. Under most circumstances, this wouldn't be particularly noteworthy, but here, the in-laws are part of the British branch of the Getty family, the boat is their famed vintage superyacht, the Talitha, and the woman, Sabine Getty, wife of Joseph Getty, is wearing a see-through Valentino minidress. What's more, she's being trailed by a photographer, a stylist, and a makeup artist as she sneaks past the occupied staterooms.
"I always love being photographed, but if everyone wakes up and sees me posing all over the boat at 6 a.m., it could get embarrassing," Sabine says, slipping on a gold-and-topaz bracelet from her fine-jewelry line.
Anyone who knows Sabine Getty (née Ghanem) could tell you that she's not usually the type to tone down her act. For her wedding last year at the Basilica of the Twelve Apostles, in Rome, she wore a Schiaparelli couture gown and a hooded cape with a 23-foot train; its sun motif, hand-embroidered by Maison Lesage, required more than 500,000 sequins. After the ceremony, she changed into an ostrich-feather party dress that was inspired by the Bob Mackie number that Cher, who is one of Getty's idols, wore to the 1974 Met Gala. And, like many of the flamboyant divas Getty holds in high esteem, she has a reputation for being herself no matter the consequences. Still, Getty is savvy enough to know when some minor adjustments are in order, and this morning she's trying to keep a low profile, at least until breakfast. Today is the last day of her two-week Caribbean holiday with Joseph, his father—Mark Getty, the grandson of oil tycoon John Paul Getty—and a few friends.
Before long, Joseph emerges from below deck and agrees to be photographed on the bow, reclining in a terrycloth robe. His uncle William Harding, in from New York, is also suddenly eager to have his picture taken—in a uniform borrowed from the ship's first mate. Eventually, even the press-shy Mark appears, bantering with the photo crew and wishing everyone well.
If you're guessing that Getty, 31, is used to getting her way, you would be correct. Still, when we sit down for an interview, she tells me that she spent a good part of her adult life feeling like she was letting everyone down. Growing up in a traditional Middle Eastern family (her father is a Lebanese financier; her mother, born in Egypt, is an interior designer), Sabine was considered the "problem child" for years, as she remained unmarried while trying her luck at acting, singing opera, and other artistic mediums she would never quite master. "The truth is I didn't have any evident talent, and I wasn't a great beauty," she says. But the ups and downs of life as an aspiring performer taught her some key lessons. Most important: "Don't think you're great, because you're not. And don't think you're nothing, because you're not. Everyone is somewhere in the middle, and you have to work to become anything more than that."
Lately, Getty has been working overtime, and the payoff is increasingly evident. Her jewelry line, launched in 2012, has been unusually successful in a field littered with dilettantes. Meanwhile, with her marriage, she has confidently secured her place in one of the world's most illustrious families. When the ­engagement was announced, there were jokes that Sabine had chosen Joseph for his last initial, which conformed to the branding of her jewelry company, then called Sabine G (for Ghanem). This year, she officially changed the company's name to Sabine Getty.
And here she sits, aboard the 263-foot Talitha, an Art Deco vessel that ­incites envy even in the marinas of Capri and Porto Cervo. Built in 1929, it was purchased in 1992 by Joseph's grandfather, the philanthropist Sir John Paul Getty Jr. He renamed it after his second wife, the Indonesian-born Dutch beauty Talitha Pol, whose bohemian glamour had a lasting impact on the style world, even after her death from a heroin overdose, in 1971. As Joseph conducts a tour of the boat, he explains how his grandfather's stern-to-bow refit, overseen by the yacht designer Jon Bannenberg, took five years and was so painstaking that the steelworkers had to learn welding techniques that hadn't been in use since World War II. The goal was to preserve all the ship's original details while adding a few touches of John Paul's own, including a Statue of Liberty desk lamp whose shade conspicuously features his initials, J.P.G. "There are a lot of beautiful boats out there, but many of the newer ones are these enormous white yachts that all look pretty similar," Joseph says. ­Indeed, the Talitha lacks the helipad, infinity pool, and screening room that are de rigueur on more oligarch-friendly superyachts, but it more than makes up for that with aesthetic features such as the classic smokestacks that once funneled steam from the engine room.
When Getty first set foot on the Talitha, in 2013, she already knew her way around plenty of fancy boats and houses. Born in Geneva, she was educated at the elite Swiss boarding school Beau Soleil; her roommate and best friend there, Katita De La Fuente, who is now a video producer, recalls that even at age 16 Getty was spending her pocket money on fashionable clothes, and serving as her group's glamorous ringleader and occasional troublemaker. Once, when the girls got tired of cafeteria food, Getty pooled everyone's cash and arranged for a taxi to fetch an order from the closest McDonald's—"little matter that it was an hour away," De La Fuente recalls. After Getty finished high school, her parents continued to support her while silently questioning some of her choices. "In my family, the high hopes were always for the woman to get married and have children and settle down, but that was the least of my interests," says Getty, who bounced between Paris, Los Angeles, and New York. Her father, she says, is a particularly commanding presence (not unlike Sabine, her friends are quick to note) whose approval she struggled to secure. "For a long time I was scared to even say hello to him," she confides.
But in 2012 she enrolled at the Gemological Institute of America in New York, where she learned diamond grading, and began sketching some rings and necklaces she thought she might like to wear. From there, things happened quickly: While on vacation in Los Angeles, she showed her designs to a buyer at Maxfield, who placed an order on the spot, even though Getty hadn't yet started her company. Within a year, her pieces were also selling at Browns, in London, and Bergdorf Goodman, in New York, and Rihanna's stylist requested pieces after seeing them on Instagram.
Getty's jewelry is a lot like its creator: eye-catching, regal, fun, expensive. For the first collection, inspired by 12th-century decorative arts, she commissioned Italian artisans to craft intricate patterns of rubies and diamonds, set in rose gold. Getty's friend Mary Katrantzou, the London-based designer, says that the pieces epitomize Getty's taste, since they combine classic romantic grandeur with an original, contemporary twist. "As over-the-top as Sabine's aesthetic can be, it still feels very modern," Katrantzou says, singling out her most recent collection of zigzag bracelets and wavy rings, an homage to the bold 1980s geometrics of the Memphis Group.
In Getty's view, surprise and drama are essential components of great style. While discussing her inspirations, she thinks back to a New Year's Eve party in Marrakech a few years ago. "I will always remember the moment when Lee Radziwill came in," Getty recalls. "Everyone else was sort of done up but, you know, nothing exceptional. And then Lee arrived. She was wearing a long column gown in full-on red, and it had a cape. And her chignon was, like, half a meter high, I'm not kidding you. She looked like a queen. That just made my night. It really was like seeing a film coming to life."
Then there's Cher, whom Getty encountered not at a Marrakech soirée but by listening to the hit album Believe at age 13. "The amazing thing about Cher is she's 100 percent herself—there is zero bullshit about this woman," Getty says. "And she is proof that you can dress with thousands of feathers, or whatever, and that doesn't make you superficial or a fake. She proves that you can be very glamorous and fabulous, and also very grounded and solid. Some people just have this energy—it makes you feel like everything is more exciting."
Getty gives some credit for her own exuberance to her Lebanese background. Though she spent only five years of her childhood in Beirut, she says it provided an important counterbalance to the Swiss restraint that surrounded her. "I hope I'm a warm person, or warm-ish" she jokes. She adds that very few Lebanese have a complex about showing off their finery. "It's more like, If you have it, enjoy it, because you could die tomorrow. And, of course, we love a party, we love to dance, we love to dress up. The less-is-more, dirty-hair look is not really my thing."
That was fully apparent during the Gettys' wedding weekend, which they kicked off with a Liaisons Dangereuses–themed costume party. Katrantzou recalls that some guests were busy prepping their powdered bouffants and elaborate makeup while still in the air, on their Friday-afternoon flights to Rome. ­"Everyone went the extra mile—you do that if you know Sabine," Katrantzou says. Getty says she'd been worried that she would be the only one in Marie ­Antoinette getup, but the party turned out to be like an 18th-century painting come to life. "I remember looking around seeing this blur of feathers and hair and smoke and breasts," she says. "Just so opulent, so beautiful." At the ceremony the next day, she donned her couture cape before entering the church. "I decided to really own it. I was like, You know what? You can't walk in with your head down when you're wearing a gold sun on your back."
Over the years, of course, other people who've married into the Getty ­dynasty have ended up saddled with a lot more drama than they'd bargained for. To recap just a few of the family tragedies and scandals: Joseph's late uncle John Paul Getty III was kidnapped as a teen, in 1973, and had his ear sliced off after his misanthropic grandfather refused to pay the ransom; great-uncle Gordon, the San Francisco patriarch, admitted in 1999 that for more than a decade he'd been keeping a second family; just last year, 47-year-old cousin Andrew was found dead under mysterious circumstances in the Hollywood home he shared with a large prehistoric bird skeleton. But Joseph's father, Mark, is the respected cofounder of Getty Images, and his mother is the artist Domitilla Harding; ­Joseph, 27, is a London-raised Brown graduate who works in finance and is not the type anyone seems to worry about. "Joseph is the stable one, and ­Sabine is the phenomenon," De La Fuente says. "He's so grounded that it's safe for her to go off like fireworks around him."
When they first met, at a New York dinner party in 2011, Joseph was convinced that the two had a future together, even if Sabine was blind to it. "Right from the start he told me, 'You and I are going to get married,' " Sabine says. "It was like this decision that he had made. And I was like, 'This guy is insane!' But the fact that he was so sure, and so confident, I started to think, Maybe I'm the idiot." Gradually, she began to see how well-matched they were. "He's not the playboy type, he's not the cool guy who acts a certain way to impress people. Joseph is Joseph. He's just, like, a man. But it took six months for me to see what he saw on Day One."
Not that Joseph has turned Sabine into a compliant, docile wife, or anything close to it. "We fight all the time," she says. "It's like this Maria Callas opera, 24/7. No one makes me as angry as Joseph does, nor as happy—both in the space of five seconds." Sometimes, she says, "being married is like having an older brother that you're constantly arguing with. But on the fundamental level, we are one. So we can bicker about the little things because the base is so solid."
Their life in London, Sabine adds, is generally "very chill," with lots of evenings at the movies or quiet dinners of Indian or Lebanese food. "We eat way too much, both he and I," she says, and then can't resist adding, "Especially him." Weekends are often spent at Wormsley, the 2,500-acre family estate in Buckinghamshire, with its renowned cricket ground and library featuring Sir John Paul Getty Jr.'s first editions of Shakespeare and Chaucer.
The family's traditionalist streak is fully apparent in the decor of the Talitha, where in some rooms the prevalence of floral fabrics and dark woods can veer toward the fusty. Given Getty's tastes for all things sleek and spectacular, you might expect her to be secretly plotting an overhaul with, say, the architect Peter Marino. "Actually, the Talitha is the most beautiful boat I've ever seen," she says. "It just has so much charm and character. For Joseph's family, it's never about how things are perceived by the outside world—that doesn't even cross anyone's mind. They just have a great sense of taste, and that's what interests them. On the Talitha, I love walking down the little hallway with the wooden doors to get into the bedrooms. All the beautiful marble work, and even the logo of the boat—the two dolphins that form a G."
By mid-afternoon it's time for Sabine and Joseph to disembark and head to the Antigua airport for their flight to London. Custom holds that as they climb into the tender that will drop them off in the harbor, every member of the Talitha's 20-member crew has to line up on the deck to offer a farewell salute. As Getty speeds toward shore in the motorboat, raising her arm in a grand wave, it's hard to tell whom she resembles more: a queen gesturing to her subjects, or Celine Dion (another one of her favorites) accepting an ovation after a bravura performance in Las Vegas.
Incidentally, Getty reports that lately she has become extremely close with her father, who is now quite proud of her, even though he still can't believe that his wayward daughter has gotten her act together. "I think I've shown my parents that I can create my own life, without being told what to do," she says. "Now they really can't complain, can they?"
Watch W's most popular videos here:
Photos: Jewelry Designer Sabine Getty Rocks the Boat
Sabine Getty, off the coast of Antigua, with the Talitha in the background, wears a Michael Michael Kors swimsuit and her own rings from the Sabine Getty Memphis collection.
Joseph Getty and Sabine, who wears an Eres swimsuit and her own Sabine Getty gold and topaz bracelet, relaxing on the deck.
Getty, next to the boat's original smokestacks, wears an Hermès dress and necklace and Roger Vivier shoes.
On the prow, in a Michael Kors Collection swimsuit.
Getty, wearing a Michael Kors Collection dress, with Joseph's uncle William Harding, who borrowed a crew member's uniform.
Flying the flag of fashion in a Valentino dress and Eres briefs.
A lamp shade personalized for Sir John Paul Getty Jr.
Hair and makeup by Tinna Empera for Cloutier Remix; photography assistant: Kyle Knodell.