Summer Wardrobe Tips from Sabine Getty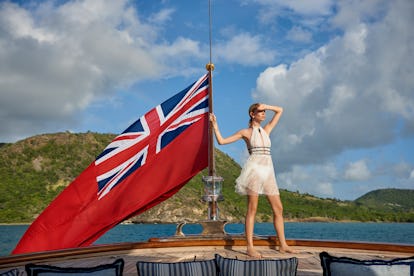 Jewelry designer Sabine Getty knows a thing or two about traveling in style–she spends weeks at a time aboard the Talitha, a superyacht owned by her husband's family, the Gettys. Here, she shares her fashion and travel advice. On her list of essentials? Hermes loafers, blue jeans and a button-down from Charvet, natch.
Occupation: Jewelry designer.
Three words that describe your style: Glam, strong and always comfortable.
Daily uniform: Blue jeana, Supergas, white shirt, vintage blazer with strong shoulders and a Chanel briefcase.
Favorite store in New York: I like the top floor at Bergdorfs. It's always so lovely to walk around the beautiful china, silverware and linens on a Sunday afternoon.
Nighttime look: Over glam. Very '80s!
Style icons: Cher, Catherine Deneuve, Marisa Berenson, Princess Diana.
Best recent discovery: If I wash my jeans less often I feel way more skinny…
Style pet peeve: Mix and match.
Last purchase: A vintage Gianfranco Ferre silver and gold gown from William Vintage in London.
Lusting after: All things Bob Mackie lately.
What's always in your bag: My E. Marinella wallet, my house keys and lip balm.
Travel essentials: Sisleya from Sisley moisturizing cream, a white shirt from Charvet, a pair of blue jeans, my blue Hermes loafers.
Something you would never wear: A romantic flowy dress.
Most prized possession in your closet: A fully beaded jacket my aunt gave me. She has been my style icon since I was a little girl so this piece is special to me because it's from her.
Fashion week go-to: Whenever in Paris I always stop by Alexandre de Paris to get my highlights done. I see Yohan.
Favorite athletic brand: Lululemon.
Summer wardrobe must-have: Oriental kaftans and linen trouser and shirts from Liwan in Paris or Orient 499 in Beirut. Also, silk slippers from Morocco – they are all practical and super-chic summer pieces.
Watch W's most popular videos here: