Who Is Sadiq Khan, the Mayor Who Allowed the Donald Trump Blimp to Fly Over London?
Supporters of the politician have long known about his commitment to celebrating diversity in London.
---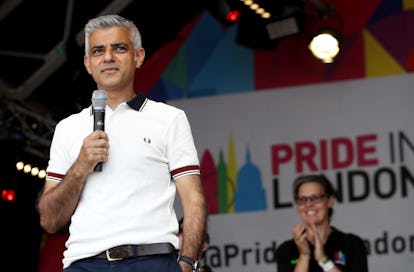 Mike Marsland/Getty Images
Sadiq Khan may be feuding with Donald Trump, but at least his social media presence represents that of an adult. The mayor of London and the president of the United States do not share the same views on immigration, but Khan hasn't responded to Trump's criticism with crass language or threats. Instead, he allowed a large babyish version of Donald Trump to fly over the city during his visit.
While Trump visited the Houses of Parliament, Khan gave permission for the balloon to fly above, and at the same time, demonstrators who oppose Trump's policies on immigration protested in the streets. The Trump and Khan feud continued, with Trump insisting that the London mayor has done a "bad job" of handling the city's response to recent terrorist attacks. "I think allowing millions and millions of people to come into Europe is very, very sad. I look at cities in Europe, and I can be specific if you'd like," Trump said in an interview with the Sun, before calling out Khan in particular. "You have a mayor who has done a terrible job in London. He has done a terrible job," he went on. Khan responded gracefully to Trump's nitpicking on live television the following day.
"We, as a city, are really diverse…it's a strength not to be afraid of but to be cherished," Khan told Good Morning Britain, when asked for his opinion on Trump's visit to London. Allowing the giant Trump baby balloon to fly over Trump's head as he visited the city is a cheeky move for Khan, but supporters of the London mayor have long known about his commitment to diversity and freedom of speech in London.
Khan comes from a British Pakistani family, meaning he is the first mayor of London to come from an ethnic minority, and his Instagram presence is a demonstration of his progressive ideals. Khan attended London Pride in July, promoted the celebration of Sikh and Punjabi culture with Vaisakhi (a spiritual event marking the procession of the Sikh community between temples) in April, and of course proudly cheered on the English national soccer team in the 2018 World Cup. He's also been the target of viciously Islamophobic and racist remarks from some members of British Parliament on Twitter. It's hard to imagine Trump would proudly and genuinely show his support for LGBTQ people, the Sikh community, or even the U.S. soccer team (had they made it to the World Cup to begin with) on social media, after receiving any level of criticism for his policies and opinions online.
Khan is a modern politician with Labour Party views, and even celebrities like Naomi Campbell have sung his praises, as evidenced by his filmed interview with the supermodel for British Vogue in December 2017.
Sure, it doesn't hurt for Khan to get the celebrity stamp of approval, but his social media presence is also a genuine celebration of diversity and multiculturalism—a stark contrast from the Twitter feed of America's president.
Related: Exclusive Photos of Kate Moss, Damien Hirst, Mayor Sadiq Khan, and David Bailey's Other Favorite Londoners