Saint Laurent Model Jackson Oller On What It Is Like to Walk the Runway Covered in Body Glitter
"I've taken two showers in five hours and it's still on."
---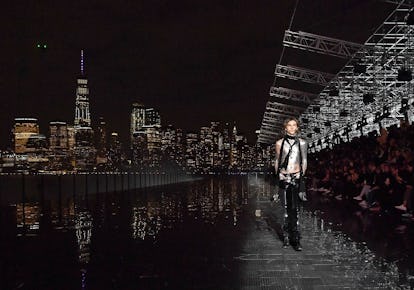 ANGELA WEISS
There were plenty of memorable moments from Wednesday evening's Saint Laurent menswear show, held just outside New York City rather than the brand's home of Paris. There was the location, Jersey City, New Jersey's Liberty State Park, and, in turn, the mode of transportation, a ferry ride replete with flutes of champagne. There was the guest list, with everyone from Lauryn Hill to Julianne Moore to Kate Moss making the trek out to New Jersey. But perhaps nothing was quite as memorable—or Instagrammed—as the show's finale, with a group of seven shirtless male models with their torsos covered entirely in silver glitter. Among them was new face Jackson Oller, who came straight in from Los Angeles to make his Saint Laurent debut. Here, Oller talks about the show, being covered in glitter, and his summer plans.
When did you find out you'd been cast in the show? My agent told me on May 10th, a couple days after the NYC casting. Obviously, I was beyond excited and probably numb for 24 hours.
What did you previously know about Saint Laurent? I was a fan for YSL for a while, a huge fan.
What did you think of your look in the show? I was super excited to have one of the few looks that was really colorful; I would have chosen that look on my own if I was given the choice. I loved the jacket.
What was going through your mind when you closed the show? Gratitude, relief, and then ready to do it again.
What was the process like of putting on the glitter? Well, it was kind of blur. I had to rush from my first look to the area where about four people just slathered my entire upper body with a paste—it only became uncomfortable after the show—like, a thick metal paste.
What was the process of getting off the glitter? Ask me in a few days. I've taken two showers in five hours and it's still on. I am sure I will have little glitter pieces pop up for months to come.
What did you think of the show in general, and the location? I thought everything about the show was genius; the location was a brilliant move, super magical and completely unexpected! The entire vibe was absolutely original, from the clothes to the environment.
How did you first start modeling? About a year ago a friend of my mom's dragged me into the agency and then Jesse Simon, my agent, took over from there. I'm now with LA Models.
What about modeling appeals to you? Mostly the traveling and the exposure to so many people that I normally would not have met otherwise. I love being thrown into the unknown and having to navigate.
What are some dream projects for you? More YSL! I would love to shoot with Collier Schorr. I am super into small homegrown brands that I would want to collaborate with and then shoot. I admire Steven Klein, Tim Walker…too many!
How would you describe your personal style? On my own time, I am all about comfortable but not lazy, ratty comfortable. I like sweatpants or track pants, but really rare hard-to-find ones. I am obsessed with the brand Needles' pants. I wear a lot of limited-edition obscure T-shirts. I have a ton of shoes ranging from very old-school Nikes all the way to Margiela sneakers. Right now a few of my favorite brands are Vlone, Number (N)ine, Undercover, and Needles.
What are your summer plans? Going to visit some family in Miami, L.A., and hopefully spend some time in NYC. Mostly to keep moving; I can't sit still for too long, I get restless.
Related: Rising Aussie Model Victoria Lee's Fashion Icon Is Cate Blanchett