Sally Hawkins: Sally Go Lightly
In Mike Leigh's unexpectedly upbeat new film, Sally Hawkins plays one of indie cinema's rarest creatures: a truly happy person.
---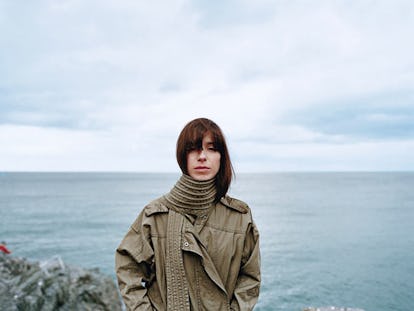 When Sally Hawkins showed up for her first day of work on Happy-Go-Lucky, the latest film from English director Mike Leigh, there were a few crucial things she wasn't aware of, such as what the movie was about, who else was in it, and whether she had a major or a minor role. Having played small parts in two of Leigh's previous features, All or Nothing and Vera Drake, Hawkins knew her ignorance wasn't unusual; the director starts every project with months of rehearsals, developing the story and characters as he goes along and keeping his intentions to himself. It took a while for Hawkins to realize that Leigh was building the entire film around her.
Watching the finished product, one can easily see why he did. As Poppy, an irrepressibly bubbly and optimistic London schoolteacher, Hawkins turns what could have been the most annoying character in the history of cinema into a highly nuanced, and unexpectedly endearing, psychological study. The performance earned Hawkins the best actress award at this year's Berlin film festival.
"I had no idea whether Poppy would be one of those people you just want to hit," says Hawkins, 32, recalling moments when Leigh kept steering her toward lightness and positivity. Audiences, too, aren't initially sure what to make of the relentlessly cheerful heroine, whom they first see gleefully riding her bike along a North London street. (When the bike is stolen, she shrugs it off.) Due to Leigh's curmudgeonly reputation and his history of dark and hard-hitting dramas, one keeps anticipating a turn toward tragedy, or at least misery, but it never arrives: Poppy's glass remains perpetually half full.
Sitting in a café on the outskirts of Dublin, where she's shooting her next film, a marriage comedy called Happy Ever Afters, Hawkins describes herself as a shyer, slightly more neurotic version of Poppy. She clearly possesses the same smiley effervescence and tendency for self-effacement: When her cell phone rings at the start of the interview, she says "Sorry!" no fewer than five times, even though she doesn't actually answer it. Leigh acknowledges the basic parallels between actress and character but emphasizes Hawkins's intelligence as a performer. "I'd gotten to know Sally on the two previous films, and I was quite sure that it was time to put her at center stage and give her all the scope in the world to be brilliant," he says.
Raised in an artistic London household (her parents are successful authors of children's books), Hawkins attended the Royal Academy of Dramatic Art. Before graduating she wrote to Leigh's casting director, Nina Gold, who arranged the meeting with Leigh that led to her role in All or Nothing. During the next few years she built a broad range of British stage, film and TV credits­—from Juliet at the York Theatre Royal to Slasher in the gangster film Layer Cake. This past January, on PBS, she portrayed Anne Elliot in the British production of Jane Austen's Persuasion.
Still, Hawkins remains partial to Leigh's particular way of working, a process she finds both terrifying and addictive. Instead of giving his actors a script, Leigh puts them through weeks of improvised conversations and exercises, during which they're "sort of free-falling in the dark," Hawkins says. In this case he had Hawkins construct Poppy from birth, getting the actress into character as a baby and later introducing Poppy to her younger sisters as they, in turn, joined the family as newborns. (In the film they appear only as adults.) "It creates this incredible chemistry instantly," Hawkins says. "The relationship is formed in full. It's like magic." Later Leigh encouraged Hawkins and her screen siblings to drive around the London suburbs to find the house in which they might have grown up.
After getting used to such intense creative collaboration, Hawkins finds that it's now a bit of a letdown to just show up on regular film sets and say her lines. "You realize that other people don't work like Mike does, and it becomes less about the actors and more about the setup or what the light is doing, or whatever," she says. "It's frustrating." But Hawkins, of course, is not much of a complainer, and she's even less of one since wrapping Happy-Go-Lucky. Sometimes, she admits, when she's feeling worried or insecure, she'll find herself thinking, What would Poppy do?
"Poppy has got a definite confidence and knowledge of herself and strength," Hawkins says. "I did learn a lot from her. I learned to just let go."