Sally Quinn on life in Grey Gardens
Ever since the release of the 1975 documentary Grey Gardens, the ramshackle East Hampton estate and its reclusive inhabitants have exerted a mysterious pull. What many don't know, however, is that the grey-shingled house is...
---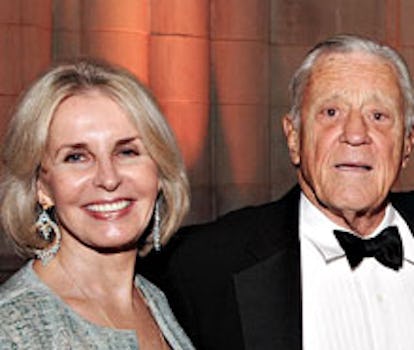 How did the house first come to your attention? We had a little tiny house in Amagansett that we weren't in love with, so we decided one summer to try to find something a little bigger. I had this killer real-estate agent and she took me everywhere from Bellport to Montauk but there was nothing that was right. Finally, I said, "There's just got to be something else!" And she said, "Well, there's always Grey Gardens!" [Quinn had read about the Beales in a 1972 New York magazine piece by Gail Sheehy.] And I said, "You're kidding? It's for sale? Well, I'd love to go see it." I thought, just for curiosity. And of course the place was completely falling down. I mean everything.
Can you paint a picture of your first experience of the house? We got to the house and my real-estate agent said, "I will do anything to sell the house, but I will not go inside." So she waited outside. Well, you had to have flea collars on for one thing. There were 30 cats in there and the stench was beyond belief. And Little Edie opened the door—her mother had died two years earlier—and apparently everyone had made offers because she was asking $220,000 for the house.
At that time, 1979, was that considered a good price? That was considered nothing, even then! I mean $220,00 on Lily Pond Lane? But everybody else wanted to tear the house down, which was the obvious thing to do. So I walked in and I said, "This is the most beautiful house I've ever seen." You can't believe what shambles it was in. And she said, "It's yours." Up to then, she'd refused to sell it to anybody else. But she said, "I know that this house belongs to you. You're the person who should have this house." And then she did this little pirouette in the hall and said, "You see? All it needs is a coat of paint!" So I bought it on the spot. It was one of these magical experiences where everything went right. We had a great contractor, a great architect, and we moved in the following summer.
In the documentary and HBO film, Little Edie and Big Edie spent most of their time in a shared bedroom. What has become of that room? That's now the main guest room. The biggest guest room. There was also a smaller room that Edie lived in toward the end, when she was by herself and you can't believe it: there was one mattress pad on the floor and a birdcage hanging over the bed with a naked lightbulb.
A lightbulb in the birdcage? Yes, in the birdcage.
That's pretty great. Oh, you should have seen it. And there was a little rickety table with a hot plate and that was it. There were cats everywhere and raccoons wandering around. And raccoon skulls. Filthy beyond belief.
What was the stench like? You can imagine. 20-30 years of cats. There was no kitty litter in that house.
What do you recall of Little Edie that day? Well, I thought she was nuts. I thought she had serious psychological and emotional problems. There was no question about it. She had just escaped into her own fantasy world. I didn't know the story that much and so honestly, I feel bad about Edie. Your reaction was just to laugh at her because she was such a character and so crazy, dancing in the hall, saying isn't it beautiful and this incredible outfit she had with safety pins and a turban and all that—and later when I saw the Maysles documentary and then the Broadway play and now the HBO movie, it's so heartbreaking. I wanted to rewind and go back to that moment and just put my arms around her. I wanted to help her, do something for her.
Did you have a sense that she was reluctant or sad about leaving? My sense was that she was happy to sell the house. That she was locked in that place as long as her mother lived and it was her liberation. The problem was, it was too late. She had no place to go.
Did she talk about where she was going? No, she didn't. I said to her, you have a choice. You can leave the house broom clean, which was laughable, that means you take everything out of the house, everything, everything, everything and leave it broom clean OR you leave it exactly the way it is and you leave everything in the house. And she said "I'm just walking out the door." And she walked out the door. And when we closed on the house in November I went upstairs to the attic and it was a treasure trove. I was in such a state of ecstasy and exhilaration I was hyperventilating. I started smoking again. I found a trunk of letters which I just recently had an archivist go through and do a lot of the history of the time and get the letters in order.
It's a collection of letters from both of them? They were written during the 30s when they were living the high life.
What were some of the discoveries you made in the letters? Just what their life was like. The country club in the 30s, the white, upper class culture that we don't have in this country anymore. There was no smoking gun or anything. There was a lot of asking for money but nothing extraordinary. At some point I probably will write about it but I'm just not there yet. I don't have time to do it right now.
Did Michael Sucsy [the writer and director of the HBO film] see those letters? No! Because I couldn't find them and I kept telling him I was going to show them to him and then I kept looking for them. I knew they were in a trunk somewhere and I looked in every closet in the house. And then I realized that about five or six years ago, thinking that they were valuable, I had brought them back to Washington and put them in the basement there—I forgot I brought them back for safekeeping —and then I thought as long I've got them I might as well do something with them in case they get lost. So I only told him recently and he said, 'Oh no. I can't stand it." I felt so bad.
What do you plan to do with the letters? I don't know. I've got about 4 or 5 large scrapbook type things with all the letters and the archivist's interpretation.
What else was in the attic? There were little lace baby pillows and incredible books, fabulous old books and chaise longues with wicker furniture and beautiful antique tables and silver. It's all in the house.
How long after Little Edie sold you the house did she leave it? Fairly soon after. She was not there for the closing. We bought it in August and closed in November and she was not there for the closing. She moved to New York City and then somehow ended up in Florida [Bal Harbour] where she died years later.
Given Grey Gardens' potent history and personality, do you still have a sense of the Beales in the house, even now? Oh yeah. I feel them there. In the movie, Big Edie says, "I could never leave Grey Gardens. This is a magical place." It *is* a magical place so I don't feel the sadness there. I feel the magic they felt that kept them there. There's something that makes you feel good being in the house.
I've heard that when it rains, you can still smell cat pee. About ten years ago, we got up there the first of August and it had been raining for 10 days. We walked in the house and Ben, who can't smell anything cause he's got sinus problems, said, "Oh my god." He's allergic to cats and his eyes started to water. He could smell the cat pee.
Quinn and Bradlee in 2007 (Paul Morigi/WireImage); Quinn in 1979: Guy Delrot/WWD Archive; film stills courtesy of the Criterion Collection.
Follow W Magazine on Twitter.