Salma Hayek Is Blonde Now
'Beatriz At Dinner' star Salma Hayek debuted a blonde look at a pre-BAFTA nominee party at Kensington Palace this weekend, pairing her new hair with a Gucci dress.
---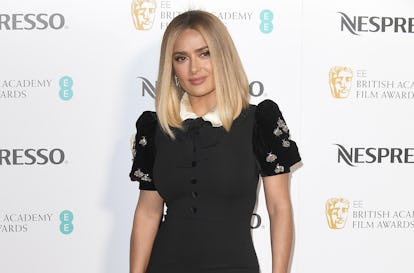 Paul Treadway / Barcroft Images / Barcroft Media via Getty Images
On Saturday, actress Salma Hayek attended a BAFTA nominee party at Kensington Palace with a new blonde hairstyle. For the occasion, the Beatriz At Dinner star paired her honey-colored, shoulder-length bob with a black collared Gucci dress.
She posted the full look on Instagram:
E! News speculates that the star may have "wigged out" for the occasion, and it seems like a possibility considering she had long dark hair just two days ago. Hayek has worn blonde wigs before, most recently at Paris Fashion Week in October. wore a blonde wig.
Hayek's hairstylist, Jennifer Yepez, and colorist, Aura, both posted images of Hayek's new look, though neither says whether or not the actress is wearing a wig.
Whatever's on Hayek's head, it's working! The Frida star can pull off pretty much any shade, as demonstrated by the ombre-gray look she sports in the upcoming The Hummingbird Project.
Hayek wasn't the only star in London for the BAFTAs. Also in attendance at the pre-show bash were Greta Gerwig, Anya Taylor-Joy, Allison Janney and Daniel Kaluuya. The actual awards are tonight and will be hosted by Absolutely Fabulous' Joanna Lumley.
In addition to her acting work, Hayek has been in the news recently for sharing her story in the wake of the Harvey Weinstein fallout; she said in a New York Times op-ed that the disgraced producer threatened her life and her career for refusing him sexually, some of which Weinstein has denied.
Related: Why "Shame" Is So Loaded For Salma Hayek and Other Women Who've Been Sexually Abused