Harvey Weinstein "Does Not Recall" Making Sexual Demands of Salma Hayek
The producer, who has already been accused of systematic sexual harassment and rape over a 40-year period, responds to the most recent allegations.
---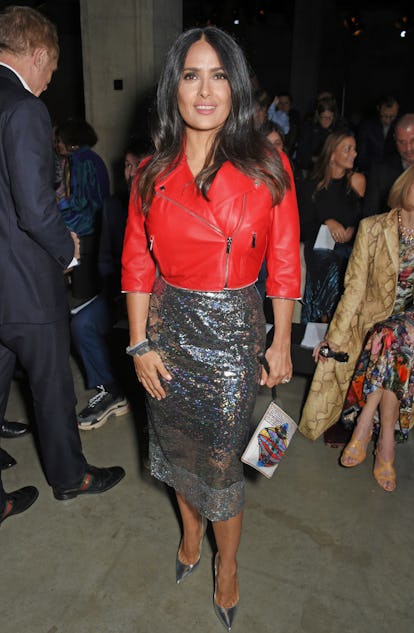 David M. Benett/Getty Images
On Wednesday, actress and filmmaker Salma Hayek published a painful op-ed detailing years of emotional abuse, sexual harassment, and professional coercion at the hands of Harvey Weinstein while she attempted to make Frida, her Oscar-winning biopic of the artist Frida Kahlo. In her account, she accused Weinstein of pressuring her to include a full-frontal nude sex scene with a female co-star, reducing her performance as Kahlo (who, famously, had a unibrow and a limp) to a mere sex object, repeatedly attempting to enter her hotel room uninvited, to perform massages, to get Hayek to shower with him (all allegations that will be familiar to anyone who has kept up with the stories of Weinstein's other victims), and even of threatening to kill her.
Now, Weinstein has released a statement denying or attempting to explain away some of the accusations and, elsewhere, saying he simply "does not recall."
"Mr. Weinstein does not recall pressuring Salma to do a gratuitous sex scene with a female costar and he was not there for the filming. However, that was part of the story, as Frida Kahlo was bisexual," the statement, as printed in Deadline, reads. "The original uni-brow used was an issue because it diverted attention from the performances."
"All of the sexual allegations as portrayed by Salma are not accurate and others who witnessed the events have a different account of what transpired," the statement continues.
The statement also frames Weinstein as a generous champion of the film: "While Jennifer Lopez was interested in playing Frida and at the time was a bigger star, Mr. Weinstein overruled other investors to back Salma as the lead," it says. "By Mr. Weinstein's own admission, his boorish behavior following a screening of Frida was prompted by his disappointment in the cut of the movie—and a reason he took a firm hand in the final edit, alongside the very skilled director Julie Taymor."
In his responses to previous allegations of sexual harassment from Gwyneth Paltrow, Charlize Theron, and Renée Zellweger, Weinstein said in a statement, "It's ridiculous that anyone would believe these talented women, Academy Award winners, provided sexual favors in exchange for roles they earned based on their talent and brilliant work." His statement places the burden on the women themselves—who, it is implied, are lying—and on consumers of the news, who are "ridiculous" for believing the accounts of women who claim Weinstein abused them. Never mind, of course, that believing accusers, who have little to gain from making their stories public, is a critical first step towards undoing a culture that permits systemic abuse by men in power, not just in Hollywood, and privileges their stories over those of their victims.
After actress Lupita Nyong'o published an account, also in the New York Times, of Weinstein's alleged harassment, he likewise denied her story, saying in a statement that he "believes Lupita is a brilliant actress and a major force for the industry."
"Mr. Weinstein regards Salma Hayek as a first-class actress and cast her in several of his movies," his most recent statement says, citing such films as Once Upon a Time in Mexico, Dogma, and Studio 54. (In her essay, Hayek described how, after Frida, Weinstein proceeded to cast her in small roles in films until her Miramax contract ran out.) "He was very proud of her Best Actress Academy Award nomination for Frida and continues to support her work."
Salma Hayek Never Needed Harvey Weinstein: A Look Back at 15 of Her Most Iconic Roles
Connie Britton and Salma Hayek in "Beatriz at Dinner", 2017. Image courtesy of IMDB.
Salma Hayek and Eric Mabius in "Ugly Betty", 2006. Image courtesy of IMDB.
Ashley Judd and Salma Hayek in "Frida", 2002. Image courtesy of (c) Miramax / Everett Collection.

©New Yorker Films/Courtesy Everett Collection
Salma Hayek as Frida Kahlo in "Frida", 2002. Image courtesy of ©Miramax Films / Everett Collection.

©Miramax/Courtesy Everett Collection
Salma Hayek in "Desperado", 1995. Image courtesy of Everett Collection.

©Columbia Pictures/Courtesy Everett Collection
Chris Rock and Salma Hayek in "Dogma", 1999. Image courtesy of ©Lions Gate Films / Everett Collection.

©Lions Gate/Courtesy Everett Collection
Salma Hayek in "Savages", 2012. Image courtesy of Universal Pictures / IMDB.
Salma Hayek in "El Callejón de los Milagros", 1995. Image courtesy of IMDB.
Salma Hayek in "54", 1998. Image courtesy of © Miramax Films/ Everett Collection.

©Miramax/Courtesy Everett Collection
Salma Hayek in " In the Time of the Butterflies", 2001. Image courtesy of Metro-Goldwyn-Mayer Studios Inc. / IMDB.
Salma Hayek and Mathieu Demy in "Americano", 2011. Image courtesy of ©MPI Media Group / Everett Collection.

MPI Media Group/Courtesy Everett Collection
Vincent D'Onofrio, Salma Hayek, and Thomas Jane in "The Velocity of Gary", 1998. Image courtesy of (c)Columbia Tristar / Everett Collection.

©Columbia Tristar/Courtesy Everett Collection
Will Smith and Salma Hayek in "Wild Wild West", 1999. Image courtesy of Everett Collection.

©Warner Bros/Courtesy Everett Collection
Salma Hayek in "Chain of Fools", 2000. Image courtesy of Everett Collection.

©Warner Bros/Courtesy Everett Collection
Jon Tenney, Matthew Perry and Salma Hayek in "Fools Rush In", 1997. Image courtesy of Everett Collection.

©Columbia Pictures/Courtesy Everett Collection
Salma Hayek in "Bandidas", 2006, Image courtesy of (c) 20th Century Fox Film Corp. / Everett Collection.

©20thCentFox/Courtesy Everett Collection