Salma Hayek Doesn't Have Time for Your Botox Advice
The actress and producer is open to letting her haters determine the fate of her face in the near future.
---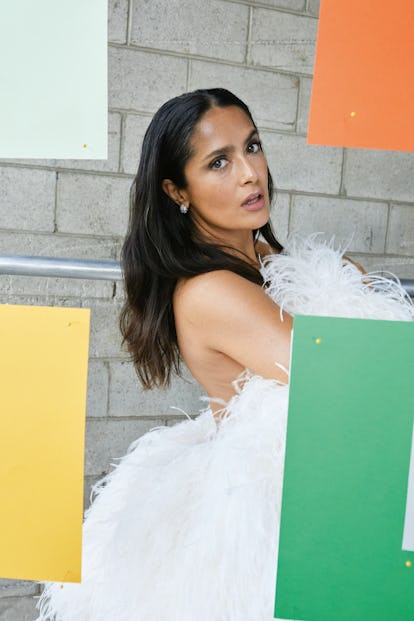 Juergen Teller
Leave it to Salma Hayek to have a sense of humor when it comes to her haters.
On her enigmatic, emoji-filled playground of an Instagram account, the award winning actress and producer shared a bare-faced selfie with a tropical backdrop and a simple hashtag caption that read "#wind #aire."
But some followers took issue with Hayek's post, taking it upon themselves to comment on her appearance in the selfie she seemingly took while on vacation in some sort of beach locale.
To burst Hayek's carefree bubble, a follower commented, "Too much Botox :(. Not needed Salma!" on her post. Hayek seemed to send an honest rebuttal, claiming that she has not received any Botox injections, the wrinkle solution for forehead lines that was only approved by the FDA roughly three years ago. But she also appeared to be open to letting her haters determine the fate of her face, interpreting their recommendation to keep her face clear of Botox as a suggestion to receive some injections in the near future.
"I don't have Botox. But thank you for the advice because I was thinking maybe it's time," she wrote. Her reply incited even more responses from fans and followers telling her, "u don't need it…u r naturally beautiful," or that "it is not time yet," or "you look better than most 20-something-year-olds, me being one of them," or even simply that they are loving her comment clapback to the haters.
Never mind Botox, maybe the only thing that is truly "not needed" is unsolicited comments on a woman's appearance.
Related: Salma Hayek Can't Stop, Won't Stop Letting Loose on Instagram