Salone del Mobile 2018: The 14 Most Stunning Design Installations in Milan
The most gorgeous rooms and installations from the world's biggest design fair.
---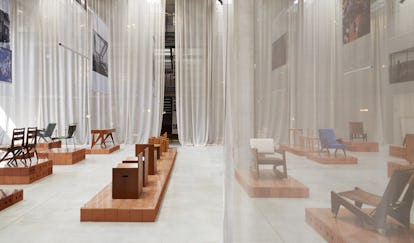 Amendolagine Barracchia Studio
As with every April, the design world descended on Milan this week for Salone del Mobile 2018. They pinged around the city during long days filled with showings from emerging designers to installations and activations created by tech behemoths—Instagram unveiled its design-focused platform, @design, while Google set up shop at Rossana Orlandi for its first Salone outing to show visitors just what it would be like to live with Google design studio pieces in their homes (apparently, that means placing a bundle of sage and a crystal alongside your Google Home), while Dimore Studio erected an entire Bedouin Camp, and several other brands took over the city's glorious palazzos. Those who ventured to the city's outskirts for the 57th edition of the Milan furniture fair at Fiera Milano, Rho found themselves in an enormous maze of pavilions. Whether you stayed in the city or made it to the fair, there was a lot to see. Here, all the highlights.
Villa Borsani: Casa Libera!
Ambra Medda, cofounder of Design Miami and the site L'ArcoBaleno, reintroduced the design world to Italian Modernist architect and designer Osvaldo Borsani through her intervention Villa Borsani: Casa Libera! Medda infused the Modernist gem (open by appointment through September) and former home of Borsani's brother—which includes a site-specific Lucio Fontana fireplace and a gorgeous staircase that's bathed in a subtle pink glow—with small touches like floral arrangements by Muck and a soundtrack by Alexander Francis.
Gabriel Scott x Bar Basso
Montréal design duo Gabriel Scott picked just the perfect place with which to collaborate: Bar Basso, the birthplace of the Negroni Sbagliato (Wrong Negroni)—Campari, sweet vermouth, and Prosecco (instead of gin)—and the egalitarian go-to after-hours spot for everyone from interns to the most legendary of designers attending Milan Design Week. The design studio worked with Bar Basso owner Maurizio Stocchetto to create an installation of Welles Glass in alabaster with copper hardware and Myriad fixtures in Negroni-hued glass that can be seen both from the interior and exterior of the famed Salone del Mobile gathering place.
The Torre at Fondazione Prada
Fondazione Prada inaugurated Torre, a 53-meter tower and the third structure built on the site of a former gin distillery by Office of Metropolitan Architecture (OMA), the firm helmed by Rem Koolhaas. The white concrete tower boasts nine levels (six exhibition floors and three restaurant levels). "To extend the typologies offered by the Fondazione, a series of systematic variations is applied: each next floor is taller than the previous one, rectangular plans alternate with wedge shapes, the orientation of the rooms alternates between panoramic city views to the North, or narrower views in opposite directions, East and West," Koolhaas explained.
Hay X WeWork X Sonos
At the rate it's growing, WeWork is about to take over the world, and Milan Design Week is no exception. The co-working company teamed up with Hay, the Danish design label with a cult following, and speaker brand Sonos to create an installation at the expansive Palazzo Clerici that was part gathering space, part Hay shop, and part showroom.
"Lina Bo Bardi Giancarlo Palanti Studio d'Arte Palma 1948 – 1951" at Nilufar Depot
The late queen of Brazilian Modernism is finally getting her due in the form of an exhibition of furniture collected by Nilufar Depot founder Nina Yashar, on view through December 29 at Nilufar Depot, that boasts the largest number of pieces designed by Lina Bo Bardi ever exhibited in one place. The Church of Espirito Santo do Cerrado informed the exhibition design, while Joseph Grima created a textile scenography with Dedar's Zen Light fabric for "Lina Bo Bardi Giancarlo Palanti Studio d'Arte Palma 1948 – 1951," which touches on her time in the Palma Art Studio, where she worked with Giancarlo Palanti (they even collaborated on a number of pieces) in Sao Paulo from 1948 to 1951.
Swarovski Palazzo
Swarovski has been blurring the lines between fashion, design, architecture, and art for decades, and its Swarovski Palazzo installation showcased a breadth of Swarovski pieces, from its jewelry collaborations with Mary Katrantzou, Peter Pilotto, and Jason Wu to its home pieces by Toord Boontje, Nendo, and Patricia Urquiola. "We are giving the solution of the designers by allowing them to create jewelry pieces, but we're also allowing the Swarovski jewelry customer to have a bit of fashion," explained Nadja Swarovski. "We tried to do the same with home."
Louis Vuitton Objets Nomades
Louis Vuitton Objets Nomades, the French fashion house's collection of travel-inspired furniture and home pieces, has a presence at every important design occasion, and during Salone it introduced a number of new items at the Civico Museo di Storia Naturale di Milano, including the Diamond Mirror by Marcel Wanders and the Ribbon Dance Chair by Andrè Fu. At Fiori Salone, it released Les Petits Nomades, a collection of decorative objects that features the color-blocked Overlay Bowl by Patricia Urquiola.
Tiffany & Co.
Tiffany & Co. installed a massive installation inside its Piazza Duomo location in the form of a greenhouse, where five female artists (Anna Galtarossa, Shantell Martin, Marilyn Minter, Laurie Simmons, and Anna-Wili Highfield) selected by Tiffany & Co. chief artistic officer Reed Krakoff were asked to showcase their own vision, ranging from sculpture to collage, for a garden structure.
Etro Home Interiors
Etro traveled around the world for a new Etro Home Interiors collection created with Jumbo Group that shown at the fiori, Etro Home, and the grand opening of Jumbo Group's new flagship store. Rich paisleys, elegant curves and luxurious details will take you on a voyage through ancient Mesopotamia, India, and East Asia.
Open Sky by Phillip K. Smith III, Presented by COS
The Palm Desert, California-based artist Phillip K. Smith III wanted to give the busy Salone del Mobile attendees a moment of respite. Inspired by the 16th-century Palazzo Isimbardi, and the square of sky formed by its courtyard, Smith made a flying saucer-like sculpture of reflective steel that allows viewers to see fragmented versions of the sky, the palace, and themselves—perfect Instagram fodder, really.
Bottega Veneta Home Biennale
Bottega Veneta Home only releases a collection biannually, so this year was extra special as Tomas Maier juxtaposed elegant, yet minimal sectional, clean lines and subtle details against the decadence of an Italian palazzo. Maier continued to collaborate with Italian designer Osanna Visconti di Modrone to create three cylindrical lighting pieces, one of which debuted at the opening of Madison Avenue Maison earlier this year.
Vitra x Robert Stadler
The Austrian-born, Paris-based designer curated dozens of old and new pieces from the Vitra archive into nine cheeky sections in an exhibition titled "Typecasting," which viewed the objects as Beauty Contestants, Dreamers, Communals, Athletes, Dating Site Encounters, and more. It featured Hybrid, a new prototype by Stadler, which combines the classic way of settling into a communal piece of furniture, the classic Eames chairs, and the surprising, like the 2007 Rimowa collaboration chair by Naoto Fukasawa.
Luisa Beccaria & Moda Operandi
Italian fashion designer Luisa Beccaria is known for her dreamy, romantic and ethereal dresses, and she wanted to transition that beauty into a tabletop line inspired by her spring/summer 2018 collection that took its inspiration from her daughter's wedding. She made it a full-on family affair, launching the collection, which will be available on Moda Operandi, at LùBar, the restaurant helmed by her three oldest children.
Designwork by Eileen Fisher
Just in time for Earth Day, Eileen Fisher unveiled an exhibition that displays creative ways to recycle unused fabric scraps. The result, Designwork—a line of wall hangings, upholstery, and accessories that are the result of a dialogue between makers and consumers' used garments—is on view through April 22 in Waste No More, the undergroud exhibition curated by LIdewij Edelkoort and Philip Fimmanon Ventura Centrale's vaulted tunnels.