When Sam McKnight Talks, Take Note
The legendary hairstylist talks about his new role as a teacher, his backstage secrets, and more.
---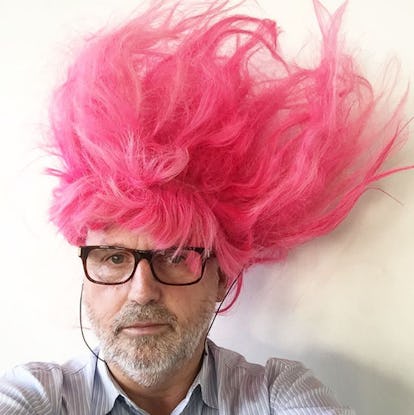 Sam McKnight, the ultra famous hairstylist behind both Princess Diana's hair-do and W's April 2015 cover, is happy to share his secrets. In Hair: Mastered, a four-month online program, he prepares the most clever and committed hair professionals for the photo studio and runway alike. And if that weren't enough, here, he talks about his most epic runway creations, favorite products and more.
Which products are always in your kit? I love L'Oréal Tecni Art Volume Mousse, I always us a little bit to give the hair nice volume. And I always have some Oribe Texturizer, and a Japanese product called Magic Move—it's like a pomade. I also love Sebastian Shaper Hairspray.
What is your trick for adding texture to hair? It can be many different things depending on how much texture you like. Sometimes you can get the texture just from the hairspray. For a beach look, L'Oréal Tecni Art Beach Waves is great. Bumble and bumble does a great, slightly less oilier, surf spray. You just have to kind of gauge it, you know?
What is your favorite recent runway look that you created? The last Chanel show, it was good.
How did you come up with that style? Karl [Lagerfeld] sent me a sketch, like he always does. Sometimes we change it, but this time it was kind of perfect—I wanted to bring his sketch to life. We used real hair wigs, 72 of them, and cut them by hand. It took about 4 days of prep for my team the week before the show. At the fitting, we kind of moved the wig around and it looked really nice when it looked less like a wig and more like a hat—you actually saw the models' own hair underneath at the front. We kept it looking fake, which I think made it look a little surreal.
You also did Alica Vikander's hair for W's April 2015 cover. How is it different to style hair for a cover than the runway or real life? It's different because it has to fit on a rectangle and it has to sell that magazine. It sometimes has to be exaggerated, a little hyper. We only had three hours to shoot. I gave Alicia a little bit of length with some extra hair, like an inch just to break it on her shoulders. And we added a little on top and backcombed it a bit. It wasn't enough, though. Edward added this really nice bow on a band. We kept it looking a little bit undone—very modern 60s.
Which of your more elaborate runway looks would like to see on real people? I think that what we do on the runway sort of works its way onto the streets somehow. We did a really outrageous Mary Queen of Scotts thing a few years ago at Chanel with braids and a towering thing on top and tiaras and crowns. I guess it would be kind of a challenge to see someone make that wearable. I'd like to see that.
What hair length are you digging these days? Or do you have a hair icon you're into lately? Anything related to Debbie Harry really works these days. A geometric chop, that bleached kind of texture and that side swept thing—that's sexy. It's short, but it's cool.
Speaking of icons, you were Princess Diana's stylist for seven years. Whose tresses garner the same 'it' factor today? Times are different now. There are far more alleged icons now than ever. At one point it was just Diana, Madonna, and the supermodels. Now there are so many, but they never seem to last long—15 minutes on Instagram and they're gone. It's seems a bit more contrived now and PR managed.
If you weren't styling hair, what would you be? A gardener? Oh probably, I would I imagine.
You're an instructor as well! What inspired you to nurture the next generation of talent through Mastered? The people at Mastered have been talking to me, Val Garland, and Marianne Newman for some time now. Val went first. Mastered is a fantastic team. They want to make this a huge success, so everything about it is coming from a positive angle. They've been so helpful at breaking down what I do into a language that somebody can understand. It's all on-line, and when I went to the hairdressing awards, I met all these hairdressers who came up to me and said that they are taking my class. So it's really nice to give back. For me to it was also about being thrown into the deep end at the beginning. There's a little bit about doing hair, but there's a hell of a lot about how a photo shoot works, how you get an agent, how an agent works, what my day would be, what I'm expected to have in my kit, how my I'm expected to behave on set—stuff you can't teach without having experienced it firsthand.
Will you be looking for young talent to join your team? Yes. Yes. Yes. We always are. That would be a great opportunity for us to find a few people with a talent for hair, without question. It's also about the temperament and the attitude, and the ability to be a team player.
Photos: When Sam McKnight Talks, Take Note