Scenes From a Marriage
In Revolutionary Road, Sam Mendes directs his wife, Kate Winslet, for the first time.
---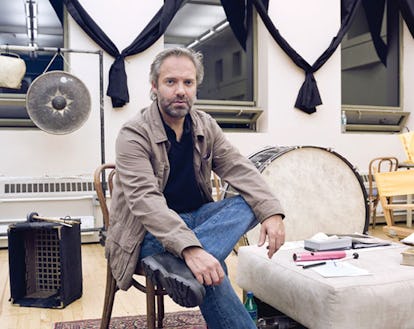 The director Sam Mendes has always preferred to leave his work behind at the end of the day, convinced that he operates best when "I'm being instinctive and not thinking about what I've just done." But while making his new movie, Revolutionary Road, about the dissolution of a marriage, Mendes had no choice but to bring the project home. "I would open my eyes in the morning and there Kate would be, going, 'Great! You're awake! Now let's talk about the second scene,'" Mendes recalls with a great gutsy laugh, of his tête-­à-têtes with the film's star, his wife, Kate Winslet. "She loves to bring home work. She wants to talk about literally every full stop and comma, and so I realized that for 24 hours a day I had to basically treat her like my leading actress."
Mendes and his wife, Kate Winslet, consult on the set of Revolutionary Road.
The pair met in 2001, when Mendes approached Winslet about appearing at London's Donmar Warehouse theater, where he was then artistic director. He had already won an Oscar for his debut film, American Beauty (1999), and had taken two award-winning plays to Broadway, his revival of Cabaret (1998) and The Blue Room (1998), featuring a briefly naked Nicole Kidman. Winslet turned him down due to scheduling conflicts, but a romance quickly bloomed, and they married in 2003. Since the beginning, says Mendes, they've had numerous "Is this the one?" discussions about ways they might collaborate. At the same time, Winslet had long been hoping to reunite with close friend Leonardo DiCaprio, her costar in the megahit Titanic (1997). Revolutionary Road brought them together, into a ménage à trois of sorts that Mendes orchestrated with typical savvy. "You can't underestimate his shrewdness," says friend Simon Russell Beale, the formidable British stage actor who has appeared in six Mendes productions. "He's got a producer's eye. He can sniff the zeitgeist."
Based on the cult novel by Richard Yates, the film, set in 1950s suburban Connecticut, tells the story of Frank and April Wheeler, a young, sparkling couple forced to take stock of their faltering dreams and marriage. Despite wanting to partner with his wife, Mendes was not without trepidation. He wondered, he says, "Can we get through this without any major rows? But I'm not a confrontationist as a director, so I didn't feel like it would be a festival of tantrums and raging egos, because neither of us is like that." His primary concern, he recalls, was that DiCaprio not feel sidelined: "Leo was in the most difficult position because he was trying to be married to the director's wife, and I didn't want him feeling there was pillow talk between Kate and me about what he was doing."
Admired for his give-and-take with actors, Mendes, 43, is playful in conversation, with a lively wit, his elastic features framed by gray-flecked hair and a grizzled beard. Dressed on this warm fall day in jeans and a black sweater, he sits in his cozy, book-lined office in Manhattan's Meatpacking District, decorated with posters honoring his heroes: Wilder, Hitchcock and Dylan. Revolutionary Road is his second outing to the American suburbs, terrain well charted in American Beauty. But to his mind, the film isn't so much a tale of suburban malaise ("the life-in-the-suburbs-is-s— genre," he calls it) as it is about "the minutiae of men and women in marriage—and how easy it is in marriage to compromise your ideals." He was interested in that pivotal point "when you have to throw in your towel and say, 'This is actually my life,'" he says. "What happens when you think you've done it wrong?"
Mendes and Winslet read the screenplay simulta­neously, but while Winslet wanted to do it, Mendes didn't see the story's full potential until tackling the novel. He'd never made a love story, he says, or a film that was "so character driven," noting that the movie is propelled by close-ups rather than the visual flourishes for which he's known. (Think of American Beauty's cascading rose petals.) "It's the least showy film I've made."
But neither Winslet and DiCaprio's marquee value nor the Oscar buzz surrounding Winslet's performance makes Revolutionary Road, which opens on December 26, a sure bet. It's certainly not a feel-good movie. "This is not Titanic 2," says Mendes, who is also currently producing Shrek The Musical on Broadway. "It's not a giant romance with special effects. It's a tough movie."
In fact, Yates's bleak outlook, so alien to Mendes's own, led the director to jump at the chance to make his first comedy. Tentatively titled Farlanders, it is due out this year and was written by novelists Dave Eggers and Vendela Vida. "Revolutionary Road is unflinching, but I'm more of a flincher," says Mendes, pointing to Farlanders's buoyant, joyful tone, which "is much closer to how I feel about the world."
A departure from previous works such as Road to Perdition (2002), about a hit man and his son, and Jarhead (2005), about soldiers in the Gulf War, the script had already done a few rounds with other directors by the time Mendes got hold of it. "We didn't know Sam as a comedy director," says Eggers, "and we assumed it had to be sent to a guy like him by gold-plated courier." But Mendes made the film pretty much as Eggers and Vida had written it.
Farlanders centers on a couple (John Krasinski and Maya Rudolph) who are expecting their first baby and looking for the ideal place to raise a family. "It's about searching for home and for some kind of identity within a relationship," says Mendes, who sees it as a "sister movie" to Revolutionary Road. "I don't know why, but all of my films have been about people who are lost and trying to find themselves."
An only child, Mendes was born into a literary family: His grandfather was the Trinidadian writer Alfred Mendes; his father, Peter, was an English professor; and his mother, Valerie, wrote children's books. His parents divorced when he was three, and he was raised in London by his mother. "As somebody who was without a conventional family or a sense of belonging and who lived a lot in his head, theater was a pretty obvious replacement for something," he says.
Mendes's own family bears little resemblance to that lonely childhood world. He and Winslet live in a downtown apartment with their two children, Mia, eight (from Winslet's first marriage), and Joe, five, and spend summers at their country house in the Cotswolds, in England. When I ask how Joe's childhood differs from his own, he replies, "Well, I'm in the house, for one thing. I love my father very much, but it wasn't the relationship you have when you take your kid to school in the mornings and pick him up or put him to bed every night, as I do with my son. So it's uncharted territory for me."
The rare director to move nimbly between stage and screen, Mendes still feels more at home in the theater, which he discovered at Cambridge University in the Eighties. He was 24 when he directed Dame Judi Dench in The Cherry Orchard and was so "cocky," he recalls, that he dismissed out of hand a suggestion she made in rehearsal. "I didn't have any fear of failure," says Mendes, who at 26 took over the Donmar and made it an artistic hotbed, often by staging American plays and casting famous names in them. He left in 2002. "Now I'm much less convinced of how anything should be. I'm not afraid to say I got it wrong." Occasionally he's not the only one saying so: Jarhead received decidedly mixed reviews, as did his 2006 Broadway production of David Hare's The Vertical Hour.
His latest challenge is the Bridge Project, a unique collaboration between Mendes, the Brooklyn Academy of Music and London's Old Vic. For each of the next three years, Mendes will direct a pair of classic plays to be performed on both sides of the Atlantic. Debuting in January at BAM will be a new Tom Stoppard adaptation of The Cherry Orchard, followed by The Winter's Tale, with Ethan Hawke and Simon Russell Beale taking leading roles in both productions. "One of Sam's goals is to prove that you can bring Americans and Brits together and do Shakespeare and it won't be crap," jokes Old Vic artistic director Kevin Spacey, who plans to headline the third season.
Mendes concedes that while he once agonized over each career move, he's now less strategic—and happier for it. "In my mid-30s I was much more concerned about what people thought," he admits. "When I first met Kate, she said, 'Don't make such a fuss about what people think. Do you like it? Then do it!' Now I feel much freer. That's the thing about having a family. When you've got kids, you become so aware of how lucky you are. What's the worst that can happen? You get bad reviews. So f—ing what? And then you do another show."
Photo on the set of Revolutionary Road: Francois Duhamel/DREAMWORKS LLC