Sam Nazarian: Sam I Am
Young tycoon Sam Nazarian has big dreams for himself, L.A. and the world.
---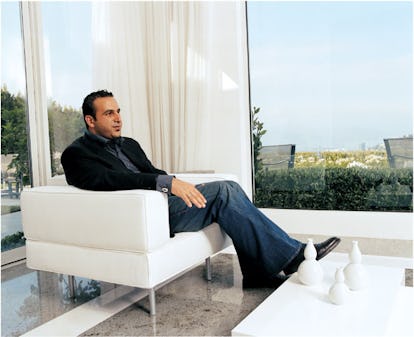 Forget, for a moment, the new cars (Ferrari, Rolls, Porsche), the new art collection (Warhol, Ruscha, Kelly) and the almost-new hilltop Los Angeles mansion (bought from Jennifer Lopez, fully furnished, for $12.5 million in cash). Sam Nazarian, a 29-year-old mogul-in-the-making, is proud of these little trophies, and he plans to buy many more of them, but his favorite acquisitions are the ones he can't show off just yet. They include nine restaurants and clubs in L.A. designed by Philippe Starck; at least 10 additional nightspots and hotels in New York, Miami, Las Vegas, Berlin and London; and several feature films, beginning this fall with Down in the Valley starring Edward Norton, which Nazarian got rolling with a check for $9 million.
Nazarian and Edward Norton on the set of Down in the Valley.
It's a well-known fact that the most glamorous investments often prove to be sucker's bets. And by simultaneously pouring money into three notoriously high-risk businesses—nightclubs, hotels and movies—Nazarian might seem destined to lose not just his shirt, but also his entire wardrobe of Stefano Ricci blazers and True Religion jeans. He's got a plan, however. "By being very methodical and trying to mitigate all risks, you can find a way to have these strategies make sense," he says. The business model for Nazarian's company, SBE (which stands for SamyBoy Entertainment, after Nazarian's childhood nickname), takes the idea of synergistic branding to the extreme: Picture celebs like Norton and Leonardo DiCaprio starring in SBE movies, sleeping in SBE hotels and partying in SBE nightclubs—and the moneyed masses dutifully following along. DiCaprio, for one, has already put in plenty of face-time at Nazarian's two current L.A. clubs, Shelter and Prey, both of which became favorites with the Hilton-Lohan set shortly after they opened.
Nazarian's own sudden appearance on the Los Angeles scene has many people wondering where he came from. In fact, he's been right there all along. His father, an Iranian construction kingpin, lost a huge fortune during the 1979 revolution but quickly built an even bigger one in L.A. as an early investor in the tech giant Qualcomm. Sam, the youngest of four, was an obsessive entrepreneur even at Beverly Hills High School, where he used to resell fake I.D.'s that he'd bought from the owners of a Hollywood pool hall. "It was always the hustle," he says. "I never wanted to get money from my dad."
After attending New York University and getting wait-listed at Wharton, he launched a successful Nextel franchise at 21, then began overseeing his father's sideline real-estate operation. Nazarian père would surely be proud of his son on this spring afternoon, as he sits in SBE's high-gloss headquarters on Beverly Boulevard, in the building that formerly housed Madonna's record label, Maverick. Madonna's old office was too small for Nazarian, so he set himself up across the hall, where he can make the windows overlooking the courtyard turn opaque with the touch of a button. On the walls are seven large TV screens tuned to CNBC, ESPN and live video feeds from Prey and Shelter. A few doors away, a film editor is making the final changes on Down in the Valley, which screened at Cannes to strong reviews.
Though Nazarian bankrolled that particular film himself, he is making his name with innovative deals that take maximum advantage of tax breaks and other incentives while minimizing his personal risk. In an unprecedented arrangement with the state of Louisiana, for example, any SBE film shot there is now eligible for millions in funding, through an obscure government program that effectively makes the state an SBE investor. And Nazarian takes a similar approach to all of his purchases, large and small. This past spring he was determined to buy his own private jet, but he didn't want to be the typical rich guy getting fleeced on a Gulfstream. So he bought an entire airline (the Alaskan carrier Era, which he plans to expand), and leased a Learjet back to himself, making him eligible for industry discounts on fuel and maintenance costs. Starck is currently re-designing the jet's interior. "It will be ready in 60 days," Nazarian reports.
Starck, who points out that he is "very, very picky" about whom he works with, says he partnered with Nazarian because both men are big dreamers, and both are uninterested in copying the now-stale "boutique hotel" concept or any others that Starck originally pioneered. "Sam is exceptional," says Starck. "He is young, incredibly fast, incredibly smart. And he is honest in business." Despite their obvious stylistic differences, Starck, who tends to favor bicycles over Ferraris, also appreciates the fact that Nazarian never questions his design choices: "Sam trusts me. And he'd better, because he's paying me a lot."
Given the extent of Nazarian's ambitions, you'd think that the members of L.A.'s nightlife establishment would be lining up to trash him. But they're not—perhaps because they're eager for a rich, big-thinking owner-operator (a rarity in early-to-bed L.A.), or perhaps because they're just now discovering who Nazarian is. Though he's generally the tallest person in the room at six feet four, he was never a memorable fixture on the club scene; more often, he was the big spender on a given night who would return the next day and find himself facing yet another indifferent doorman. That's one problem he's trying to eliminate at his own restaurants and clubs, which will not rely on outside promoters to bring in business. "We handle everything, from the time you step past those ropes to the time you leave," Nazarian says. "We want to take care of you, because we know you may want to come back the next night." He's now developing a computerized tracking system to ensure that a customer who drops, say, $5,000 at his new supper club the Slab (opening next year in the current Shelter space) will be treated like a VIP when he later stays at SBE's flagship hotel in Miami, the soon-to-be-renamed Ritz Plaza, which Nazarian is overhauling with the help of Starck and $70 million.
From top, Starck's concept for the L.A. supper club the Slab; a rendering of Nazarian's South Beach hotel.
Nazarian occasionally parties at his own places, and he'll happily tell you all about his wild night in Cannes with a 19-year-old model who vomited in his Mercedes after too much Cristal at Ivanka Trump's birthday party. With time, maybe he'll learn to think twice before showing a reporter the loofah sponge that J. Lo inadvertently left in the master bathroom when she moved out of the house ("Imagine where it has been—and what it has cleaned off!"). Or maybe not. Like a young Donald Trump with a sunnier disposition and better hair, Nazarian has a kind of gruff, take-me-as-I-am charisma; the brashness is an integral part of the package. And somehow, when he shows off the custom wheels on his new $450,000 Carrera GT, Nazarian seems less like a boastful tycoon than a Lotto winner who can't believe his luck.
If he has a role model, it's not Trump but Philip Anschutz, the enigmatic Denver multibillionaire who has built an empire encompassing sports teams, concert businesses and theater chains. "That guy is putting his balls on the table and saying, 'Let's do it, but let's do it in the right way,'" Nazarian says. As for rival hoteliers Ian Schrager and André Balazs, he calls both men "geniuses" and "visionaries," but he thinks they've been slacking off when it comes to customer service. To build up his SBE team, Nazarian has been poaching top people from the Four Seasons and W hotels—not to mention Starck, who was formerly Schrager's signature architect but now has an exclusive deal with Nazarian. The new Miami hotel represents a particularly brazen challenge to Schrager, since it sits right across the street from the Delano, the 10-year-old property that brought Schrager and Starck—and South Beach itself—much of their original cachet. (Schrager declined to comment.)
Before long, Nazarian hopes to be married with children, and to use his unique perspective as a Persian Jew to help bridge differences in the Arab-Israeli conflict. "It may seem over my head, but I think I have a way of bringing people together through humor and personality," he says, noting that he once accompanied his father to Ramallah to talk business with Yasser Arafat. But for now he's going to continue working 16 hours a day to prove that he's for real as a businessman, and that his father's wealth has given him only a slight head start. "It's good to be the new kid on the block," he says. "But you have to make sure to follow through."
In the meantime, Nazarian has already accomplished something that his father, and virtually everyone else in L.A., has found impossible: beating rush-hour traffic. Tired of the slow climb up Coldwater Canyon to his house off Mulholland Drive, Nazarian (who usually leaves the sports cars at home and travels in a chauffeur-driven Ford Excursion equipped with bulletproof windows and strobe headlights) noticed a shortcut through the gated community of Bowmont Estates. For only $2,500—lunch money, really—he bought exclusive drive-through rights, allowing him to speed home in one third the time. "I just go right up," he says with a huge smile. "There's no traffic, ever."