Sam Richardson, aka Veep's Lovable Idiot Savant Richard Splett, Is Not Actually His Character on TV
Or is he? A sunny L.A. day with the comedian, whose new show Detroiters premieres on Comedy Central.
---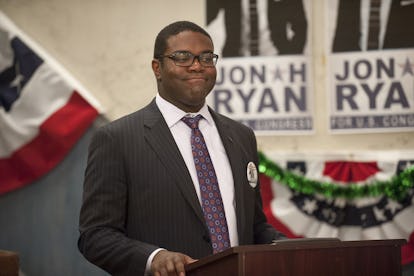 Lacey Terrell/courtesy of HBO
Sam Richardson is an actor, raised in Detroit, based in Los Angeles, 35 years old. He is not Richard Splett, the campaign aide to Julia Louis-Dreyfus's presidential candidate Selina Meyer on HBO's Veep. After he showed up, memorably, as a temp in season three, Splett became, in the same invisible way Richardson suddenly became an indispensable regular player on the Golden Globes-winning Veep, a cult internet hero—despite the fact that he has been described as "a human muppet," an "annoyingly wide-eyed optimist," and a "bunny rabbit in a viper pit."
But in person, Richardson does invite comparisons to the motormouthed marshmallow of a man he plays on TV. There's the same anxious tendency to wildly overshare. There's the same anxious tendency to nauseate with good cheer. There's the same anxious tendency to conjure disaster out of nothing: "You have seven missed messages," Splett informs his boss in front of all their coworkers. "Should I read them to you? I'll read them to you."
Even Richardson admits that when he first encountered the character on the page, he said to himself, "Oh, this guy is me." And yet Richardson, whose comedic pedigree is via the improv company Second City, is not Richard Splett—he just happens to be really good at playing this particular type of idiot savant who walks around onscreen blissfully blind to all social cues. And premiering tonight on Comedy Central, Richardson will be starring in his own series, Detroiters, which he created with Tim Robinson, a Saturday Night Live alum. (Their executive producers are Lorne Michaels and Jason Sudeikis.) The two close friends grew up in the city, and intend to bring a lighter, daffier tone to the ruin porn that usually afflicts TV depictions of their hometown these days. The show has already been described, not unpleasantly, as possessing a "likable idiocy," which seems just about right.
It's also why we recently spent the day with Richard Spl—er, sorry, Sam Richardson in L.A., where he lives now. We visit the record shop, we go to the gym, we have some fun at his expense. Is this Sam or is this his comedic persona? Who cares, as long as you're laughing.