J'adore: Sandra Choi
Jimmy Choo's creative director shares her favorite things.
---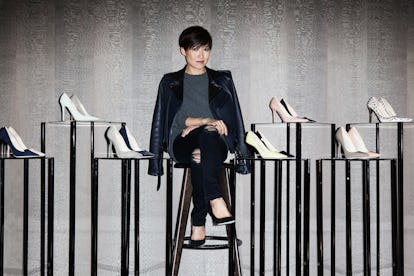 Since taking over as creative director of Jimmy Choo two years ago, Sandra Choi, the niece of the company's namesake designer, has been on a mission to pump new energy into the nearly 20-year-old shoe brand. To that end, she has renovated the London and Los Angeles flagships (New York's is in the works), rolled out collections that expand far beyond Choo's signature sexy stilettos, and enlisted artists like Rob Pruitt and Mat Collishaw to collaborate on everything from ad campaigns to design. Here, Choi shares some of the things she's currently obsessing over.
Eddie Borgo Cone Bracelets "I bought one of his gold punk bracelets a few years back, and lately I've been wanting more of them in different materials— silver, turquoise, moonstone…I'd wear them all stacked together."
FKA Twigs "I came across this emerging musician while researching my spring collection, which is partially inspired by Josephine Baker. I love Baker's spirit and daringness, and this girl reminds me of her. She's fascinating—her music gets into your bones."
Aurelia Cell Repair Night Oil "I never thought you could put oil on your face, but my makeup artist Alex Byrne has been educating me. Aurelia does an organic one that smells like lavender, mandarin, and rose. I put it on at night—it's totally worth washing your face for."
Red with a Hint of Pink "I'm obsessed with this combination—every time I see my manicurist, we mix a different shade of it. The nail polish line Rococo comes close with Pop Culture. It's sort of a magenta color with a hit of beetroot."
Typography "I take a lot of photos on my phone, and I've noticed many of them are of fonts—whether from a book, an awning, an album cover. I'm not sure why, but I'm just visually attracted to the look of letters and words."
The Jimmy Choo Kaya Wedge "Maybe it's the current '70s influence in fashion—the wider trousers and looser silhouettes—but I'm really into this wedge right now. It's still high and strappy, which is what one expects from a Jimmy Choo shoe, but it's softer in tone. The spring collection has an arts and crafts theme, and I looked to a lot of Masai jewelry for ideas; there's a richness to this shoe that I find very cool and unusual."
Reflexology "Call it an occupational hazard, but my feet get worked. So if I can schedule an appointment once a week, I do. It's the only time I have just for me—one hour. And it completely clears my head."
Photos: J'adore: Sandra Choi
Sandra Choi. Courtesy of designer.
Eddie Borgo Cone Bracelets. Photograph by Tim Hout.
FKA Twigs. Photograph by Rick Kern/WireImage.
Aurelia Cell Repair Night Oil. Courtesy of brand.
Rescue Nail Polish. Courtesy of brand.
Typography. Courtesy of Getty Images.
The Jimmy Choo Kaya Wedge. Courtesy of brand.