Saoirse Ronan Talks Little Women, New Zealand, and Much More on Latest "Five Things" Podcast
The actress discusses working with Greta Gerwig, her favorite child movies, and much more.
---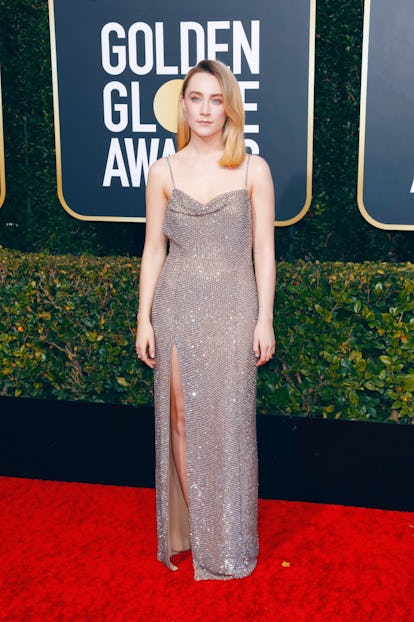 On Five Things with Lynn Hirschberg—W's latest podcast series—Hollywood's brightest sit down with the magazine's Editor-at-Large to talk about "Five Things" that have made them who they are: a person, a place, an object, one positive event, and one negative event that ultimately turned into something positive.
The result: candid, insightful, intimate conversations guided by Hirschberg's singular skill as an interviewer. Topics range from the deeply personal to the nitty-gritty professional—Hirschberg covers the craft of filmmaking and the ins and outs of public life with equal parts curiosity, sensitivity and humor.
To listen to the full podcast, click on the link below:
Ronan and Hirschberg get right into it, chatting about everyone and everything from the star's mother, Monica, to Ronan's earliest childhood memories—which occurred in New York City. One is unexpected: a blond baby Saoirse chowing down on tiny marshmallows while sat atop cases of beer, after a supermarket run with her mom.
Ronan also details her love of New Zealand, her deep affinity for the movies Dirty Dancing and Sister Act, and how she was introduced to Greta Gerwig (which, at first, was via Skype).
Gerwig has directed Ronan in Lady Bird and Little Women, films for which both the director and the actress have received widespread critical acclaim.
"There was something about the work that she did and the style that she acted and her style of filmmaking that really excited me, even before I met her," says Ronan.
Oh, and when it came to dressing up and fashion as a teenager? Ronan notes that she was also a big fan of the movie Clueless. Between Alicia Silverstone's preppy-Beverly-Hills-chic Cher and Brittany Murphy's tomboy Tai, Ronan says: "I was more like Tai, if any."
To subscribe to Five Things, go to Spotify, Anchor or the Apple Podcasts app.