Saoirse Ronan Only Saw Margot Robbie for One Day of Mary Queen of Scots Filming
"We were blubbering like idiots."
---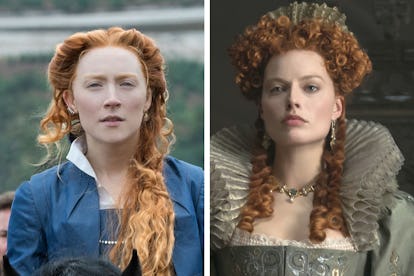 Composite. Focus Features
Though historians are pretty sure that Mary, Queen of Scots and her cousin Queen Elizabeth I never actually met in person, the upcoming film Mary Queen of Scots, starring Saoirse Ronan in the titular role and Margot Robbie as her rival, depicts a single, charged confrontation between the two monarchs. To prepare for this, the film's dramatic climax, Ronan and Robbie stayed as estranged from each other as their centuries-old counterparts, resulting in an equally dramatic reunion when they finally interacted for a single day on set, as Ronan described in this week's issue of Entertainment Weekly.
"We really, really didn't want to see each other," Ronan said. "I love Margot and wanted to hang out, but we wanted [the meeting] to be this special thing." But when Ronan finally came face to face with Robbie on her first day of shooting and Robbie's last, the pair's offscreen friendship made for a much less spiteful reunion than Mary and Elizabeth's. "We were blubbering like idiots," Ronan said. "We just held each other for ages, we wouldn't let go. We were like, 'Huohooouuughh.'" She added, "I've never experienced anything like that."
Robbie, 28, told EW that such a visceral reaction was only to be expected on the set, in light of how deeply she and Ronan, 24, had delved into their characters' tragic lives. "I had underestimated how difficult their lives were, and how much pain was wrapped up in this power," she said. "I think it just meant more." Another side effect of that total immersion, Robbie said, was coming to the conclusion that Mary and Elizabeth's relationship was much more complex than that of cut-and-dry rivals. "They have this sisterhood, this love for each other, but the love is complicated by the fact that each one's survival threatens the other," she explained. "It's a love story between these two characters. A very, very complicated love story."
Watch that love story play out on the big screen when Mary Queen of Scots arrives in theaters on December 7, and catch a snippet of Ronan and Robbie's intense meeting (and their glorious wigs) in the film's first trailer, released last month, here.
Related: Saoirse Ronan Cried During Greta Gerwig's Dance Parties On the Set of Lady Bird