Sara Paxton Says Donna Rice Cried After Her Portrayal in The Front Runner
The former teen star of 'Sleepover' gets scandalous with Hugh Jackman in the new political thriller.
---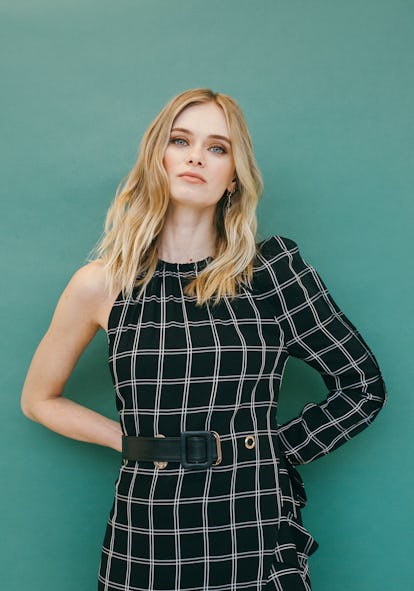 Sara Paxton photographed by Marisa Chafetz for W Magazine.
It's the day before Sara Paxton's new film, The Front Runner, hits theaters. She'd been in promo overdrive for the past few weeks. "Everyone is like, 'You must be exhausted,'" she said on a dreary Monday morning, sipping a cup of tea. "And like, yeah—but it's so exciting. I'm having the best time."
The Front Runner is the 30-year-old actress's biggest prestige studio film of her lengthy career, which involves everything from beloved television series (Twin Peaks; This Is Us) to a slew of popular teen movies in the early aughts (Sleepover; Aquamarine). It's also a meaty role. The political drama, directed and co-written by Jason Reitman, is based on the true story of American Senator Gary Hart, a 1988 Democratic presidential candidate, portrayed in the film by Hugh Jackman, and the fallout when his extramarital affair becomes public. Paxton plays Donna Rice, the woman with whom Hart was caught, and the proverbial eye of the national storm. "I was born in 1988, so I obviously don't remember this moment in history, but I was listening to Radiolab and they were doing an episode on Gary Hart and Donna Rice," Paxton recalled. "I was like, 'This is such an interesting, fascinating, important story.' But I went on with my life. And a year later, I got the script."
After her initial audition, Paxton was called back for a chemistry reading with J.K. Simmons, who plays Hart's political advisor. "To be able to audition with an Academy Award winning actor is like…I'm such a huge fan of his, and I love Whiplash," she said. "When I went in for my chemistry read with him, I got there really early because I was nervous and wanted to chill out in my car and get myself handled before I went in. Then this Tesla pulls up and is trying to park in this tiny space in front of me and it's [Simmons]. I could see him getting angry and having trouble parking. I was like, 'Oh, my, god.'"
Nevertheless, she booked the part, which was in itself no easy feat. "It was really intimidating," she said of playing Rice. "It felt like a really big responsibility. I'm portraying the darkest moment of her entire life. I just really had to do it justice. I could relate to her so much that it really mattered to me.
"Hugh was meeting with Gary, and they're like friends. He stayed at his house. I talked to Jason about if I should try to talk to [Rice]. He was in communication with her the entire time, because it mattered to him that she should feel comfortable. Then we decided that I'm not doing an impression of her; that's not what matters. What matters is portraying and capturing the empathy of this situation."
Though Paxton has yet to meet with Rice in person, she does have her stamp of approval. "She was one of the first people that saw the movie, and she loved it," she said. "She was the critic I was most nervous about, and the fact that she loved it was so gratifying. She told Jason that when it was happening [in 1988], she hadn't cried. It wasn't until she saw me and felt empathy for me, who was her, that she started bawling in the theater and released 30 years."
In addition to her scenes with Jackman and Simmons, Paxton also shares a poignant scene with Molly Ephram, who plays Irene Kelly, another Hart staffer, in what is otherwise a largely male dominated setting. "I love those scenes," Paxton said. "I didn't think that much about them until I could see the movie and take a step back. You have this character of Irene Kelly and she's sent in as this fixer. These women are at two completely opposite ends in their careers and their place in the world, and yet they form a connection."
After a limited release on election day, the film will continue to roll out this weekend to more theaters nationwide, allowing the rest of the world to see Paxton in this new light—a prospect she's very excited about. "This project is the most adult role that I've ever had," she said. "I'm 30. It felt really nice to work on something with people like Jason, who I admire so much and does work that I have aspired to be a part of for my whole life…[Going forward[, I want to take roles like this character. It's kind of rare. I'm just a working actor and not every job is like this. Some are jobs and some are amazing special opportunities. I hope to have more of those."