Justin Hartley, Dreamy Actor on This Is Us, Does Not Disappoint as Dreamy Actor In Real Life
It's hard to not to be charmed by the soap actor turned This Is Us star—especially when he's willing to read his DMs for the first time ever in front of you.
---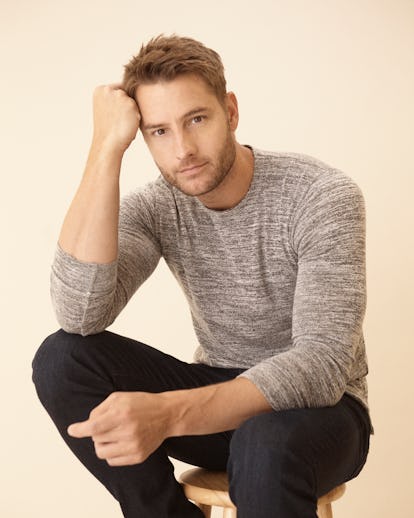 Up until a couple days ago, Justin Hartley had never read his DMs. He didn't even know how. "Want to read some right now?" he asked, grabbing his iPhone from his Louis Vuitton bag as his publicist eyed us suspiciously. I showed him how to locate messages from people he doesn't follow. Unsurprisingly, Hartley has "99+" unread messages—not only does he star in the beloved, Emmy-award winning NBC series This Is Us, he's also very, undeniably, universally handsome. His verified account has 596K followers.
"Oh god, there are a million!" he said as he scrolled through the messages.
Hartley's DMs say pretty much exactly what you'd expect. There are a handful of heart emojis, stuff like: "You're the hottest guy around, single?" (Nope—he proposed to his soap star girlfriend, Chrishell Stause, earlier this year.) There's a less obvious note from a dude who worked security on Smallville back when Hartley played Green Arrow, and a request that he shoot a fan's sister a quick message because lately she's had "a tough go" (that one ended with a less-than-subtle "Plus, she's cute. Her name is Tiffany"). "They're all nice!" he said, genuinely pleased. "I should read more of these. This is really great."
It's often hard to separate actors from the characters they play on TV, and that's especially true in Hartley's case. On This Is Us, he plays Kevin, an actor whose all-American good looks and charisma have allowed him to breeze through life and onto a hit television show. Even Hartley will admit that there are similarities. "His loyalty, how he puts family first… I think he doesn't take himself too seriously and I try to be the same way, sort of go with the flow," he said.
For Hartley, however, mainstream stardom wasn't instant. He's had stints on not one but two soap operas, first Passions and more recently The Young and the Restless. (Hartley didn't renew his contract in order to do This Is Us—probably a good call, though it's worth noting that my mother says he was great on "the Y&R"). And while he speaks largely positively about those gigs—he is, it appears, a largely positive guy—the marathon pace wasn't always fulfilling. "On a soap opera you'll do an episode and a half a day and in prime time television you're hustling to get an episode done in eight days. That's a little bit frustrating sometimes," he said. "But there's also something exhilarating about it. It's kind of like live theater in a way, where you get one crack at it. If you flubbed up a word, you flubbed up a word. They're going to air it."
This season, Hartley's Kevin gets his "big Hollywood break," via a starring role in a Ron Howard movie opposite Sylvester Stallone (both Ron Howard and Sly have cameos). And while it was a long road to the hit series, Hartley landed his "big break" as Kevin with relative ease off of one audition and a subsequent screen test. "It was pretty painless, actually," he said. "Usually there are so many more hoops to jump through."
This is not unimpressive stuff, when you consider how many handsome actors in Hollywood could be called upon to portray a handsome Hollywood actor. What Hartley manages to do is make Kevin sympathetic and lovable. By the time Kevin leaves behind a life of partying and womanizing to reignite his relationship with his high school sweetheart, Sophie, you're already in his corner.
Last night's episode solidified Kevin and Sophie's relationship, which will continue to be explored throughout the season, as we slowly unravel the mystery behind the death of Kevin's dad, Jack. "Sophie kind of centers [Kevin]. You start to see through the episode how she'll go, 'Come here, it's okay' and he kind of needs that," Hartley explained. "She immediately is able to calm him down and literally make him be a better person, a better man."
Hartley, meanwhile, seems to have it all figured out. His career has never been better (he's also got a part in Bad Mom's Christmas, in which he gets completely nude with Kathryn Hahn), plus there's his forthcoming wedding, the daughter he's crazy about (just look at his Instagram) and two dogs (rescues, of course). I asked him if he'd give his younger, new-to-Hollywood self any life-altering career advice from the future.
He smiled. "I'm okay with the way I did it, actually."
Related: If Milo Ventimiglia Weren't the Star of This Is Us, He Would Also Be Crying to This Is Us
Milo Ventimiglia loves, loves Disneyland: