Sarah Ferguson Continues to Be an Icon of Divorced Royalty
She's redefining what it means to be an ex-royal, then and now.
---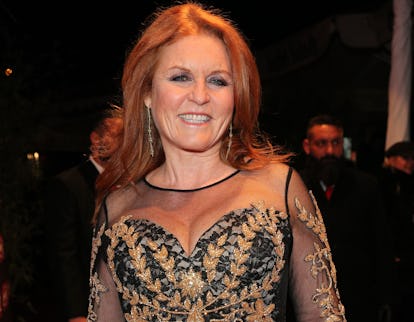 Gisela Schober/Getty Images
Sarah Ferguson, aka the Duchess of York, occupies a very specific place in the limelight: She is perhaps the most famous person alive to have divorced out of a royal family. But it's a mantle she wears with aplomb. In a new interview with Hello!, Ferguson opens up about sharing parenting duties with her ex, Prince Andrew.
"The key is to always be there, but never to wrap them in cotton wool," she says of her relationship with her two daughters. "We work in unity and [ex-husband Prince] Andrew and I are focused on being good parents together. We are bigger than friends. We learn from each other, support each other and understand it's about communication, compromise, and compassion."
Her relatively stable situation has inspired her to work on a new German documentary about one of her royal ex forebears.
Princess Louise, the current Queen's great-great-great-grandmother, was unceremoniously dumped by her husband and sent to live in a small town in Germany for the rest of her life, and never got to see her two sons again. Ferguson hopes to give her a bit of her dignity back with the new doc. She allowed cameras to follow her as she retraced the steps of the princess's life and even visited her tomb.
Fergie, however, couldn't be further from banished, and has been basically welcomed back into the royal fold of late. Vanity Fair notes that she's been at several royal functions over the past few months, most recently the Royal Ascot; and her joint vacation with Prince Albert and their two daughters, Beatrice and Eugenie, has fueled rumors that the two might be getting back together.
It's commonly understood that Queen Elizabeth II's husband, Prince Philip, Prince Andrew's father, especially soured on Ferguson during the messy divorce drama of the 1990s and is the reason she was kept away from the royals for so long. Rumor has it that Sarah and Andrew are waiting for Prince Philip to die before they remarry, to put it bluntly. Whether or not that's ever been true, Fergie is without a doubt a great example of someone who stayed friends (or more than friends) with an ex. Just look at the sweet message she posted for His Royal Highness's latest birthday:
The smile says it all….
Related: Is Sarah Ferguson Finally Ready for Her Royal Comeback?
A Brief History of Royal Wedding Dresses
Notably, for her wedding to Jack Brooksbank on October 12, 2018, Princess Eugenie chose to wear a dress by Peter Pilotto that specifically showed off the long scar down her back. The scar was from a major back surgery she underwent as a 12 year old, to cure scoliosis. Today, Princess Eugenie is the patron of the Royal National Orthopaedic Hospital, the hospital that did her surgery. Photo courtesy of Getty Images.

Pool/Samir Hussein
At her wedding in May 2018, Meghan Markle wore a gown by British designer Clare Waight Keller. Her veil featured embroidery of flora representing all 53 Commonwealth countries, as well as a poppy, the flower of Markle's home state of California. Photo courtesy of Getty Images.

WPA Pool
Kate Middleton wore a custom gown by Sarah Burton for Alexander McQueen, made in English and Chantilly lace and satin gazar, for her wedding to Prince William on April 29, 2011. The dress featured roses, lily, and shamrocks and was made using 19-century needlework techniques. Photo courtesy of Getty Images.

CARL DE SOUZA
Camilla, the Duchess of Cornwall wore an overcoat and dress designed by Antonia Robinson and Anna Valentine, with shoes by L.K. Bennett, for her wedding to Charles, the Prince of Wales, on April 9, 2005. Photo courtesy of Getty Images.

Anwar Hussein Collection/ROTA
Photo courtesy of Getty Images. Sophie, the Countess of Wessex, wore a design by Samantha Shaw, and was able to take of the coat-like layer to reveal and evening gown for revelry after the official ceremony on June 19, 1999.

Anwar Hussein
For wedding to Prince Andrew, Duke of York, on July 23, 1986, Sarah Ferguson wore a dress by Lindka Cierach, which was beaded with heart and anchor symbols. Photo courtesy of Getty Images.

John Shelley Collection/Avalon
Princess Diana wore a silk taffeta gown with a 25-foot train, and a 153-yard long veil by David and Elizabeth Emanuel for her wedding to Prince Charles on July 29, 1981. Photo courtesy of Getty Images.

David Levenson
For Princess Anne and Captain Mark Phillips ceremony in 1973, the princess wore a dress designed by Maureen Baker for Susan Small, and featured elegant draped sleeves. It was quite close to the wedding dress trends of the time.

PA Images
A look at Princess Elizabeth, future Queen Elizabeth II, on her wedding day to Prince Philip on November 20, 1947. The fabric for the wedding dress had to be purchased using ration stamps, as in 1947, the British government was still rationing many products. The designer, Norman Hartnell, embroidered jasmine, lilac, and other flowers on the dress, whose design was said to be inspired by the Botticelli's Primavera. Photo courtesy of Getty Images.
Inspired by the drop waist style ushered in by Coco Chanel, the embroidered gown was created by Queen Mary's court dressmaker, Madame Handley Seymour, for Lady Elizabeth Bowes Lyon for her wedding to the Duke of York (and later George VI) on April 26, 1923. Photo courtesy of Getty Images.

Hulton Archive