Five Minutes With Sarah Paulson
The actress discusses unorthodox choices, Valentine's Day horrors and finding your inner dolphin.
---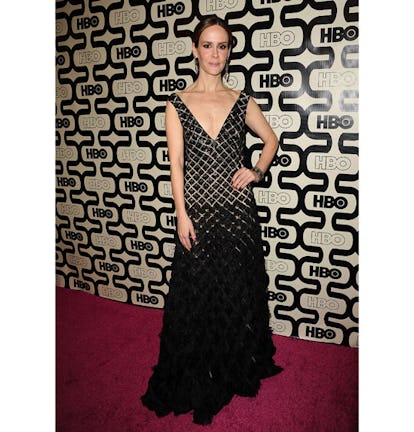 To say the actress Sarah Paulson has been having a good twelve months is like saying February has been a tad chilly: gross understatement. She played campaign advisor Nicole Wallace in last year's Game Change, which earned her Emmy and Golden Globe nominations. Then came shooting Steve McQueen's forthcoming Twelve Years a Slave, opposite Michael Fassbender. And it was straight into Ryan Murphy's thrillingly macabre mini-series American Horror Story: Asylum, in which her turn as Lana Winters, a circa 1960s lesbian reporter who is falsely committed to a sanatorium and then kidnapped and raped by a serial killer only to escape and become a prize-winning journalist, displayed the kind of balls-to-the-walls acting chops rarely seen on the small screen. (She'll be back for the third season of Murphy's show next fall.)
Now the 38 year-old theater regular is hitting the floorboards in the Roundabout Theatre Company's production of Lanford Wilson's Talley's Folly, which opens at the Laura Pels Theatre on March 5. Set in 1944, the deceptively probing work opens with Jewish immigrant Matt Friedman (Danny Burstein) in hot pursuit of Sally Talley (Paulson), the only daughter in a wealthy Christian Missouri clan, who has resigned herself to a life of eccentric maidenhood. As he woos her over the course of an evening in her family's boathouse, their snappy banter descends into more painful—and heartfelt—territory. Here, Paulson discusses unorthodox choices, Valentine's Day horrors and finding your inner dolphin.
I read that you feel like certain plays come into your life at certain points for a reason. What do you think it means that you're doing this play now? I am a person who is not mated. And neither is Sally. And in 1944, to be 31 and living at home is tantamount to being 38 or older today and not being with anyone. And so it is certainly something that I think about in my own life—how my choice not to marry is perceived. And I just related to Sally's commitment and resolution, something that we learn later was born of a great family trauma. She believes she is a broken woman, that she is not a viable, worthwhile person. That she's a commodity to be traded. I can kind of relate to that from a professional standpoint, being in this business and how little control you have over your own career and how you sometimes take jobs just to work because you like working. I heard her voice in my own head and it just felt like it lived in me somewhere.
What do you think attracts Sally to Matt? They are rather mismatched. They are opposites in so many ways. But in the most important ways they're identical to each other. They're the most private, calcified people internally who have committed themselves to their beliefs. Both of them have made choices that are are very on the margins of things and so in that way they're very, very alike. And I think they're able to appreciate each other the way any person that's ever outside of the quote unquote norm can—you can always identify another freak.
On American Horror Story: Asylum, you got to travel with Lana Winters from her youth through her seventies. Here, you only get to live with Sally for 97 minutes. Was that a hard switch? In this play, from the moment we enter we never leave. It's essentially a 97 minute-long scene. And so your level of attention and focus and spontaneity and everything has to be on high alert, so it is as similar to that beginning, middle and end feeling as anything I've ever done on stage. And it's exhausting in that way. But rewarding, too. I get to look at that Danny Burstein mug and kiss it. I guess that's a spoiler. People shouldn't come here expecting us to make out the whole time.
Well, he says from the beginning that the play is a valentine. Though I guess it could be a really bad valentine… Exactly. It could be like my actual Valentine's Day. When I woke up and vomited six times.
What? Yeah, I woke up and had that 24-hour thing that was going around. I was like, Is this foreshadowing? Is this what my love life this year is going to be?
Or maybe it was a cleanse… Let's go with that! It was a cleanse.
You've been super active with tweeting to your more than 40,000 followers. What brought you back to Twitter? I had gone away from Twitter because before people had been so mean to me. Talking about my lisp and my enormous forehead and all these things. I do have a lisp, I do have a forehead I know you could land a plane on, it's no mystery to me. I just didn't have the skin for it. And then when American Horror Story happened people so loved Lana Winters and I felt it was a little safer somehow. And I really like to tweet my fans back when they say nice things. Because I sort of feel like they're the ones who keep things going on. And I never in my life have felt so protective of a character [like I did of Lana]. I really cried like a baby at the end of the shooting. I didn't want to say goodbye to her. I kept my little Lana pin [that I wore on the show], the little 'L.' Which I decided was for labia, lesbian, Lana.
The big three. The big three. Because it was an all-encompassing symbol.
Do you wear it? I wear it all the time. No, I don't.
I'm not going to ask you to do it now, but I've heard you do a very good impression of a dolphin. How did you ever discover your talent for that? Well, the story to that is sort of a bad story.
You had a really bad time at Sea World? No, it was when I was in high school, I smoked a lot of pot one night. And we were really stoned, my three best girlfriends and I, and I was like, 'You know, it's kind of like just being a dolphin!' And I just made the noise and my friends were like, 'Oh my god. That was crazy you really do sound like a dolphin.' And then it was something that I would just pull out every once in a while as a party trick. I've gotten a lot of mileage out of it: I did it in The Other Sister; I did it on David Letterman; it's in Studio 60; I did it on Anderson Cooper… So cannabis can further you career, I guess, help you find your inner dolphin.
Photo: Joan Marcus
Watch W's most popular videos here: