Sarah Silverman Opens Up About "Best Friend" Louis C.K.'s Sexual Misconduct
"I wish I could sit this one out."
---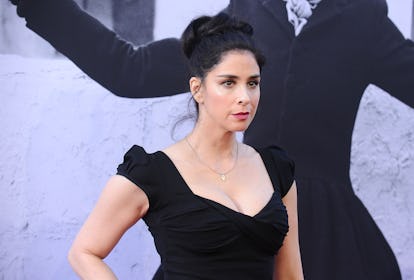 Jason LaVeris/FilmMagic/Getty
Sarah Silverman and Louis C.K. have been close friends for years. They both rose through the ranks and gained widespread fame for their own uniquely edgy brands of comedy. Because of this friendship, Silverman was hesitant to address last week's New York Times report of C.K.'s history of sexual misconduct, which he admitted was true in a statement released shortly after its publication. But in a new episode of her Hulu talk show, I Love You, America, Silverman finally broke her silence on the matter, and expressed her sadness and conflicted feelings about C.K.'s behavior, according to The Hollywood Reporter.
Silverman started her monologue by saying that the flood of allegations of sexual misconduct by powerful men is "messy" but "necessary." "Some of our heroes will be taken down, and we will discover bad things about people we like, or in some cases, people we love," she said. "Let's just say it. I'm talking about Louis. And I've, of course, been asked to comment, and in full honesty, I really, really, really don't want to. I wish I could sit this one out." Unfortunately, she said, she's decided instead to "address the elephant masturbating in the room." She added, "Full disclosure: I'm still processing all this s—. But here's where I'm at on it as of this moment. It could change tomorrow, and if it does, I will keep you posted."
"One of my best friends of over 25 years, Louis C. K., masturbated in front of women. He wielded his power with women in f—ed-up ways, sometimes to the point where they left comedy entirely. I could couch this with heartwarming stories of our friendship and what a great dad he is — but that's totally irrelevant, isn't it? Yes, it is," she said. "It's a real mindf—, you know, because I love Louis. But Louis did these things. Both of those statements are true, so I just keep asking myself, 'Can you love someone who did bad things? Can you still love them?' I can mull that over later, certainly, because the only people that matter right now are the victims. They are victims, and they're victims because of something he did."
She ended by discussing the contradictory feelings she has about the whole situation. "I hope it's OK if I am at once very angry for the women he wronged and the culture that enabled it, and also sad, because he's my friend," Silverman said. "But I believe with all my heart that this moment in time is essential. It's vital that people are held accountable for their actions, no matter who they are. We need to be better. We will be better. I can't f—ing wait to be better."
Last Friday, one day after the Times published the report in which five women accused C.K. of lewd behavior and sexual misconduct, the comedian released a lengthy statement in which he admitted that all of the women's accounts were true and apologized for his behavior. "The hardest regret to live with is what you've done to hurt someone else. And I can hardly wrap my head around the scope of hurt I brought on them," he wrote. "I've brought pain to my family, my friends, my children and their mother. I have spent my long and lucky career talking and saying anything I want. I will now step back and take a long time to listen."
Related: Comedians Respond to Sexual Harassment Claims Against Louis C.K.
See What's Trending in W Video: