Sasha Spielberg Wards Off Her Techno-dependency On Her First Solo EP As Buzzy Lee
Formerly one half of the sibling dream pop duo known as Wardell, Spielberg is going solo on her new Facepaint EP.
---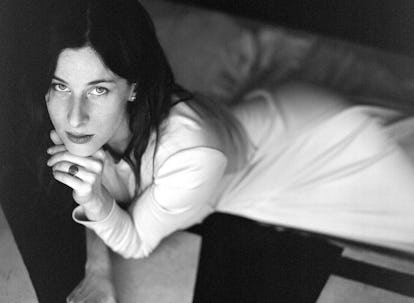 Nastassia Brückin
Sasha Spielberg is a sensitive soul. She's always loved to tell stories; though not in a screenplay format like her filmmaking father Steven Spielberg or via acting like her mother Kate Capshaw, but, instead, through music. As the daughter of Hollywood royalty, it would be bizarre if a scion with the Spielberg name had no affinity for movies or storytelling, so it is fitting that in her upcoming EP Facepaint—her first solo musical project, for which she will perform under the moniker Buzzy Lee—boasts a cinematic, atmospheric appeal.
Sasha Spielberg has been singing for as long as she can remember, and playing piano since she was seven (she wanted to learn the theme songs for Titanic and Fame, but once her teachers introduced classical music into her repertoire, she no longer wanted to practice). By the time she was 12, she was writing her own songs. "I used to pretend like I was 27 years old and about to get married and unsure if this was the right guy for me when I was 12," she said over the phone. Now that Spielberg actually is 27 years old, "I'm basically still writing that exact song," she laughed.
The singer's personality is youthful with mature taste: she's just as addicted to her phone as all of us (though she later admitted she almost always prefers a face-to-face interaction) but grew up on the classics (she cites the songwriting greats Joni Mitchell, Carole King, and Carly Simon as inspiration for her sound). She even went through a typical classic rock phase in middle school after seeing Almost Famous for the first time. "I was the girl who was correcting people on the spelling of Led Zeppelin," Spielberg said.
For the most part, Spielberg is an open book (or as open as one can be when performing songs that she finds to be just as raw and personal as a diary entry, like her breezy single "Coolhand" or an upcoming dreamy ballad on the EP titled "No Her"), but as for where she came up with the name Buzzy Lee, she prefers to keep a morsel of secrecy to her story. "My grandma just passed a year ago and she was everything to me. She and I were so similar. Her name was Lee Lee so that's where Lee comes from," Spielberg revealed. "Buzz is a bit of a mystery… There is a story but I'm not sure exactly how to tell it quite yet."
On Buzzy Lee's Facepaint EP, "Coolhand" is the undeniable poppy standout single, while the rest of the tracks are a slight departure from the music she performed with her brother Theo Spielberg, as the dream pop duo Wardell. Seven years after the release of Wardell's only album The Accidental Zoo, Spielberg admitted she finds going solo for the first time "vulnerable and terrifying," now that she can't rely on her brother to help buffer any bad news from critics. "I was so trained to finish songs with my brother and always having a partner is so much easier when it comes to finishing songs," Spielberg said. The push she needed to finish her own songs came when she realized she was filling up her phone with voice notes (and acknowledged that recording the voice notes was a mechanism to protect herself from any degree of failure—if a song remains incomplete on the phone, no one can criticize it). "I'd have to challenge myself on every lyric, and I wouldn't have my brother there. But that's when Nico came in," she said.
Nicolas Jaar, or Nico as Spielberg calls him, is Buzzy Lee's producer and Spielberg's close friend. The two have collaborated with each other since her freshman year at Brown University, where she studied literature and writing. "I cry a lot when I'm working with him," Spielberg said. "But I feel very safe with him and he pushes me. He knows me so well," she continued. Working with Jaar on Facepaint, Spielberg's goal was to take notes from some of her favorite film scores with the hopes to eventually evolve the songs into "real stories and miniature movies in a three minute span of time." The result is an intimate exploration of Spielberg's anxieties and vulnerabilities via jazzy vocals and unobtrusive instrumentals, as exemplified on the EP's recently released single, "Coolhand," in which she asks herself repeatedly, "Do I have to act like that?" Spielberg wrote the song as a response to the the images and narratives she projects on Instagram. "We want people to see this version of ourselves," Spielberg declared. "And then we see that it works and people like it. So we keep feeding into this hunger and that's always, personally, a battle for me," she continued.
For Spielberg, a quotidian dependence on technology is the ultimate distraction that hinders her creative work. "Some people are totally fine with just checking Instagram once a day and then putting their phone down. But with me…self regulation is very difficult and it's a battle," she said of the endless rat-race of posting, liking, and commenting all day on social media. "The second you post something—and I think everyone feels this—there's just a loss of serotonin. A depletion. And it doesn't make me any happier to post anything at all, it actually makes me quite sad," she said, citing the stage as the only place where she feels free from any sort of techno-dependency.
As Spielberg gears up for the release of Facepaint in late April, she hopes to perform live shows all over the country as Buzzy Lee, and looks forward to seeing her parents in the audience, even if it means baring her soul to those who raised her in ways she never has before. "I really try to cough as many times as many times throughout any lyric that I don't want them to hear," Spielberg joked. "I don't know how anyone who has actual explicit lyrics does it!"
In the past, Spielberg's A-list parents have showed up to hear her perform alongside her brother Theo as Wardell, so she believes they will find their way to the audience of a Buzzy Lee show with one caveat: there must be somewhere for them to sit. (She usually plays intimate L.A. venues with plenty of standing room.) "I think having them there always makes me want to do better and have the best performance of my life," Spielberg said.
Performing as Buzzy Lee is the number one priority for Spielberg, at least for the foreseeable future. Even though she admitted that she loves to improvise characters and voices for fun with her friends, and after making cameo appearances in some of her dad's movies—she appeared briefly in Indiana Jones and the Kingdom of the Crystal Skull to throw a punch at Shia LaBeouf's character, Mutt Williams, and in delivered a very important package in 2018 Oscar contender The Post—Spielberg revealed she has no desire to take on acting full time. "Right now, I just love—I mean, I've always just loved—music."
Related: Destry Allyn, Steven Spielberg's Youngest Daughter, Gets Into Modeling