Sasha Velour Explains That Flower Stunt and the Inspiration Behind Her Eyebrows
Sasha Velour, winner of RuPaul's Drag Race Season 9, reveals her biggest beauty influence: vampires.
---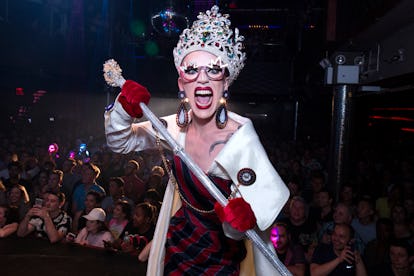 Santiago Felipe
The challenge of RuPaul's Drag Race is that it pulls its contestant in a million different directions while also requiring them to present a unified vision of what makes them unique. Few have walked that line quite as gracefully as newly crowned Season 9 winner Sasha Velour.
Walking into the workroom on day one with a bald head, a stylized unibrow and a guttural scream, the former Fulbright scholar—she studied in Russia—maintained her art and academic-informed perspective while still meeting every challenge head on. Her only real weakness in the competition? Perhaps getting a little too intellectual. She originally planned to portray feminist theorist Judith Butler during the show's trademark campiest Snatch Game challenge, but eventually found a winning backup plan with a deliciously dry take on Marlene Dietrich. Such smarts though will serve her well now that she's free to expand her vision beyond the show.
We caught up with Velour to talk about the inspiration behind her eyebrows, how she turns her friends' cast-off party dresses into style statements, and, of course, the rose petal performance to Whitney Houston's "So Emotional" that still has the internet shook.
So let's start with the thing everyone is still talking about. How did you come up with the idea for that flower petal performance? I wanted an element to the performance with a 'Wow' factor. That was the challenge we had to rise to with almost no time to prepare. I ended up coming up with the idea the day before and bought tons and tons of flowers—fake rose petals from Michaels, actually. And the song is all about love in excess and I thought the explosion of rose petals really captured that. I practiced it once and made it work and was just glad it worked out.
Were you surprised about the twist on the finale? I was shocked. The show had kind of had a stable format for how the finale goes. When we finished filming I thought that the competition aspect of the show was over. To discover that we had one more or two more of the most intense challenges, the most high stakes competition yet, it was kind of intimidating and scary. At the same time I tried to see it as an opportunity. Because I had never fallen into the bottom two on the show and didn't get to lip sync. The heart of my drag is really powerful emotion lip-syncs, so I wanted to take advantage of that and show that to people.
When it comes to style inspiration are there specific people or designers or scenes that inspire you? I kind of try to tune out fashion trends as much as I possibly can especially when it comes to drag fashion trends. I find inspiration in the movies I've loved, especially all films ever made about Dracula. My finale outfit, the blue and white dress, takes direct inspiration from The Bride of Dracula in Bram Stoker's Dracula, the 1992 movie. It was also a little bit of pottery meets dinosaur. So I just tune out trends and focus on things that inspire me. It's important in drag to challenge things, and present your own vision.
What was your shopping process like? In the past I didn't really have that much money to invest in fashion so it was a a lot of vintage on the show. A lot of the things I'd wear on the show were actually gifts. A lot of girlfriends who bought a sequence dress that they thought was too loud or too over the top would give it to me. The most fun game is, 'How do I transform this most random dress into a fashion statement by styling it with accessories or with gloves or to alter it to really make it into a fashion statement?' Now that I have a little bit more resources to devote to drag I can kind of start fresh. Before I never really able to have that fresh start, so it's really exciting.
How did your signature eyebrows come about? When it comes to drag my favorite thing we can do is kind of push against the beauty standards of magazines. We don't need to look like supermodels. That what really makes drag special and makes it unique and makes it queer. I've always tried to twist the ideas of beauty that are maybe considered to be ugly by the mainstream. I was already kind of toying with that when it comes to baldness, which came from a discussion with my mother about how to be considered a beautiful woman if you're bald. The eyebrow thing kind of came because of my obsession with Dracula and the earlier movie Nosferatu. He had natural bald head and those bushy eyebrows, which I think is iconic and a real fashion statement. It's also a little bit of Frida Kahlo, and the idea that her eyebrows were really an attempt to honor herself, which is the most powerful idea when it comes to beauty. It's also, well, I shave my eyebrows now that I do drag, but, truthfully, to me eyebrows grow exactly like that. There's a little patch in my unibrow and I wanted to turn that into something I could finally see as glamorous. All my life I've tried to tweeze, or wax and transform them into something, but now I celebrate them.
You have a lot of things going on, but what are your plans you're most excited to do now that you have the crown? I'm gonna invest the money in the creative projects I have going, and I want to share the platform and spotlight with the collaborators I already have and the new collaborators I get to meet. Right now I have two big projects. The first is Velour, a drag magazine that kind of captures drag through visual art and writing. We're trying to figure out how to write what's going on in drag at this particular moment to have a lasting record. I also have "Nightgowns," which is my monthly show in Brooklyn [at National Sawdust in Williamsburg]. I want to expand that and take that on the road and tour the country and connect lots of different drag scenes and types of drag from small towns to big cities. I'm also in the process of turning it into a non-profit organization so we can ultimate raise money for queer and trans youth and help with everything from housing to scholarships.
Related: The Many Faces of the One and Only Kim Chi
Carmen Carrera: Showgirl: