Live from New York
Alison Castle fetes SNL's 40th anniversary with a stunning new book.
---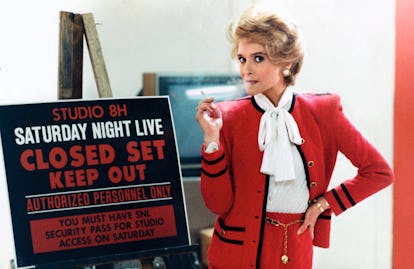 With the 40th anniversary of Saturday Night Live upon us, someone was bound to celebrate with a commemorative book—and who better to do so than a true fanatic? "I am a big fan of the show and I always have been. I remember watching the early cast as a kid," says photographer and editor Alison Castle, who is also the author of the new tome Saturday Night Live. The Book., published by TASCHEN. Though Castle had never attended a taping before starting the project ("It's impossible to get tickets!" she laughed), she spent the majority of season 39 capturing the backstage goings-on, from the writers' meetings to the show itself. "I was struck by the six day week," says Castle. "It's incredible what they do in those six days and it's incredible how consistent that six day schedule has been throughout the 40 years. It became obvious to me that the book made sense to be laid out around that six day schedule." Paired with information on each day's tasks is a glossary of terms and coordinating behind-the-scenes photos from SNL's archive. Stills from the show's most memorable skits are sprinkled throughout, accompanied by quotes. An encyclopedia of cast and characters, notable hosts, an interview with creator Lorne Michaels, and backstage memories rounds out the book. Because the anniversary created an automatic non-negotiable deadline, the tome came together quickly—much like SNL itself. "One of Lorne's favorite things to say is, 'We don't go on because the show is ready, we go on because it's 11:30,'" she says.
Saturday Night Live. The Book. by Alison Castle, $50, is now available on taschen.com.
Photos: Live from New York
Bumper photo of Steve Martin by Edie Baskin, 1976. © Edie Baskin
Patrick Swayze and Chris Farley's iconic 1990 Chippendales sketch. © Edie Baskin
Jan Hooks as Nancy Reagan backstage, late 1980s. © Suzy M. Drasnin
The storage room in the makeup lab, 2009. © Mary Ellen Matthews
Edie Baskin's hand-tinted portrait of Gilda Radner as Baba Wawa, 1977. © Edie Baskin
A personal note from John Belushi to Lorne Michaels. © Courtesy of the Belushi Family
Gilda Radner's Roseannadanna with Jane Curtin, 1979. © Edie Baskin
Steven Spielberg, Bill Hader, and Andy Samberg shooting "Laser Cats 7" in Lorne Michael's office, 2012. © Dana Edelson
Bill Hader as Stefon with Seth Meyers during Hader's farewell show, 2013. © Dana Edelson
Saturday Night Live. the Book. by Alison Castle, $50, taschen.com.