Saturday Night Live Season 44: Ten Hosts We'd Love to See Make Their Debut
Can you believe they haven't?
---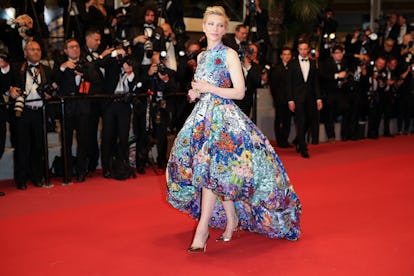 Andreas Rentz
Many people have hosted Saturday Night Live, but there are still many, many people who have not. With the show's 44th season just around the corner, the Internet is already making predictions and starting mini-campaigns to have certain faves host the season premiere (Lady Gaga, Constance Wu, and Ariana Grande all seem to be popular choices). But there's a whole season of episodes that need stars, and with it a whole slew of opportunities to see talent who have never done the gig before take the stage. Below, the performers we'd most like to see make the debut very soon.
Cate Blanchett
If SNL producers have been too intimated to ask Cate Blanchett to host before, we kind of understand. She's Cate Blanchett, after all. Still, that's the only reason we can fathom for why she hasn't hosted. She's notoriously game to take up any challenge Hollywood throws at her (from period pieces to fantasy to superhero flicks to live drag, and we don't see why the actress who got her start in the theater wouldn't tackle sketch comedy as well. After all, she does have two comedy-tinged movies coming out over the next season (The House With the Clocks in the Walls later this month, and Where'd You Go Bernadette? in Spring 2019), so the timing is sort of perfect.
She'd be the perfect vessel for some of the show's more high-minded sketches (imagine what Julio Torres, the writer behind sketches like "Wells for Boys" and Ryan Gosling's takedown of the Avatar logo, would have in store for her), but there's also a part of us that wants to see Blanchett in a dumb fart-joke-level sketch, just to experience it.
They're pegged as the next pack of leading men, and it's about time SNL booked at least one of them. Chalamet is reportedly shying away from doing too much extra work this year after the seemingly never-ending press tour for Call Me by Your Name, but both Hedges and Elgort would still make perfectly fine hosts.
If you're the standout comedic relief in two of the summer's most buzzed-about movies, then you're pretty much guaranteed a gig hosting SNL, right? This seems like a no-brainer, and the breakout star who got her start doing viral comedy rap videos seems destined to lead one of the shows increasingly signature all-girl musical numbers.
Davis is a busy, busy women. She continues to give Oscar-worthy performance after Oscar-worthy performance on film, while starring in an ABC drama at the same time. So maybe her schedule hasn't allowed her the chance to hit up the show yet, but if she did host, then suddenly we'd have all the time in the world for it.
Legend just EGOT'd, and he's one-half of America's favorite couple. It's about time they let the man host. Luckily, he just inked a deal to join the NBC family as a judge on The Voice, so the corporate synergy is suddenly there. Should they invite Chrissy Teigen into the writers' room to help punch up his monologue, we wouldn't mind.
Fun fact: Moretz popped up on South Korea's version of SNL a few years back, but has never done the American version. Which is a shame, because her recurring role on 30 Rock is still a favorite. With two buzzy movies out this fall—The Miseducations of Cameron Post and Suspiria—and a possible Oscar campaign, it seems like the perfect time.
Historically, if you create and star in an HBO comedy that runs for at least four seasons, you get an automatic invite to host, so let's just get it in motion already, okay?
Erivo won a Tony in 2015 (so live performances are no sweat), but she's quietly putting together a career that screams "icon in the making." Her supporting performances in Bad Times at the El Royale and Widows are already generating buzz, and she just signed on to her first leading role, in a biopic of Harriet Tubman. Let's not dillydally—just give her the proper platform to let America fall in love with her sooner than later.
John Cho
Something about John Cho standing on the Studio 8H stage in a nice suit and cracking monologue jokes just seems so damn right. He's got that charisma reminiscent of SNL-fave Tom Hanks, and, like Hanks, he broke through in a frat boy–beloved comedy before tackling more serious fare. There's no way a Cho-hosted episode of the show wouldn't be a winner, and besides, the show kind of needs to make up for the weird Sulu gag they made two seasons ago, during Chris Pine's hosting gig.
Henry Winkler
SNL actually asked Winkler to host all the way back in 1977, when he was still the Fonz. Winkler claims he was too nervous at the time to do it, but a funny thing has happened since: Winkler has become a prolific scene stealer in some of television's most adventurous comedy shows (see: Arrested Development, Parks & Rec, Children's Hospital, etc.). There's a very, very good chance that he'll take home his very first Emmy on Monday night for his work on Barry, and what better time to finally let Winkler have a second chance?
Did you hear that? Hundreds of people just clicked "Close Tab" in disgust. But hear us out. One: The show has let similar cultural figures like Pamela Anderson, Paris Hilton, and…Donald Trump host before, and the show has survived. Two: If Kim is going to be one of the most famous women on earth, she should at least be challenged once to actually entertain us in a traditional manor. Three: You know you'd watch, even if just out morbid curiosity. The show could let Kim shine to the best of her abilities in a few pretaped sketches, have her play the straight woman in some live sketches, shuffle her into one of those "Can I borrow him for a sec?" Bachelor scenes, and throw in a couple of key cameos from some other extended Jenner-Kardashian family members. Besides, an episode with a weak host where the actual cast members get to shine isn't necessarily a bad thing.
If you're really pressed by the idea, well, here's a lightning round of other possibilities: Tessa Thompson, Julia Roberts (we know! Never!), RuPaul, Noah Centineo, Sarah Paulson, Shawn Mendes, and Selena Gomez.