Scarlett Johansson Defends Her Role in Rub & Tug Against Backlash
"They can be directed to Jeffrey Tambor, Jared Leto, and Felicity Huffman."
---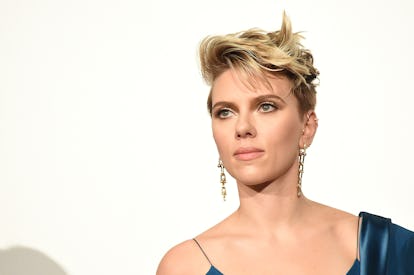 (Photo by Jun Sato/Getty Images for Paramount Pictures)
Hours after it was announced that Scarlett Johansson would be starring in Rub & Tug as Dante "Tex" Gill — a massage parlor owner "who dressed like a man in suits and ties, wore short hair and sideburns and preferred to be called 'Mr. Gill," per the Pittsburgh Post-Gazette — the actress has issued a statement.
As her rep relayed to Bustle, "Tell them that they can be directed to Jeffrey Tambor, Jared Leto, and Felicity Huffman's reps for comment." Johansson is referring to the fact that all of those cisgender actors have played transgender people. (Both Huffman and Leto received Oscar nominations for their roles in, respectively, 2005's Transamerica and 2013's Dallas Buyers Club, which Leto ended up winning.) What she didn't note is that their roles received backlash just as Johansson's latest one has.
While it's unknown whether or not the real-life person identified as transgender, or which pronouns they used, Gill's obituary states that Gill was always "insisting that [they were] a man and telling everyone [they] wanted to be known as 'Mr. Gill.'" "Short and dumpy, [they] wore men's suits and short hair, [they] talked tough and [they] may even have undergone the initial stages of a sex change that made [them] appear masculine," the 2003 obituary reads.
Last year, Scarlett Johansson and Rub & Tug director Rupert Sanders (the same one who helmed Ghost in the Shell) received backlash for that very film. Ghost in the Shell was inspired by a Japanese manga series but featured a white woman as its lead. The year before, a UCLA study found that asians account for just 3.1 percent of film roles. When asked about the whitewashing of Ghost in the Shell, Johansson told Marie Claire, "Diversity is important in Hollywood, and I would never want to feel like I was playing a character that was offensive." She defended her decision to star in the film, saying, "Also, having a franchise with a female protagonist driving it is such a rare opportunity. Certainly, I feel the enormous pressure of that — the weight of such a big property on my shoulders."