Scarlett Johansson on Being a Movie Star vs. Being an Actor
Johansson, just nominated for two Oscars, opens up about her career philosophy and love of men in tight pants.
---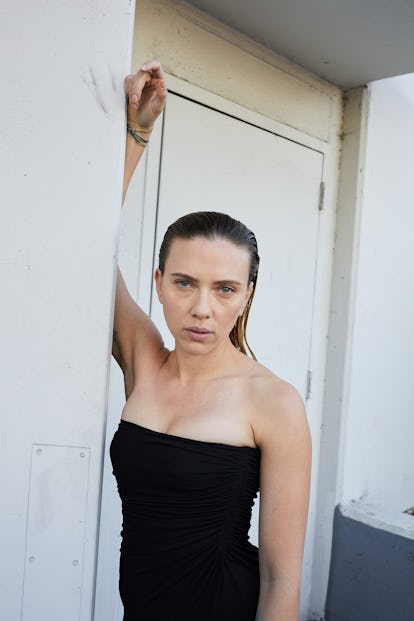 Photograph by Juergen Teller; Creative Partner to Juergen Teller: Dovile Drizyte; Styled by Sara Moonves. Hair by Malcolm Edwards at LGA Management; makeup by Sam Bryant at Bryant Artists; manicure by Michelle Saunders.
In 1995, when Scarlett Johansson was filming the movie Just Cause with Sean Connery and Laurence Fishburne, the cast was traveling on a plane when Johansson happened to cross Fishburne's path in the aisle.
"He said to me, 'Hey, let me ask you a question,' " Johansson recalls in this installment of Screen Tests with Lynn Hirschberg. " 'Do you want to be an actor, or do you want to be a movie star?' In my mind, I didn't know what he meant, exactly. I felt like you can be both, [and] you can be both, but he was saying to me, 'Are you here to do the work?' I internalized that. If your end goal is just to be a movie star, well, you know, that's different than acting."
Clearly, that wisdom stayed with her. This year, Johansson has been nominated for two Academy Awards for her lead role in Marriage Story and her supporting turn in Jojo Rabbit.
But her love for movies isn't restricted to serious art house fare. In fact, her first sexual awakening, she reveals to Hirschberg, involved ogling Patrick Swayze in Dirty Dancing.
"Patrick Swayze was my cinematic crush," she says. "Dirty Dancing was such a formative part of my youth. It was Patrick Swayze, and David Bowie in Labyrinth when I was, like, Oh, sexuality. It opened my eyes to, like, some other thing. I think Patrick Swayze and David Bowie both look great in extremely tight pants."
Related: Awkwafina Reminisces on the '90s