Scott Rogowsky, HQ Trivia's Self-Proclaimed "Quiz Zaddy" Host, Admits He's Never Won HQ Either
The host of the addictive mobile trivia app knows you think HQ is too difficult to win, but he still gets a kick out of hosting the game anyway.
---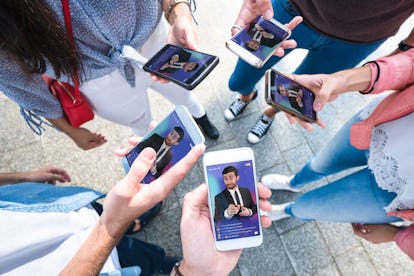 HQ Trivia/franckreporter
If you're like most Americans with a smartphone and wifi access during the day, the following scenario won't be difficult for you to imagine: It's almost mid-afternoon, your daily ennui has almost fully set in, and then your phone buzzes with the only notification that matters—it's 3 p.m., time to play HQ Trivia.
For those who don't know, HQ is a live mobile trivia game that has taken the nation by storm over the last few months. Created by the founders of Vine (RIP), the trivia game has become so addictive it elicits a nearly Pavlovian response whenever its mobile notification and subsequent countdown begins. The object of the game is simple: Players are given 10 seconds to answer each multiple-choice trivia question, and if you answer 12 consecutive questions correctly, you can win a monetary prize—typically in the $1,500 to $2,000 range, but occasionally up to $10,000 per game.
The questions, which are created by a team of writers, become increasingly difficult with each new round, leading players to revel in what ends up being a stressful but elating 15 minutes. With up to one million users jumping in the game at the beginning, the remaining winners split the cash—and of course the bragging rights. While it is unclear where exactly the HQ money comes from, the addictive nature of the game might stem from the fact that there's almost no risk involved in playing, and aside from signing up with a unique profile on the app, it costs virtually nothing to potentially win big.
Nearly as intriguing as the game itself is its host, Scott Rogowsky. The bubbly comedian has turned into a cult social media superstar, and, yes, he exists outside of our phones—Rogowsky even made an appearance this year on Dick Clark's New Year's Rockin' Eve with Ryan Seacrest. Rogowsky refers to himself as the "Trap Trebek" when he pops up on your phone's screen every weekday at 3 p.m. and 9 p.m. (and just at 9 p.m. on the weekends) to officiate one of the most addictive trivia games to have been invented in the last decade. With the occasional guest host like Jimmy Kimmel filling in, you might be wondering where Rogowsky has been while the trivia show went on this past week. Calling from CES—a global technology conference in Las Vegas—the self proclaimed "Quiz Zaddy" walked me through his day-to-day media diet, what he does when he's not inside your smartphone screen hosting HQ, and evaluates his own HQ prowess—or lack thereof.
How did young Scott map out the road to becoming the host of HQ? Back in middle school I said, "There's probably gonna be a live, mobile trivia app." No, honestly there's no map to this stuff. I was doing comedy in school, then started doing stand up in college, then 12 years later I became part of this thing and it happens to be very popular. There's no training for this. I mean, the training is doing comedy and videos, doing other correspondent work and other hosting stuff. You just build up the chops, and like Malcolm Gladwell says, you put in your 10,000 hours. I probably put in close to that!
Do you play HQ when you're not hosting? Yeah! When I'm around, if I'm free. I don't do very well.
You've never won? No, well I can't win, but I've never won or gotten past question nine, maybe 10. It's hard! The questions are ridiculous sometimes.
Do you have any say in what the questions will be? I have final say in the sense that I look over them after they've all been edited together. If I think something is too hard too early, I'll change it or move the order.
I've been told you drop a lot of Phish references when hosting the game. What's the story behind that? Yeah. Well, I was doing them for special occasions. They had a big run at Madison Square Garden over New Year's. Leading up to it, I definitely went a little heavy with it as a tip of the hat to any fans out there. I'm probably going to retire that now.
Well, that's a perfect segue into the Culture Diet questions: What was the last concert you went to? That would be Phish! I didn't go New Year's Eve because I was hosting HQ, but I went the night before. I did two in a row, and was pretty wiped out by the second one.
What was the last song you had on repeat? That's a great question! Let me check my Spotify, it might be Camp Lo's "Luchini." Oh, before that was The Zombies' "This Will Be Our Year," because of the new year! I was like, let me listen to this a bunch of times in a row because it's amazing, and a great band and the perfect song for the new year.
You often refer to yourself as the "Trap Trebek," a clear nod to Jeopardy icon and host Alex Trebek. Besides HQ, do you have any favorite trivia shows you watch or trivia games you play? Do I watch Jeopardy now? No, but of course I used to watch Jeopardy and Who Wants To Be A Millionaire? I don't play any games on my phone. I don't really watch any TV! I would love to watch all these Netflix shows people talk about but I don't have time for any of that, it's horrible.
What's the last movie you saw in theaters? Lady Bird. It got me a little misty-eyed. Even though it's a mother-daughter story, I could relate. I'm a bit of a daughter.
Are there any good books on your bedside table? The books are definitely on the table and piling up. Oscar Levant or Jack Parr or Jack Benny biographies; I read the Phil Hartman biography pretty recently. Also, Letterman: The Last Giant of Late Night by Jason Zinoman. I read Vanishing New York by Jeremiah Moss, which was really heartbreaking and great. It chronicles the collapse of "cool New York" and the rise of "suburban New York," and all the shitty things that have happened to downtown, Brooklyn, and Queens, just the gentrification gone haywire under the neoliberal regime of Bloomberg. I'm using all the buzzwords now, but really it's tremendous research and takes you on a tour of every neighborhood in New York and tells you what used to be there and what happened. It's a great book.
Has there been a particular piece of art or museum exhibition you've loved lately? I'm standing in the Mandalay Bay [casino] right now and there is some really garish art on the walls here.
How do you get your news? Are you a news junkie? I take it straight to the vein. MSNBC is on a loop at my house when I'm home with my parents, which is all the time right now. I read The New York Times. I scroll Twitter when I have a moment and things will pop up. I used to be Facebook-over-everything, that was my source of all the links and news. Then, just because I've become more active and popular on Twitter, I'm rarely on Facebook anymore! It's strange! I'm now mostly on Twitter and Instagram, which I never used to use. Now I have followers and I have to keep up with it and post, and it's fun to engage with people. I've been on Twitter for six years but I never would tweet at people, not even friends of mine. I would think, "I'll text you if you're a friend of mine, why would I tweet at you?" That was when only my friends are following me. Now I've got 43,000 strangers following me and it's cool when people ask a question or make some art about me; draw a picture and I'll retweet it. I'm starting to understand the purpose of Twitter after all these years!
What are some of your favorite social media accounts to follow? I love following my friend Tony Zaret on Instagram. He's a super funny comedian who makes these parodies of memes, and Instagram skits. He's the most brilliant satirist of the current social media landscape. He deserves so many more followers, he's been doing it for so long now. He parodies memes you'd see on Reddit. On Twitter, I follow so many comedian friends who are so funny it's hard to single out any of them. Chase Mitchell is a very funny writer I've known for seven years now, he's always got a great, topical Tweet. I like what Lauren Duca and Alexandra Petri come up with when they're tweeting about politics. There are so many funny people on Twitter who I'm lucky enough to be friends with! I like Josh Gondelman and Andy Kindler, he's one of my favorite comedians in general. Oh, another funny Twitter is Gay Michael Jordan, I think my buddy John Haskell runs it. It's just Michael Jordan if he was gay, it's the most ridiculous thing. It's so absurd. There's a Donald Trump Comedy Nerd account, using Trump's mannerisms to get in-depth about comedy stuff. It's @TrumpComedyNerd. There are some really funny people doing creative stuff with social media, which is sadly where a lot of my attention goes.
Have you been watching any television? I saw the first episode of The Handmaid's Tale a couple weeks ago, and I didn't have time to watch the rest of it. I've seen bits and pieces of—but not more than one or two or three full episodes of—Breaking Bad, Mad Men, The Wire. Never seen Shameless or Ray Donovan. So many shows! I'm a podcast guy!
What are your favorite podcasts? The Best Show with Tom Scharpling, it's live every Tuesday night. It's also a radio show. The Sklar Brothers' Dumb People Town and View From The Cheap Seats, Gilbert Gottfried's Amazing Colossal Podcast, the Dana Gould Hour, these are all my top podcasts. The Carson Podcast! Can't forget The David Feldman Show. It's a really great, long, three to four hour podcast. Those are my go-to's.
What's your favorite meme? Someone just sent me this dog walking with boots on, did you see that? I don't know if that counts as a meme. Going back to my all time favorites though is the "I like turtles" kid. Classic. I go back, I'm an O.G. I love Bubb Rubb.
What's the last thing you do before you go to bed? My radio is locked onto NPR – 93.9 FM, WNYC. I usually wake up with and go to sleep to all of the great programming they have—Brian Lehrer, Leonard Lopate, John Schaefer. The radio plays from a 3-CD changer stereo that I got for my Bar Mitzvah. 20 years later and it still works!
Related: Michaela Coel Wasn't So Into Star Trek Before Starring in Black Mirror's Space Episode