Ear Candy: Gus + Scout
Over the years, Brown University has spawned a fair share of thoughtful musical talent from Duncan Sheik to Nico Jaar. Now comes Gus + Scout, a country-inflected folk-rock band comprised of Gus Wenner, the son...
---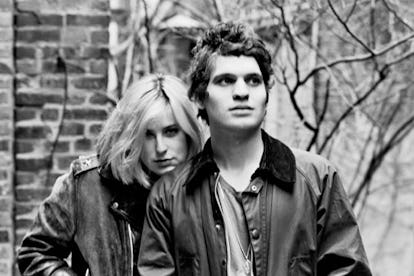 Over the years, Brown University has spawned a fair share of thoughtful musical talent from Duncan Sheik to Nico Jaar. Now comes Gus + Scout, a country-inflected folk-rock band comprised of Gus Wenner, the son of Rolling Stone founder Jann Wenner, and Scout Willis, the daughter of Demi Moore and Bruce Willis. The pair met while growing up on the same street in Hailey, Idaho and reconnected while on the Providence campus. Yesterday, they released their self-titled debut EP, and on Thursday will perform at Stephen Talkhouse in Amagansett. A full-length album is in the pipeline, as well as plans to tour. But first Willis, who will be a senior this year, wants to finish her studies.
How did both of you get into playing music? Gus: I started playing guitar when I was ten. My dad forced me to learn. I wasn't happy with him at the time, but now, you know, it's my favorite thing in the world. Scout: I grew up in a very musical household. I have vivid memories of growing up in Idaho with Patsy Cline always playing in the background. Music has always been incredibly important to me but I always struggled to sing myself. I felt ashamed and like I shouldn't sing in front of people, like I was showing off or something. But when Gus and I started playing music together something just shifted ever so slightly. Suddenly I was playing the music that had been trapped inside of me my whole life.
Did you guys play music together in Idaho when you were young? Scout: Not really. We were only ever really friends at a very, very young age, and then were only just aware of each other in adolescence. It wasn't until my freshman year at Brown that we connected in a real way and began playing music together.
Who have been some of your influences? Gus: Van Morrison, Sam Cooke, and Lee Scratch Perry were playing on a loop in my house growing up. So they were in my mind from a young age. But when I was thirteen or so I started to fall in love with Bob Dylan—his music affected me on an emotional level like I didn't know possible, and it opened the door to a whole history of country and blues music that has made me who I am as a person, and definitely as a song writer. The first song Scout and I ever played together was "Silver Wings" by Merle Haggard. Scout: There are so many! Though, as I mentioned earlier, Patsy Cline is a huge influence of mine, as well as other singers like Loretta Lynn, Wanda Jackson, Barbara Dane and Etta James. I am also a near fanatical Rolling Stones fan. These tracks have a lot of country influence to them but both Gus and I are huge soul and rock and roll fan. I personally am completely Elvis obsessed.
What's the writing process like? Do you guys work together on lyrics and music? Gus: The songwriting process seems special. I am always amazed at the connection that Scout and I have in that respect, especially in relation to the people I have worked with in the past, and writing alone. Each song is different, but for the most part one of us will have some lyrics, a poem, whatever… or a melody and then we will just sit down together for hours and hash them out. It seems to me that if one of us writes something good, or alright, when we start working on it together, the song will become more than that. It is an emotional process, an honest one too. Scout: Our writing process is magical!! As someone who enjoys music on a very intuitive as opposed to technical level I have always struggled in other bands that I've tried to work with on the past. It is usually very frustrating to try and express what I want to hear without the proper vernacular. But with Gus it always just flowed so naturally. It was like we both were finally making the music we had always been trying to make. Gus would bring some lyrics that came from a poem he wrote for a class and I would create a melody for them, or else I would have some lyrics and a little tune in my head and I'd sing it for Gus and then together we would shape it into a song.
Do you have a favorite song from it? Scout: That's such a difficult question, Gus and I used to joke that each new song we wrote was our favorite. The song "I'd Do Anything" from our EP is very special to me because it was a big departure from everything we had done before that. It's a song that is very personal to Gus and I, but is also open enough that people can find themselves within it. It's about that person that despite yourself you can't help but loving. I think everyone has or has had that person that bewitches them completely, and it's painful and beautiful at the same time. We wanted to write a song that evokes those same desperate, lovely feelings.