Thanks to Jeff Koons, Sean Penn's Gun Collection Is Now an Artsy Iron Throne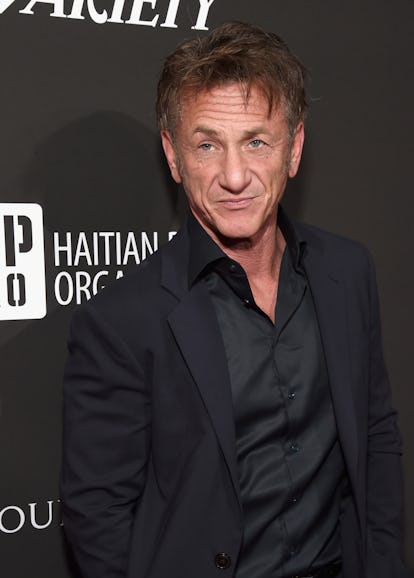 Getty Images
Six years ago, Sean Penn introduced himself to a crowd of celebrities, including Pamela Anderson, as "a self-proclaimed alpha male who owns 67 firearms." But even then, the actor was considering a shift: "I've had my mind changed about guns by a strong woman, a beautiful South African woman," Penn continued, referring to Charlize Theron. At the time, he was dating the actress, who has been a gun control advocate since her youth, when her abusive father attacked her and her mother with a shotgun. (Her mother shot and killed him in self defense.)
So Penn came to a conclusion: "I don't need these cowardly instruments of violence and destruction," he told the crowd. "None of us do." Still, Penn seemed confident that someone would want them in some shape or form. Rather than simply decommissioning his collection, Penn enlisted the artist Jeff Koons to turn it into an art work, which he then proceeded to auction. Moments later, it had found an owner: Egged on by a shrieking Gwyneth Paltrow, Anderson Cooper placed the winning bid of $1.4 million.
Unfortunately, it seems that Cooper may not have gotten his money's worth. Some of Penn's guns seem to have gotten lost along the way in the years since, because the end result that Koons shared on Instagram on Wednesday consists of only 62 guns and accessory parts, not 67 guns.
Uli, as Koons titled the work, also bears a certain resemblance to the Iron Throne. That does not appear to be intentional. Apparently, the sculpture is Koons's gunmetal interpretation of a statue from New Ireland, in Papua New Guinea. "Uli figures are normally made out of wood, and they represent the maternal and paternal spirit of tribal leaders," Koons wrote in the Instagram caption.
Cooper and Penn have yet to weigh in on the end result. But for the time being, anyway, the sculpture is certainly more successful than Koons's last effort to tackle gun violence with art. The artist spent three of the years since Penn commissioned him in negotiations with the city of Paris, which wasn't too keen on accepting his gift of a sculpture to commemorate victims of the city's terrorist attacks. Ultimately, Koons prevailed, though critics have since changed the 27-ton piece's name from Bouquet of Tulips to "Ass Tulips."
Related: Khloé Kardashian and Kris Jenner Got Into a Fight About Jeff Koons