Selena Gomez Can't Stop Changing Her Hair, Debuts New Bangs After Going Blonde
Selena Gomez stepped out in London debuting her latest hair transformation.
---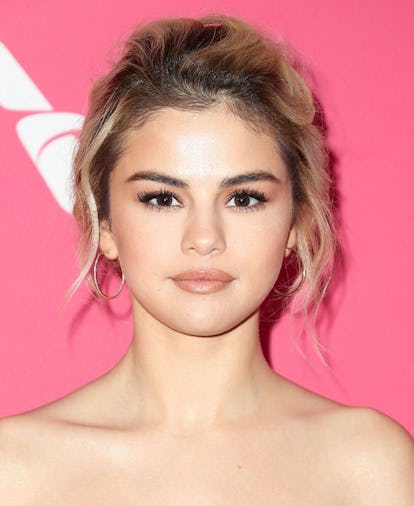 It's only been two weeks since her platinum blonde debut dominated the red carpet at the American Music Awards and subsequent news cycle for the next few days, but Selena Gomez is already onto to her next hair transformation. While most of the wold is still trying to adjust to Gomez's dramatic blonde makeover, the "Bad Liar" singer is wasting no time experimenting with her freshly dyed locks. Today, Gomez stepped out with a totally new look while greeting fans outside of BBC Radio One in London: messy, freshly-chopped bangs.
Following in the footsteps of model Chrissy Teigen, who recently ditched her layered bombshell waves for eye-skimming bangs, Gomez is the latest to join in the dramatic trend. To punctuate her messy waves look, Gomez added a matte red lip painted on by longtime makeup artist Hung Vanngo and a '70s retro-inspired ensemble that paired perfectly her platinum, feathered bob. Gomez's hairstylist, Marissa Marino posted an image of the new look on Instagram alongside the caption, "Bangs are back."
However, don't think Gomez's latest transformation is a just a phase. Opening up to E! News in a recent interview celebrating her recent Billboard Woman Of The Year Award on Sunday night, Gomez confirmed that the "new Selena" is here to stay. "She's not going anywhere", Gomez stated, continuing on to reveal her new platinum features are something to get used too, explaining,"I gotta find it. I'm still getting to know it."
It's a new look for Gomez after a big year of changes that included a full kidney transplant over the summer, a new collaboration with Coach, and a recent reconciliation with ex-boyfriend Justin Bieber. And don't expect to see any less of her—or her hair—in 2018; when accepting her Billboard honor, the singer teased coming back next year with an "epic" album.
[#article: /articles/5a121ea72fdd684fbcfe35ad]||||||