Sephora Promises To Carry More Black-Owned Beauty Brands
Sephora has pledged 15% of shelf space to black-owned brands after realizing it's not enough to just carry Fenty, Pat McGrath and a handful of others.
---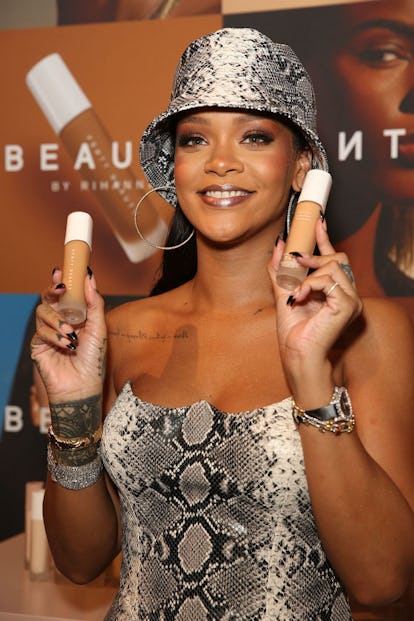 Caroline McCredie
When Rihanna brought Fenty Beauty to the shelves at Sephora, it was a turning point in terms of the retailer's ability to offer an inclusive range of products (and shades of foundation) for all people.
A similar moment was had with Pat McGrath Labs, which has been a cult favorite for the past few years, and grown to be worth an estimated billion dollars.
But knowing these two internationally recognized beauty brands that are owned by Black women and make products for people with darker skin tones are sold at Sephora still hasn't been enough in terms of diversifying the products available for purchase. So, the retailer will carry more than just Fenty and Pat McGrath—Sephora will pledge to give 15 percent of their shelf space to products from Black-owned brands at each store.
As part of "The 15 Percent Pledge," which was started by Brother Vellies founder Aurora James, Sephora has become the first big beauty retailer to confirm their participation in the initiative.
As it stands now, Pat McGrath and Fenty Beauty are two of the seven Black-owned brands sold at Sephora—out of a whopping 290 brands total. That means black-owned beauty brands make up less than three percent of products sold at the retailer.
The idea behind the pledge is simple—if Black people make up roughly 15 percent of the population, then 15 percent of the shelf space at big retailers should be occupied by Black-owned brands to reflect that reality. After calling on Target, Sephora, Whole Foods, and Shopbop to take the pledge, Sephora has become the first of the big retailers to join.
"With unparalleled influence and power, not only in the beauty industry but in retail at large, Sephora is making a historic contribution to the fight against systemic racism and discrimination by taking this Pledge," the initiative stated on Instagram.
According to a report in The New York Times, Artemis Patrick, Sephora's chief merchandising officer, the brand's participation in this pledge is not solely about shaking up the types of products sold in stores. "It starts with a long-term plan diversifying our supply chain and building a system that creates a better platform for Black-owned brands to grow, while ensuring Black voices help shape our industry," Patrick said. James will also serve as a member of the board for Sephora's new "advisory group" of brands owned by people of color to hold the retailer accountable with the pledge.
The retailer has been in hot water before for maintaining a discriminatory environment in stores—just a year ago, SZA spoke out about being racially profiled at a Calabasas location and all Sephora stores had to shut down for a day to do some diversity training. Before that, several other employees had been accused of doing the same thing to other customers. However, the brand has grown to be the type of retailer that takes swift action when necessary. And if a four billion dollar company like Sephora can promise to stock their shelves with 15 percent of Black-owned brands, one can't help but wonder, who's next?
Related: Munroe Bergdorf Was Rehired by L'Oréal, the Brand That Fired Her for Speaking Out Against Racism