September Release: Kate Moss
Actress Abbie Cornish on Early Romance with Ryan Phillippe, Miuccia Prada on Keeping Her Fashion Empire Afloat, and How Top D.C. Hair Salons Balance Work and Politics
---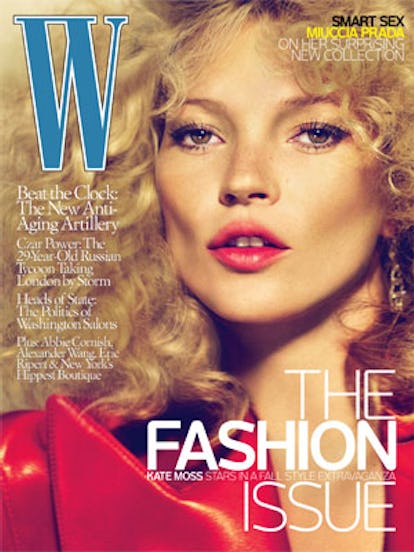 Highlights from the September issue of W magazine are below:
ABBIE CORNISH, ACTRESS:
ON TABLOID ACCUSATIONS THAT SHE BROKE UP RYAN PHILLIPPE AND REESE WITHERSPOON'S MARRIAGE…"It was a really difficult time for me. It was just this world of tabloid magazines that I'd never been exposed to. In a normal successful career, someone usually learns these things bit by bit. For me, it was like night and day. I woke up one day and there was this whole new thing I had to process and deal with."
ON HOW PHILLIPPE IS THE REASON THE AUSSIE-ACTRESS LIVES IN L.A…"I guess I was lucky because it was love that brought me here, not work. I think the city feels and looks a little bit different because of that."
MIUCCIA PRADA, FASHION DESIGNER:
ON DELIBERATELY KEEPING HER STAFF AT A DISTANCE…"I decided not to care. If you become so aficionado, too affectionate, and they leave, you suffer. Of course, I have a few people in the company that are very near to me. But the others, you know that they come, they want to do a career and they leave, and so you have to learn not to suffer."
ON HOW THE ECONOMY IS AFFECTING FASHION…"The only difference that I noticed is that you have to be more and more yourself. What is really selling is what is really Prada. You can't do some generic bull—Sometimes you do too much fashion and forget the basics. When you say 'commercial' it shouldn't be an insult, like something is not beautiful…The crisis obliges [us] to really focus also on what really makes sense."
ERIC RIPERT, MEGA-CHEF:
ON MAINTAINING PRICES AT FAMED RESTAURANT LE BERNARDIN DESPITE THE ECONOMIC CRUNCH…"We had to make a decision: Either we lower the price [so] we cannot provide the quality that we want, or we stick to our standards…I saw one designer store where everything was 90 percent off, and it was empty. And then there was Hermes, nothing on sale, and the place was packed. Nobody remembers a bargain but nobody forgets a bad meal."
ON HAVING NO PROBLEM COOKING ANIMALS DESPITE BEING BUDDHIST FOR WHICH VEGETARIANISM IS THE KARMIC IDEAL…"The way I see it, you don't take the life of an animal for something meaningless. If I have a beautiful ingredient in front of me, I'm going to pay homage to it. I'm not going to f— it up."
HEADS OF STATE:
The leading salons in Washington cater to a rotating cast of senators, congresspeople, ambassadors and journalists. And each establishment dances the delicate waltz of keeping political pit bulls with jam-packed schedules happy and relaxed while beautifying them discreetly in a town that loves to abhor vanity. – Jamie Rosen, Beauty and Health Editor
ON DIVIDING "RED" AND "BLUE" POLITICIANS ONTO SEPARATE CUTTING-ROOM FLOORS IN HIS TOWN HOUSE SALON, SITUATED JUST TWO BLOCKS FROM THE WHITE HOUSE…"I try to keep them separated because they look at each other and you can see their stiffness…You need [to go] somewhere where you're not going to read about it in the paper the next day. You need a salon that protects you." – Andre Chreky, hair stylist
Please credit the September issue of W for the above. For additional information or to schedule an interview with a W editor, please contact Engelman & Co. at 212.645.9222. Thank you.