Serena Rees Wants You To Wear Her New Line of Underwear Everywhere
The lingerie maven has a new line of underwear called Les Girls Les Boys.
---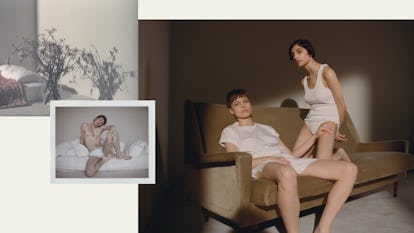 In 1994, Serena Rees changed the underwear industry with Agent Provocateur, a line of, well, provocative lingerie that quickly amassed a cult following and a slew of famous faces fronting their worldwide campaigns, including Kate Moss and Kylie Minogue. Now, over twenty years later and a decade after selling the label she founded, Rees is back with a brand new line of underwear, Les Girls Les Boys, which officially launched yesterday. The unisex brand is the millennial answer to Agent Provocateur, with a focus on streetwear-influence and a mission to be worn by just about everyone and just about everywhere. Here, Rees talks about the new brand, the future of lingerie, and more.
How did the idea for this line come to be?
I was inspired by the way my children and their friends dress and share clothes. The brand philosophy identifies and celebrates love, friendship, diverse identities, and mixed cultural mindsets. I really looked to what the millennials care about and how they see themselves.
How does this brand differ from what you did at Agent Provocateur?
What we did in the Nineties—that idea of empowering women, celebrating sexuality in a more overt way than had been seen before—felt completely right for that time. What is happening now is a huge shift in the opposite direction. There is a real need for an open-minded brand with a more diverse story to tell. Les Girls Les Boys is for the customer who treads their own path, are proud of who they are, and proud of who they love. It is the new cool sexy.
What does "Bed to Street" mean? How does it factor into your designs?
The bed to street philosophy is a key pillar of the brand—blurring the boundaries between what is traditionally meant for inside and how we translated that into streetwear. We wanted pieces that are versatile and flexible for every day life and are relevant to the way people live today.
Who is you biggest inspiration for this collection?
My children, my friend's children and all of their friends
What significance does the brand's name hold?
It says what we are, who we are, it says it the right way up, the wrong way up, sideways, upside down; however you want to interpret 'boys or girls.' It's saying we don't mind how you define yourself, we don't mind if you like girls or boys, we don't mind you just being you. Les Girls Les Boys almost defines a sort of gang of girls and boys that hang together, exist together, and interact together in the same way the logo does.
Why was it important to include both mens and womens in the collection?
The younger generation really doesn't care about what is traditionally meant for men and what is traditionally meant for women. I've seen it with my own children and their friends. They all share clothes, no one cares about traditional gender marketing, it's about diversity and it's important that fashion reflects that.
What do you think is the next big trend in the intimates world?
I have never followed trends, hopefully we set them. However, I hope our message is empowering enough to set this trend.
Related: Why Lingerie Is No Longer Just for the Bedroom, But the Streets, Too
Calvin Klein Underwear Model Mitchell Slaggert Is Dressed by His Girlfriend