Serena Williams Says She's "Not Done Yet" in Trailer for Being Serena Docuseries
The five-part HBO series premieres May 2.
---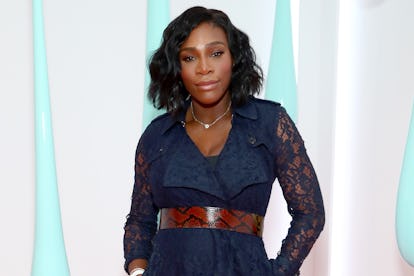 Astrid Stawiarz/Getty Images
Before last year, Serena Williams was already pretty busy winning tennis tournaments, dabbling in fashion design, and, of course, being a global icon. Then, last fall, within the span of just a few months she took on two brand new roles—as a mother and wife—but if you thought that would slow Williams down, you've got another think coming. As seen in the new trailer for her upcoming HBO docuseries, Being Serena, the 36-year-old has zero plans to make her life or schedule any less hectic for the foreseeable future.
"When I realized I was pregnant, I was like, 'Oh, my god! How am I gonna play?'" Williams says in the trailer. "I put so much pressure on myself—I wanna make sure that I'm the best. I don't know if there's anything left for me in tennis, but I'm not done yet." Interspersed between title cards listing just a few of the multi-hyphenate's many, many titles are shots of her working out while pregnant, attending design meetings, and spending time with her husband, Reddit cofounder Alexis Ohanian. The clip also gives viewers a glimpse of her and Ohanian's November wedding in New Orleans, and shows the duo doting on 6-month-old daughter Alexis Olympia Ohanian, Jr.. The series will air in five parts on HBO, with the first episode premiering on May 2.
Williams has already returned to the tennis court and, because she doesn't have enough going on already, announced earlier this month that she's launching a line of beauty products. In the February 2018 issue of Vogue, she discussed how becoming a mother has actually made her more driven in her career. "To be honest, there's something really attractive about the idea of moving to San Francisco and just being a mom," she said. "But not yet. Maybe this goes without saying, but it needs to be said in a powerful way: I absolutely want more Grand Slams. I'm well aware of the record books, unfortunately. It's not a secret that I have my sights on [a 25th Grand Slam title]."
She went on, "And actually, I think having a baby might help. When I'm too anxious, I lose matches, and I feel like a lot of that anxiety disappeared when Olympia was born. Knowing I've got this beautiful baby to go home to makes me feel like I don't have to play another match. I don't need the money or the titles or the prestige. I want them, but I don't need them. That's a different feeling for me."