Serena Williams' Daughter Alexis Olympia Is A Verified Olympian-In-Training on Instagram
She's naturally the most adorable celebrity baby with a verified Instagram account in her own name.
---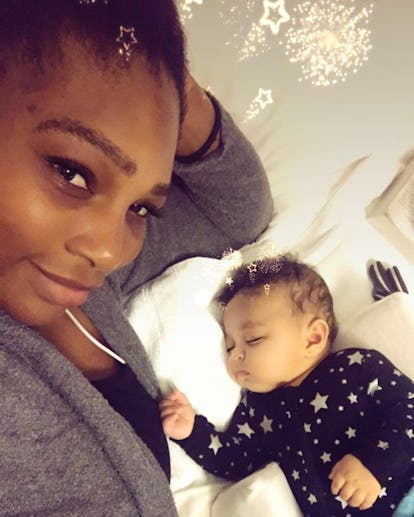 @olympiaohanian
You know you've made it when you're a celebrity baby with your own Instagram account. Just ask Alexis Olympia Ohanian, Jr., the 5-month-old daughter of Serena Williams and Alexis Ohanian, who's garnered over 258,000 followers on Instagram in her very short time on Earth. But what would you expect from a girl with a mom who's been named the greatest living athlete of all time, and a dad who cofounded Reddit? Ohanian even appeared on a Vogue cover shortly after being born (the magazine's youngest cover star ever), so naturally she's already on her way to greatness, and has the social media following to prove it.
Of all the celebrity babies with their own Instagram accounts, Alexis Olympia Ohanian, Jr. is perhaps the smiliest of the bunch. Her mom and dad often share snaps of her while she beams at the camera, and looking at her Instagram you might think she's never frowned a day in her life.
There's just no denying that celebrity babies on Instagram are having a moment right now, and of course everybody knows it's important to snatch up your own Instagram handle as early as possible. Some celebrity parents are even keen on starting accounts under their children's names before they're even born. For example, Dream Kardashian also has her own verified Instagram account created by her mother Blac Chyna (although all posts have been removed), and so does Michael Phelps' son Boomer.
Of course we all know about DJ Khaled's son Asahd and Heidi and Spencer Pratt's newborn Gunner—mini celebrities in their own right. Obviously the babies themselves are not posting on their own Instagram accounts—regardless of whether or not they are verified with a blue check, which little Ohanian is—but celebrities know better than anyone else how important it is to register your handle ASAP so that you can make your mark on the social media world one day on your own, even if your little baby fingers are incapable of posting on their own for right now.
The little Olympian-in-training also seems to already have a strong grasp on physical fitness—with a fist like this one, she's figured out how to "hit the gym" with her dad and flex her muscles like her 23 time Grand Slam winning mom.
When she's not decked out in bright and bold looks like a leopard print dress or a Batman onesie, her parents also dressed her in a Gatorade towel that would make even the most cynical hater of Instagram spon con crack a smile.
Related: Serena Williams's 5-Month-Old Daughter Alexis Olympia Already Has Her Own Tiny Tennis Racket