Serena Williams's 5-Month-Old Daughter Alexis Olympia Already Has Her Own Tiny Tennis Racket
Five-month-old Alexis Olympia is getting a head start on breaking mom's records.
---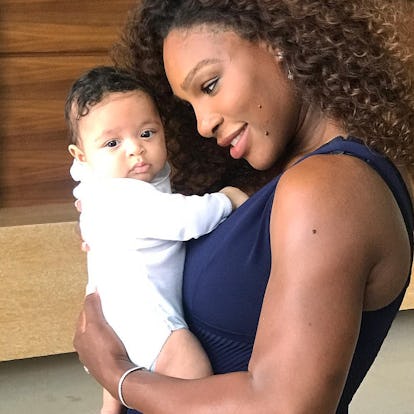 Courtesy of @serenawilliams
Since Alexis Olympia, Serena Williams' daughter with Alexis Ohanian, made her Instagram debut in her birth month of September, all evidence has suggested she's so far led one of the most adorable, overachieving, and pampered lives possible. She's still teething on her mom's fingers, but Alexis Olympia stays in Versace bibs and Kenzo pajamas, and even has her own throne of sorts in the form of a custom miniature armchair.
Now, however, Williams is taking her daughter's pampering up another notch. The tennis star, who according to legend first took to the court at age three, just gifted her daughter a mini Wilson tennis racket—fitted to Alexis Olympia's teeny size, of course.
"Olympia Ohanian, at match point, championship point, even without her shoes she's hard to beat. Serving now For her 12th Wimbledon title. 3 more than her mum Serena," Williams wrote in the caption, tagging Wilson and thereby suggesting that despite her age, Alexis Olympia is cute enough to have already landed two advertising gigs, having helped her mom out with her ads for Gatorade.
A to Z with Simone Biles, Four-Time Olympic Gold Medalist:
Williams may have been joking in her caption, but she might not be for much longer: Alexis Olympia already has 256,000 followers of her own on Instagram, which may pale in comparison to Williams' 7.5 million, but is not far off from the follower count of her father, the cofounder of Reddit. (Not that that that impresses Alexis, who has no problem interrupting him in the middle of "serious conversations.")
Whether she ends up becoming the next Serena or Venus, Alexis definitely seems destined for fame—which is to say even more fame, because let's not forget that she's already managed to become Vogue youngest-ever cover star. Indeed, before even hitting six months old, she's made it repeatedly clear that she's just as much of a superwoman as her mother; her go-to Instagram pose of clenching her fists, anyway, is a sure sign that she's not one to mess with.
Related: Serena Williams and Alexis Ohanian Had a Beauty and the Beast-Themed Wedding